Dodgers' failure to land Hisashi Iwakuma may prove a good thing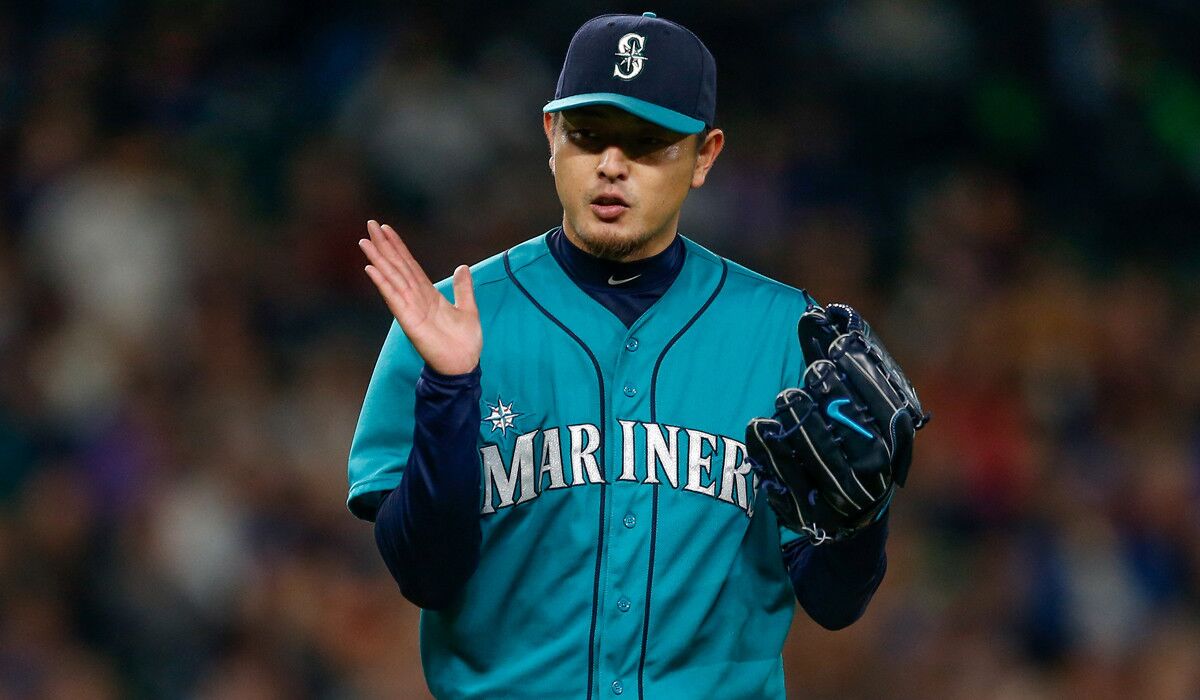 So another Dodgers' deal goes poof! Frustrated, are you? On the downside of December and not a single move of significance by the Dodgers young-buck front office.
Deals they tried to make are sabotaged by unexpected news (Aroldis Chapman), an unexpected team swooping in (Zack Greinke) or an expected result from a physical (Hisashi Iwakuma).
That's right, expected. Could anyone really have been stunned when Iwakuma (age 35 in April) took a physical and alarms went off?
Picture Claude Rains in "Casablanca" turning to a bemused Humphrey Bogart and exclaiming, "I'm shocked – shocked – to find something odd in the MRI of Iwakuma's right arm."
Join the conversation on Facebook >>
Iwakuma has thrown more than 2,200 innings in 15 seasons of professional baseball and injured almost every body part on his right side save his appendix. The Dodgers were expecting a clean physical? Might as well expect Frank McCourt to give them his half of the Dodger Stadium parking lots.
What is their penchant for signing pitchers with lengthy histories of injury? If they just wanted to sign someone who's old, right-handed and guaranteed to break down, they could have had me for a lot less than $45 million.
File this one under Time Will Tell, but they could easily turn out to be happy that they saw Iwakuma's shocking medical report and bailed on their verbally agreed upon deal. Maybe Iwakuma, who signed a one-year deal with two option years late Thursday with Seattle, will give Seattle three terrific, injury-free seasons. And maybe – or more likely – he'll break down.
If sometimes the best deals are the ones you don't make, the Dodgers could end up feeling just fine about their latest deal that did not happen.
Of course, the Iwakuma meltdown leaves the Dodgers with two gaping holes in their rotation. Right now, it's Clayton Kershaw, a pair of No. 5 starters – Brett Anderson and Alex Wood – and plenty of crossed fingers.
Last off-season the Dodgers went into the spring after signing injury-prone Brandon McCarthy and Anderson, and counting on Hyun-Jin Ryu – despite knowing he had a shoulder issue that twice put him on the disabled list the previous season.
Ryu never threw a pitch before having shoulder surgery and McCarthy lasted four games before having Tommy John surgery. Anderson made it through a full season for the first time in six years. Like the odds that he can pull it off again next season?
And into this mass of uncertainty they were going to count on Iwakuma for the next three years?
Better to hit the reset button. The biggest names may be off the board in free agency, but there are some solid arms left and interesting potential via trade. Hopefully they find a couple who are reasonably healthy.
MORE DODGER HEADLINES:
Dodgers pick up left-handed reliever Tyler Olson from Mariners
Clayton Kershaw gets first-hand view of Cuba's passion for baseball
Gabe Kapler not a part of Dodgers' official new coaching staff
---
Get our Dodgers Dugout newsletter for insights, news and much more.
You may occasionally receive promotional content from the Los Angeles Times.