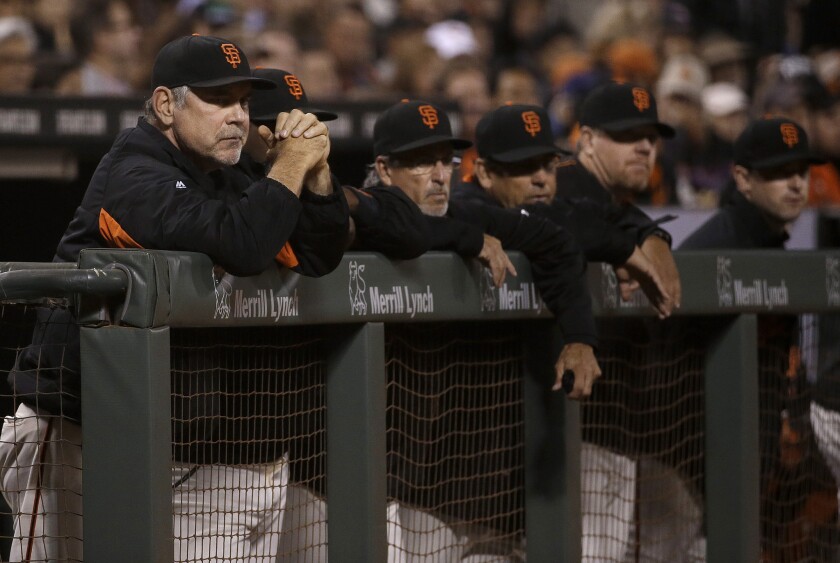 And here come the Giants …
No? Yes? Maybe later?
Let's face it, the way the Dodgers have played most of the season — 46-46 since May 12 — they should not be in first place. They've practically invited someone to push them aside, but no one will, or can, step up.
The Dodgers' frustrating mediocrity has been saved by an overall disappointing division. The National League West is a bastion of average.
The Giants — excuse me, the World Series champion Giants — were supposed to be the big challengers, but they have not been able to take advantage of the Dodgers' constant stumbles. Which means they're as ordinary as the Dodgers, or even a bit less so.
Every time the Giants put a little streak together and act like they're exercising those championship muscles, they go all atrophy and fall back again. The Dodgers lose five of six, the Giants lose five of six. It's a frustration contest.
The Dodgers can only send out so many personal invitations.
Nothing much has stood out about the Giants this season. They field well (.987), hit OK (.267, .406 slugging percentage), their starting pitching is OK (3.92 ERA, 1.27 WHIP), bullpen is OK (3.27, 1.18). Mostly, they're just very OK.
What they have done is beat up on the Dodgers (9-3), and the two will meet seven more times, so it's certainly not like they can be disregarded. They are 2½ games back of the Dodgers, who have been so uninspiring they've allowed the Diamondbacks (6½ back) and the Padres (7½) to dream of great postseason finishes.
But the Giants have the recent pedigree and pose the most serious threat. There's a little over five weeks to go, so there remains time for someone to finally discover their playoff mojo and get rolling.
And here come the Giants?
People keep waiting. Sort of like waiting for the Dodgers to finally take control of the division.
---