Dodgers have growing problem with injuries to Ramirez, Turner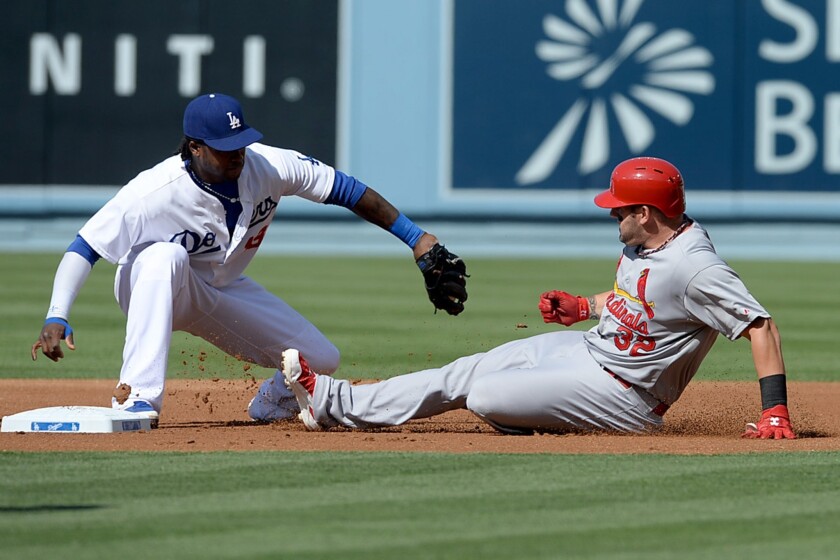 The Dodgers have a problem. A potentially troubling one. Yeah, you can win seven of your last nine and still have problems.
And right now that problem is the left side of the infield.
Two days after getting third baseman Juan Uribe back from the disabled list with a hamstring strain, they lost key backup infielder Justin Turner on Saturday to the same injury. They expect to put him on the DL today (Sunday).
On the day shortstop Hanley Ramirez played for the first time in five days because he was out with a sore shoulder, he suffered a calf injury and left Saturday's game following the second inning.
Which calf is injured remained something of a mystery. Ramirez said it was not the same left calf that caused him to miss three games last month, but his right one. The Dodgers said it was his left.
Make of that what you will, but the health of Ramirez and his future with the Dodgers is growing murkier by the day. Ramirez is in the last year of his contract and is looking for that deal of a lifetime, a $100-million-plus contract. General Manager Ned Colletti has said the Dodgers are interested in bringing him back.
But how much would you spend on a 30-year-old infielder who for the second consecutive season is struggling to stay healthy and whose play at short is what might conservatively be called below par?
The Dodgers' best defensive shortstop right now is Miguel Rojas, who looks more comfortable — if not brilliant — by the day. But last year's Dodgers were reliant offensively on Ramirez, who when healthy was one of the league's most feared hitters.
"I like our lineup a lot better with him in it," said Manager Don Mattingly. "But I think we're built on pitching and if we can defend ... the only positive is I think we're a little better defensively with someone else. But there's no way you can say we're a better offensive club when Hanley's not in there."
Mattingly wanted to ease Uribe back from his hamstring issue, giving him regular days off early in his comeback. But Turner has been the main sub at third and his loss is not small thing. Turner was hitting .374 since May 11.
"Turner has been extremely valuable for us," said right-hander Zack Greinke. "There's not many guys who can play all the infield spots and still put up quality at-bats. His at-bats are even above quality at-bats. So far this year I would put him in the top tier of utility guys playing the game. You just can't replace that."
So right now the Dodgers have a starting third baseman who has had two hamstring injuries this season whom they don't want to play every day, a shortstop whose health is uncertain and is difficult to count upon, and they're about to put their best infield utility man on the DL.
Turner said he felt his left hamstring give just as he rounded first on a double in the second inning Saturday.
"I just felt it grab a little bit," Turner said. "As soon as I felt it, I pulled up and trotted into second. I tried to stretch it out a little bit and it still felt tight."
Now the Dodgers will have to call up another infielder, likely either Erisbel Arruebarrena (hitting .362 at triple-A Albuquerque) or Carlos Triunfel, who was just sent down Thursday when Uribe was activated. Alex Guerrero, his bitten ear now apparently healing, is at the Dodgers' Phoenix training facility still working himself back into shape.
Exactly what Ramirez is thinking is difficult to report. Without any real explanation, he has tried to avoid interviews for about a month now. Saturday he just said he was fine and that it was his right calf, but otherwise just shook his head to tell reporters he was not going to give an interview.
It's a fairly confusing situation on the left side of the infield and it could remain that way for a while. And that's a problem.
---
Get our Dodgers Dugout newsletter for insights, news and much more.
You may occasionally receive promotional content from the Los Angeles Times.