Sandy Koufax wants Yasiel Puig to improve but defends his showmanship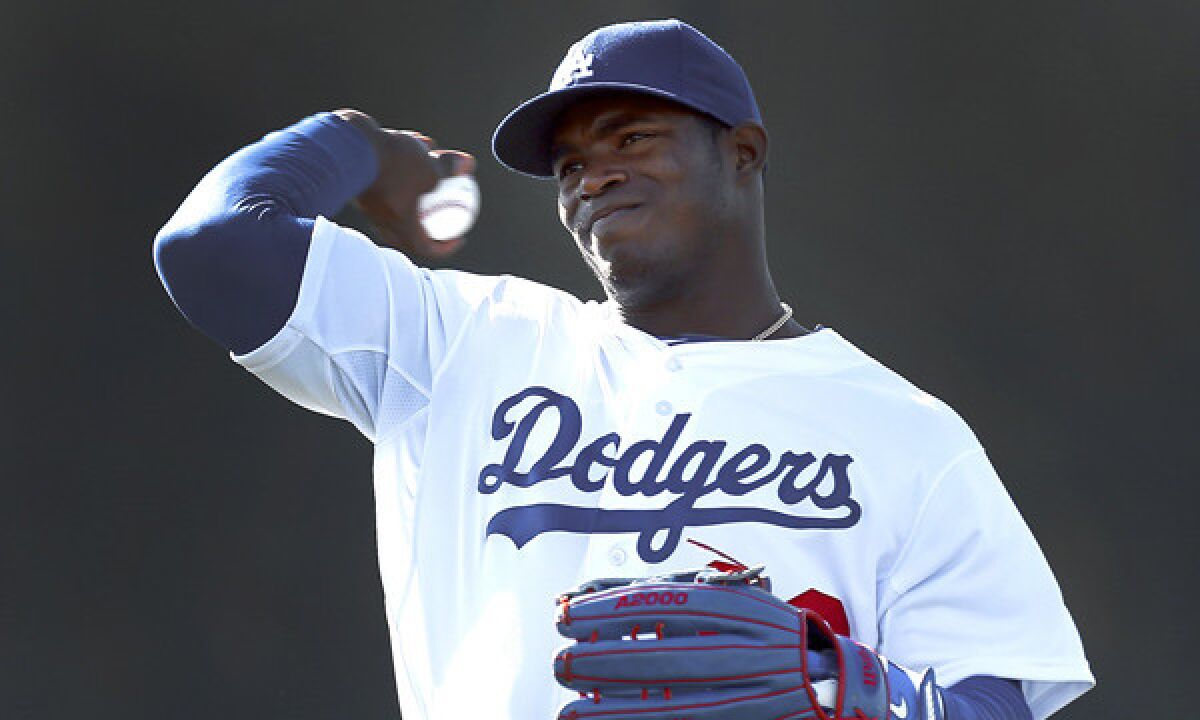 PHOENIX — Sandy Koufax defended Yasiel Puig's style of play, saying he doesn't mind Puig's theatrics so long as they don't result in mistakes.
"If the showmanship doesn't involve bad decisions, yeah, it's fine," Koufax said. "People love it."
But Koufax also said he would like to see the 23-year-old outfielder learn the finer points of the game.
"You have a great arm, you want to show it off, but I'd like to see him throw it to the right place all the time," Koufax said. "He's young. The biggest thing is he's not played against competition as good as he is. So you're always able to have your physical ability make up for whatever else you do. He's learning. I'm sure it's going to happen. He has too much talent."
Koufax touched on Puig and a number of other topics after watching the Dodgers work out Monday. Koufax is in his second year as a special advisor to chairman Mark Walter.
The Hall of Famer said he was captivated by Puig's electrifying performances in his first few weeks in the major leagues last season.
"It was crazy," he said. "It was just fun to watch.
"This was exciting because the team was struggling. He came up and kind of ignited what eventually happened. It looked like in May that they were going to be having a really dismal year. He and a couple of other things turned it around."
Asked to compare Puig's arm strength to Hall of Famer Roberto Clemente's, Koufax said, "Good arms are good arms. Can you say this one's better than that? Clemente had a great arm. (Willie) Mays had a good arm but Mays never missed the cut-off man, never threw to the wrong base. And I'm not sure Roberto did, either."
Koufax later added, "I'm not comparing him to Clemente after two, three months in the big leagues."
Whatever Puig's shortcomings, Koufax remains impressed with his physical gifts.
"He's so physically talented," he said. "Everybody makes the comparison to Bo Jackson. The Cardinals had a guy who played football and baseball, Brian Jordan. These guys are so strong and so fast. Big, strong and fast. A combination you don't always see."
Koufax also talked about presenting Kershaw with his Cy Young Award in New York last month.
"He's just a very special person -- a special pitcher, a special person. I had the opportunity to watch him since he started, and it's something I just felt I wanted to do."
Recalling his own days pitching in the same rotation as Don Drysdale and Johnny Podres, Koufax said Kershaw and Zack Greinke would benefit from each other's presence.
"Absolutely," he said. "It's a friendly competition but you know what other guys are doing. Of course, it pushes you. Guys make each other better."
Asked if he thought the Dodgers and Arizona Diamondbacks might brawl in their season-opening series in Australia, Koufax replied, "Absolutely not. After that long on an airplane, you won't have a temper."
Koufax said he wouldn't be in uniform this spring, unlike last year.
"It's not my job," he said.
Koufax said didn't know how long he would remain in camp.

---
Get our Dodgers Dugout newsletter for insights, news and much more.
You may occasionally receive promotional content from the Los Angeles Times.