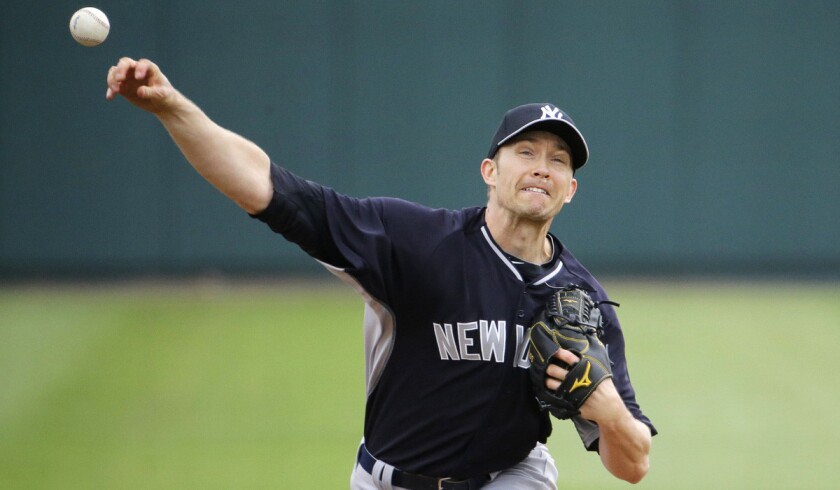 Hyun-Jin Ryu threw Tuesday for the first time since being shut down with a sore shoulder, which is nice. Though he did throw like a father would to his son on the front lawn.
He's been through all this before, of course, and if further moves to the disabled list seem inevitable for an injury that is not showing up on an MRI exam, the only thing the Dodgers know for certain is they will need a fifth starter by April 14.
Starting pitching depth is going to be a huge key this season for the Dodgers, with their rotation filled with health risks. This makes looking at the rotation of their new triple-A team -- the Oklahoma City Dodgers -- all the more significant.
Oklahoma City may open with a rotation of Carlos Frias, Mike Bolsinger, Zach Lee, Joe Wieland and Scott Baker. The thing to note for the call-up on April 14 is that of those five, only Baker can be called up. The others are all on the 40-man roster and were optioned, meaning they cannot be called up for 10 days from the start of the Dodgers season. Unless a pitcher is injured, or suffer the old phantom injury, Baker is the only candidate from that five.
Baker, 33 was not even in camp with the Dodgers. He was released by the Yankees at the end of camp after allowing nine earned runs in 10 1/3 innings, although he struck out 10 and did not walk a batter. The Dodgers signed him to a minor-league deal after they broke camp in Arizona.
Whoever starts in the Oklahoma City opener Thursday would be in line to take the April 14 start for the Dodgers. And Oklahoma City Dodgers Manager Damon Berryhill said at the team's media day Tuesday, Baker would start the opener.
It seems pretty simple math leads to Baker. Last season, Baker was a swingman for the Texas Rangers, posting a 5.47 earned-run average in 25 games (eight starts) but with a 1.19 WHIP.
It was thought David Huff, who went 2-0 with a 1.32 ERA in six spring games (13 2/3 innings) for the Dodgers during the spring and who is not on their 40-man roster, would be the logical candidate to be called up, but Huff appears headed for the Oklahoma bullpen.
Last season, Huff kind of did the Brandon McCarthy thing, pitching poorly with his first club (6.30 ERA, 1.65 WHIP with San Francisco) and then turning his season around with the Yankees (1.85/1.31). All 46 games he appeared in last season were as a reliever, but he began his career as a starter.
Oklahoma will have a pretty interesting pitching staff. In addition to the expected opening rotation, it could later have veterans Erik Bedard, Chad Gaudin and Brandon Beachy. All are recovering from injuries. The bullpen could feature veterans Sergio Santos, Chin-hui Tsao and David Aardsma, and several young arms who were impressive in the spring -- Adam Liberatore, Daniel Coulombe, Ryan Buchter and Josh Ravin.
---