Yasiel Puig, Carl Crawford still not close to returning for Dodgers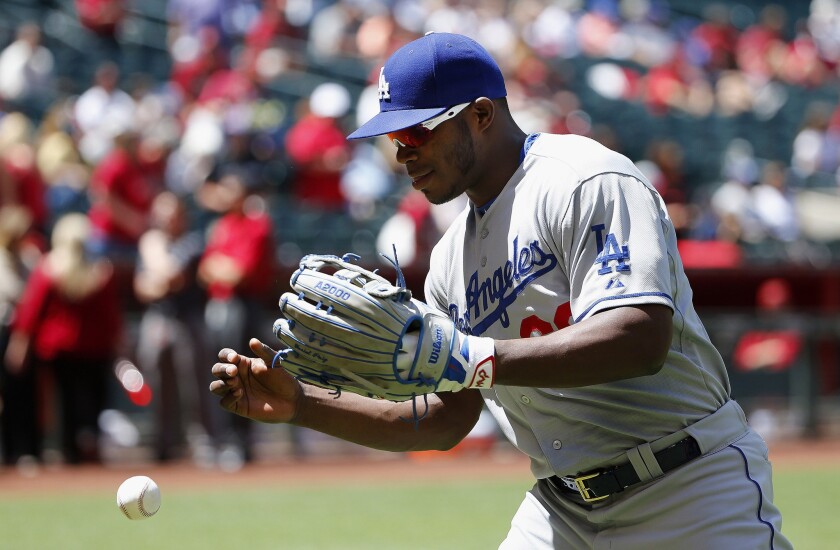 Can you hear it? Out beyond that hill? It's a bugle and the sound of the cavalry! It's Yasiel Puig and Carl Crawford coming to the rescue of the Dodgers' suddenly anemic offense!
Or maybe not.
Neither Puig nor Crawford is close to returning. Manager Don Mattingly said Friday they're still so far off, there is no timetable for their return. Puig still can't even jog without pain in the left hamstring he first injured April 13.
"The other day, he swung the bat a little bit but has had trouble trying to run and still feels tightness when jogging," Mattingly said. "So we still haven't gotten past that. Obviously, we're still a ways away with that."
Subscribe to our free Dodgers newsletter here
Puig came back a couple days later after the original injury and tried to play through it, but was shut down again for five days, although the Dodgers still elected to avoid placing him on the disabled list.
He returned to action again on April 21 and played for four days before the hamstring finally forced him to the DL. Then on a rehab assignment for Class A Rancho Cucamonga on May 8, he aggravated it again.
The Dodgers were able to be patient in their latest attempt at bringing Puig back, the offense unexpectedly dynamic and the team breaking out to a five-game division lead.
But they were just shut out in three consecutive games by the Giants, and their lead has shrunk to 1 1/2 games. Still, Mattingly said there is no timetable for Puig's return.
"Until we start moving around with baseball activities, it's not on the radar at this point," he said.
"Hamstrings usually take four to six weeks, and if you mess around with them, they end up getting worse. You just kind of move forward."
Crawford suffered a torn oblique with a swing April 27 and went on the DL the next day. He's been rehabbing at the team's training complex in Phoenix, which is his off-season home.
"He was doing more activity but still feeling it at times during some exercises," Mattingly said. "We've had to back off certain things. But [it's] improving."
Follow Steve Dilbeck on Twitter @SteveDilbeck
---
Get our Dodgers Dugout newsletter for insights, news and much more.
You may occasionally receive promotional content from the Los Angeles Times.