Puig and Jansen progress in rehab, but Ryu continues to stall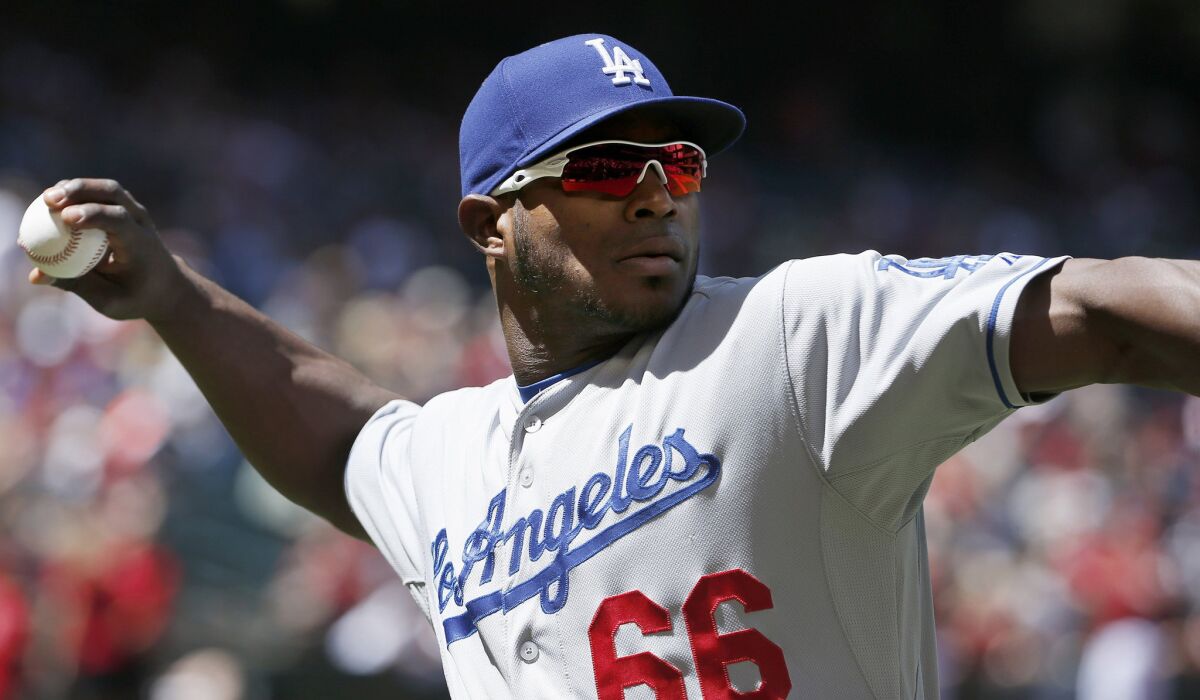 Reporting from Milwaukee —
These days, the Dodgers have the start of a pretty competitive team on the disabled list. There's Yasiel Puig, who has been nursing a hamstring injury. Carl Crawford injured his oblique, which he described as a "bad tear."
Left-handed starter Hyun-Jin Ryu's shoulder injury has sidelined him for the beginning of the season, and he was recently moved to the 60-day disabled list. And closer Kenley Jansen, who underwent left foot surgery, also hasn't pitched this season.
Subscribe to our free Dodgers newsletter here
Now, there are signs that Puig and Jansen are taking steps toward returning, even as Ryu's progress continues to stall.
Puig, who did not travel with the Dodgers to Milwaukee, ran the bases today with no complications, Dodgers Manager Don Mattingly said.
Puig is tentatively scheduled to be the designated hitter at single-A Rancho Cucamonga on Thursday, "as long as he doesn't walk in tomorrow stiff and tight," Mattingly said.
On Wednesday, Jansen threw 25 pitches in his third rehab appearances at Rancho Cucamonga. Jansen allowed three runs over two-thirds of an inning, including a home run, but Mattingly said reports on his arm were positive.
Jansen told reporters there that he feels he's nearing a return,
"I feel like I'm ready," he said. "For next week? Yeah, I'm ready to come back next week."
Mattingly urged a little more patience.
"That's what they all say," Mattingly said. "Nobody wants to play minor league rehab games."
The Dodgers are still being cautious with Ryu, who threw a bullpen session on Friday. His velocity was at about 82 to 83 mph, Mattingly said, which was below what the team was comfortable with. Ryu hasn't thrown since, to allow him extra days to rest.
Ryu's move to the 60-day disabled list means he is not eligible to return until May 26. Mattingly said he was somewhat troubled but the setback, but there haven't yet been signs he should be very concerned.
"I'm always concerned with these guys every time they have to slow down," Mattingly said. "But I was concerned with Zack [Greinke] in spring training and obviously shouldn't have been."
Twitter: @zhelfand
---
Get our Dodgers Dugout newsletter for insights, news and much more.
You may occasionally receive promotional content from the Los Angeles Times.