Was Zack Greinke 'minutes away' from re-signing with the Dodgers?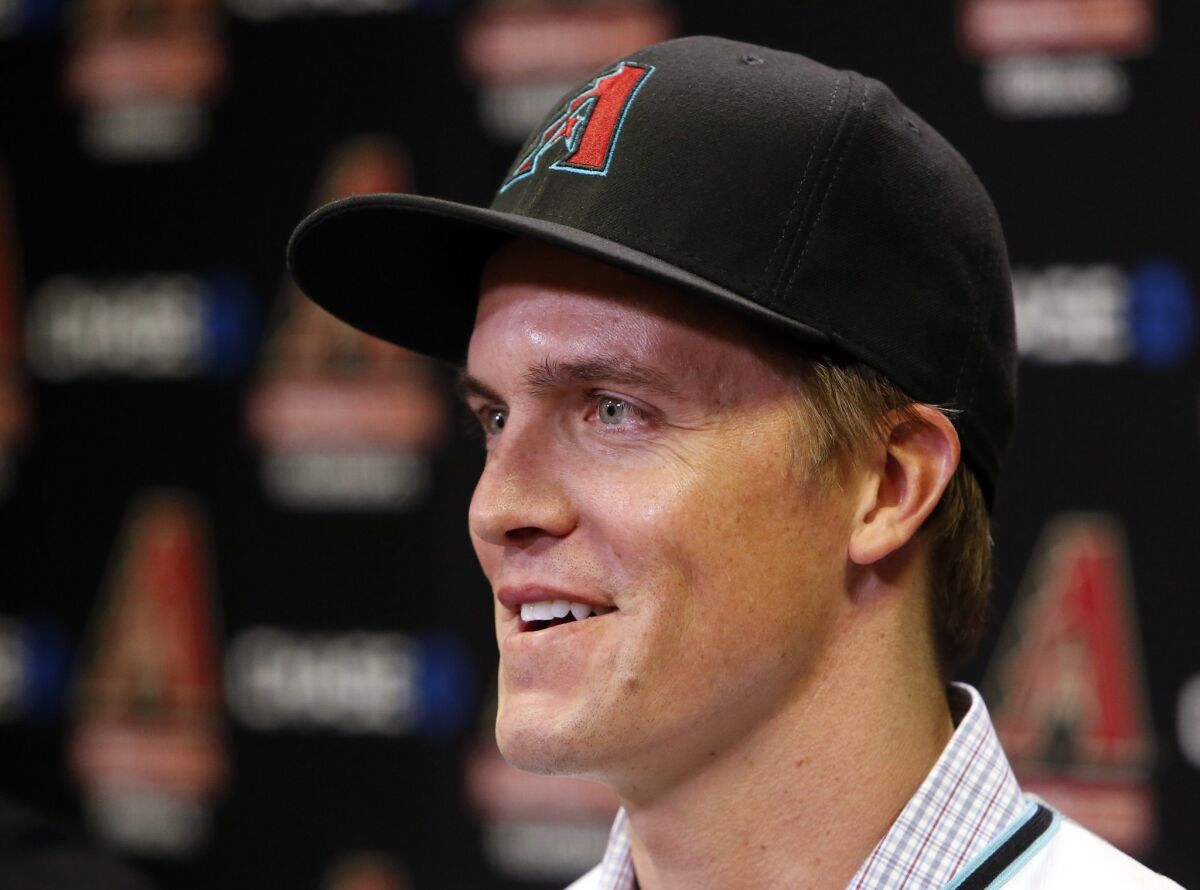 How close was Zack Greinke to returning to the Dodgers?
Asked that question Friday at a news conference with the Arizona Diamondbacks, Greinke smiled.
"Without getting too detailed, we were minutes away from going to a different team," Greinke said. "It was that close."
He was presumably talking about the Dodgers.
Greinke acknowledged that until the Diamondbacks became a late entrant in the sweepstakes to sign him, he was negotiating with only two teams, believed to be the Dodgers and San Francisco Giants.
When Greinke was informed by his agent that the Diamondbacks had called, he said, "It got me excited."
That was because Greinke said he noticed the Diamondbacks had the foundation of a team that looked as if it could be special.
"I guess it started around the All-Star break, or a little before the All-Star break, last season and the Dodgers were playing Arizona and I just was watching all their position players run around making all these great catches, taking extra bases like crazy against us and then you look at the leaderboard and they had the best offense in the game, scored the most runs, so I was like, 'Dang, that's a pretty impressive group of guys they got over there,' and just realized it then," he said.
"And then you looked at the pitching staff and they all were talented but they weren't pitching very good. I was just thinking, like, 'Man, they have something going on there. Just need a couple things and could be as good as anybody.'"
Greinke signed a six-year, $206.5-million contract with the Arizona Diamondbacks.
The Dodgers are believed to have offered Greinke a five-year deal worth close to $160 million.
MORE DODGERS NEWS
Dodger Stadium to extend protective netting
Dodgers finalize one-year deal with Chase Utley
Has Dodgers ownership reached the end of those deep pockets?
Get our Dodgers Dugout newsletter for insights, news and much more.
You may occasionally receive promotional content from the Los Angeles Times.