Dodgers hitters get early challenge by taking batting practice against Clayton Kershaw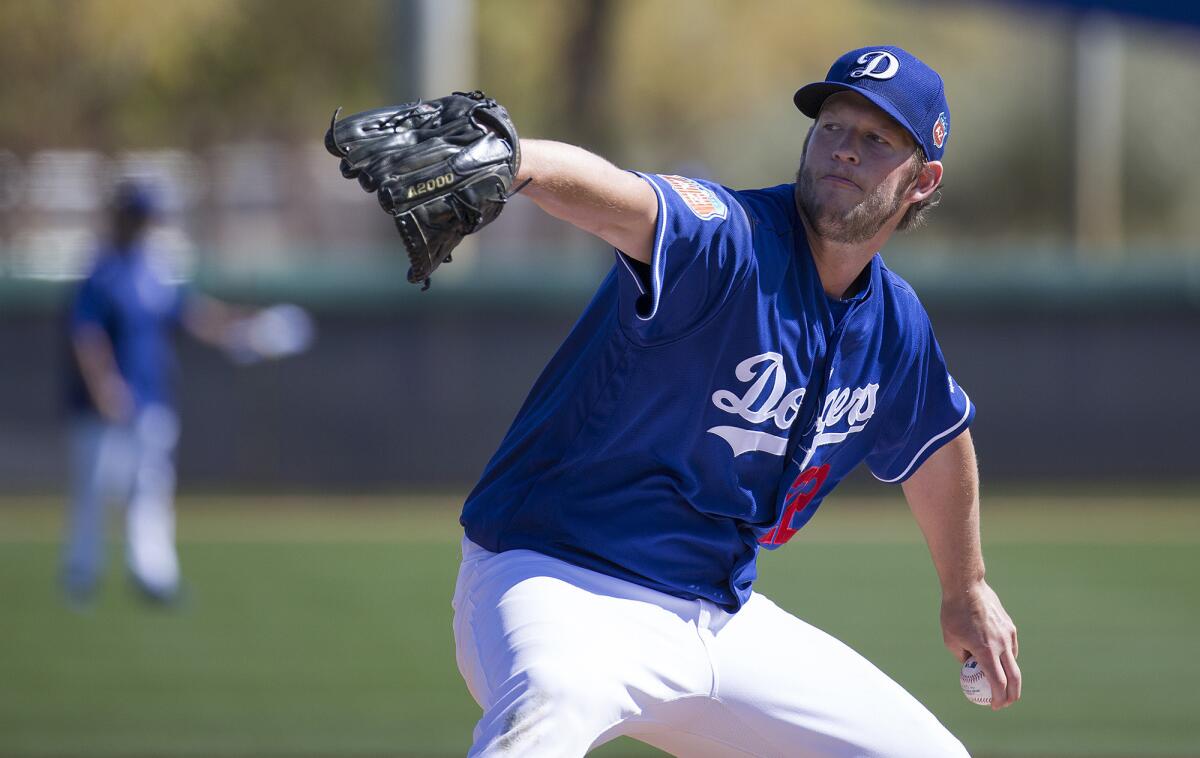 Reporting from Phoenix —
Shortstop Corey Seager was one of several Dodgers regulars who stood in against Clayton Kershaw on Saturday, the first day of live batting practice. Kershaw threw 41 pitches. There was little hard contact made.
"It [stunk]," Seager said. "I guess it's all downhill from there."
Chase Utley hit a fly ball to shallow right field. Enrique Hernandez chopped a grounder toward third base. Howie Kendrick sprayed a few balls foul.
The drills service the pitchers more than the hitters. The men at the plate often choose not to swing, using the time to acclimate to the velocity of big league pitching.
"At this point in time, the hitters don't tend to get too much out of it," Manager Dave Roberts said. "Especially when you have Clayton on the first day."
Kershaw appeared most displeased with himself. He chastised himself a couple of times for poor location.
"Just normal stuff," Kershaw said. "Just trying to figure some stuff out out there."
Sandy Koufax is still welcome
Sandy Koufax is no longer a member of the Dodgers front office, having left his position as a special assistant to Chairman Mark Walters. His visit to Camelback Ranch on Friday may be his lone appearance with the team this spring.
But Roberts stressed that the team's door was always open to Koufax.
"I had a chance to talk to Sandy yesterday," Roberts said. "He seemed in very good spirits. Got to catch up with some players and coaches and front-office guys. I really don't know what capacity he was used in in years past. I know that Sandy always has an opportunity to come here whenever he wants to engage as much as he wants."
Yaisel Sierra to arrive soon
Yaisel Sierra, the 24-year-old Cuban pitcher recently signed to a six-year contract, is expected to join the team within the next few days, Roberts said. Sierra had been dealing with visa issues.
Get our Dodgers Dugout newsletter for insights, news and much more.
You may occasionally receive promotional content from the Los Angeles Times.