Matt Kemp says Ryan Braun should lose MVP award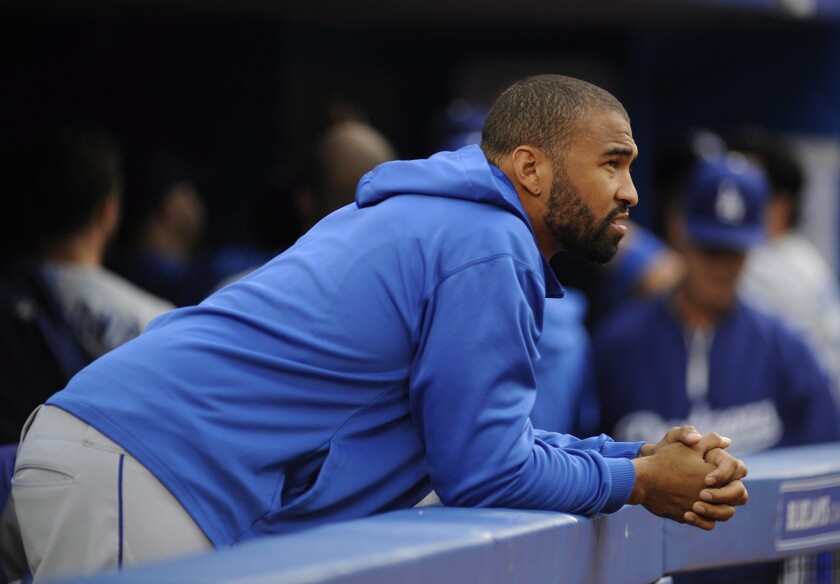 TORONTO — Matt Kemp used to refer to Ryan Braun as a friend. He often supported Braun when public opinion was against the Milwaukee Brewers outfielder, including when Braun's positive drug test was overturned on a technicality last year.
Tuesday, Kemp said Braun should be stripped of the National League most-valuable-player award he won in 2011. Braun accepted a 65-game suspension on Monday for violating baseball's drug policy.
"Do I feel like it should be stripped?" Kemp said. "I mean, yeah, I do. I feel like it should be, but that's not for me to decide, you know?"
But Kemp wouldn't say the award should be his, even though he finished second to Braun in voting for it.
"I was in a race to win the MVP, I got second," Kemp said. "The voters had an opinion about who they wanted to pick as the MVP. That's who they picked, that's who they felt was the MVP. You have to respect them for that. The other stuff, it is what it is, man. For me, all I'm worried about is getting healthy and getting back on the field and helping my team win."
Kemp missed his second consecutive game because of a sprained ankle. The Dodgers expect to know by Wednesday whether he will have to be placed on the disabled list for a third time this season.
Asked if he felt cheated out of the 2011 MVP award, Kemp replied, "The Brewers and Braun, they worry about their situation and what they've got going on. Right now, I'm worried about getting healthy and playing baseball."
But wouldn't he like to have an MVP trophy in his house?
"It would definitely be nice to have an MVP trophy," he said. "But I didn't win the MVP. I lost. I got second."
To an admitted cheater, he was reminded.
Kemp didn't know how to respond. Smiling, he said, "Yeah . . . OK . . . yeah."
Kemp applauded baseball's efforts to rid the game of performance-enhancing drugs.
"As a player that has never taken a PED or any type of steroid or whatever . . . it kind of takes away from the guys that bust their butts to get in the gym and play this game clean," he said.
Marmol called up
Former Chicago Cubs reliever Carlos Marmol was called up from double A, where he'd been working to regain his form since the Dodgers acquired him in a July 2 trade.
Marmol made his Dodgers debut Tuesday and looked like the same pitcher who used to be booed at Wrigley Field. He was charged with three runs and four hits in 11/3 innings.
Before the game, Marmol said he thought he would benefit from the change in scenery. Marmol could have blocked a trade to the Dodgers, but said he never considered it.
"How could I say no?" he said. "Better than Chicago, no?"
Short hops
The Dodgers haven't offered a contract to Cuban free-agent pitcher Miguel Alfredo Gonzalez, nor do they plan to, according to a person familiar with the team's thinking but not authorized to discuss it on the record. The Dodgers have heavily scouted Gonzalez, who defected from Cuba and has established residency in Mexico. Gonzalez is expected to sign with a major league club by the end of the week, according to his agent. . . . Hard-throwing Jose Dominguez was placed on the 15-day disabled list because of a strained left quadriceps. . . . Pitching coach Rick Honeycutt left the team because of a death in his family.
twitter.com/dylanohernandez
---
Get our Dodgers Dugout newsletter for insights, news and much more.
You may occasionally receive promotional content from the Los Angeles Times.