Dodgers' Carl Crawford sits out second straight game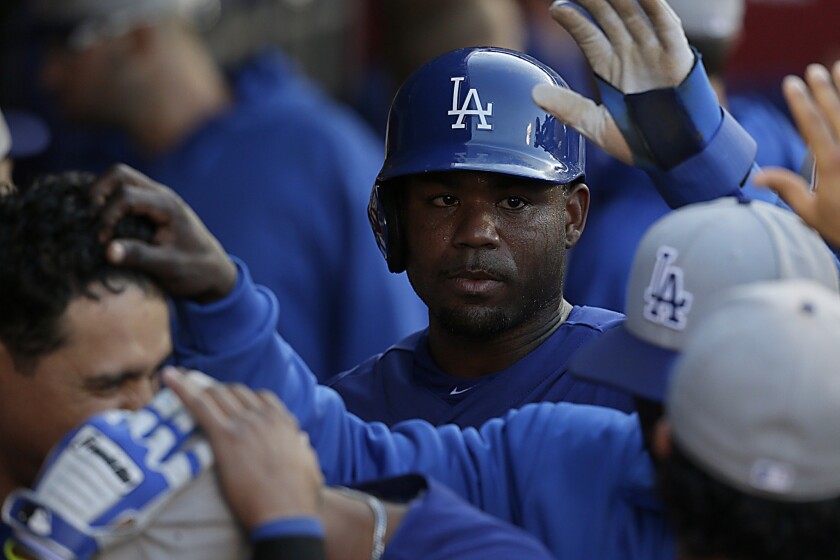 Dodgers left fielder Carl Crawford was kept out of the starting lineup for the second consecutive game as he continued Sunday to fight a fever that forced him to an emergency room a day earlier.
"Obviously, it's still going on, his temperature's going up and down," Dodgers Manager Don Mattingly said of the .289 hitter who's stolen 10 bases this season. "Still fighting off an infection … sometimes antibiotics kick in and you know you're good."
Mattingly said the team doesn't believe it's anything more than a routine illness.
"He's been to the doctors; they all feel it's just a matter of getting [the medicine] in there. With the off day," Monday, "we're assuming he'll be fine Tuesday," when the Dodgers play the New York Yankees.
Effective strategy
It was a puzzling move at the time, Mattingly opting to remove Chris Capuano after 83 pitches, in the midst of a shutout.
In the seventh inning, Capuano responded to a double by Cincinnati's Joey Votto by retiring cleanup hitter Brandon Phillips and slugger Jay Bruce.
Against Todd Frazier, Capuano exited in place of Ronald Belisario.
"Cappy was good today, it was a tough call," Mattingly said. "I didn't want to give up a hit right there, but if we did, I'd like to have my best shot to throw him out," by Frazier probably being unable to pull the ball to left field off the hard-throwing Belisario.
Right field is occupied by strong-armed Yasiel Puig.
"I don't like to do that, but I didn't want to kick myself. This felt like a game that was going to be 1-0," Mattingly said.
Frazier walked on four pitches, but Belisario then struck out Zack Cozart.
Stronger League
On July 4, reliever Brandon League's earned-run average was 6.37. He's now given up just one run in his last six outings, and has wins in his last three appearances.
Sunday, League gave the Dodgers two shutout innings.
"It feels good to be doing anything I can to help the team win," said League, whose ERA is now at 5.17. "We all have the same goal in mind. We're going to keep rolling with it."
High-risk Puig
Before his game-winning home run rendered the miscue far less costly, Puig was picked off first base by Cincinnati pitcher Tony Cingrani after a leadoff walk in the seventh inning.
That came after some Saturday night daring. In the fifth inning, Puig took too wide of a turn around first base and was thrown out. He also stole third base with two outs.
The latter is a no-no in the book of baseball, given the likelihood of being able to score anyway from second on a single — Dodgers cleanup hitter Hanley Ramirez was at bat.
"I've talked about it a lot with him," Mattingly said. "You want to try and corral him a bit but try not to put too many restraints on him. You want him to be aggressive, but you don't want him to have too much stuff in his head while he's running.
"We do want to keep learning and get better, because mistakes that you make, outs that you give away … as you get into big games, any game could be the game that it costs you. We want to keep teaching, help him get better."
twitter.com/latimespugmire
---
Get our Dodgers Dugout newsletter for insights, news and much more.
You may occasionally receive promotional content from the Los Angeles Times.