A.J. Pollock out to prove he can be great for Dodgers, even if he isn't Bryce Harper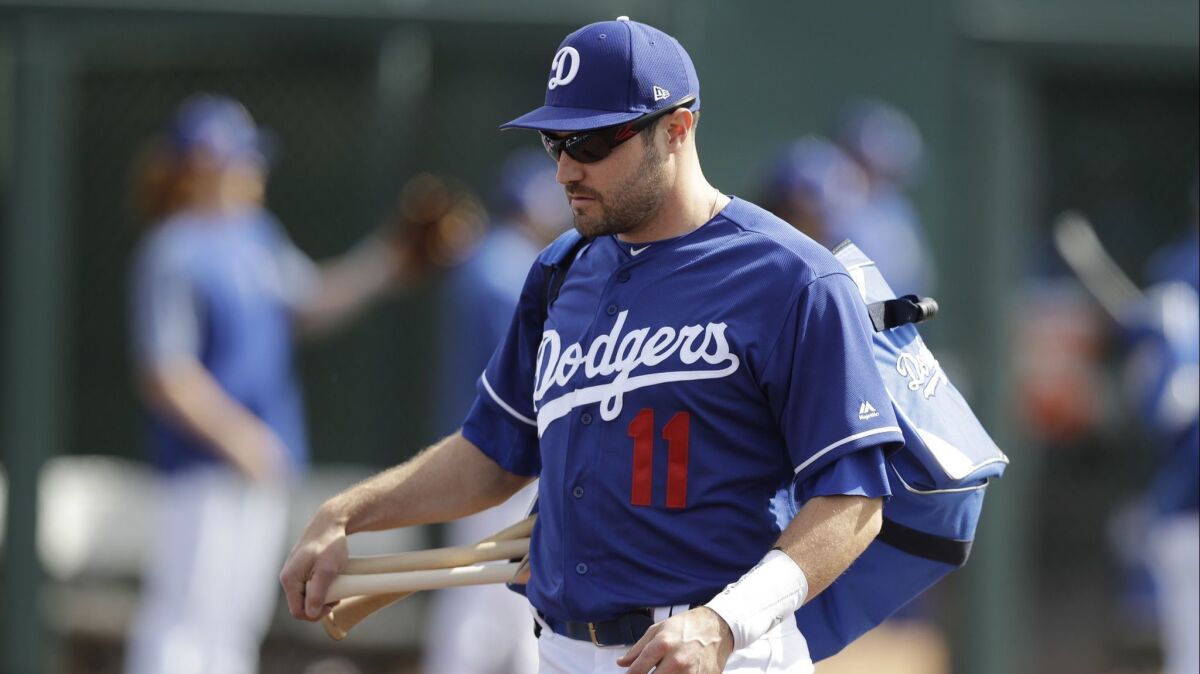 Reporting from phoenix —
A fan favorite for seven years with the Arizona Diamondbacks, A.J. Pollock is adjusting to life behind enemy lines after signing a four-year, $55-million contract in January with the National League West-rival Dodgers.
"Yeah, when I stop at the gas station or CVS here you wonder why someone's booing me," the center fielder said of the local reception since he began spring training with his new club. "It's all good. It's a good rivalry here."
Pollock, 31, said it was a little strange walking into the Dodgers clubhouse for the first time. This was the team he'd been trying to beat for so long, that has won six straight division titles — celebrating one with an impromptu pool party in Chase Field — and that Diamondbacks fans had grown to detest and envy.
That feeling wore off in, oh, about 24 hours.
"Day 1, meeting everyone, is like going to the first day of school — you have to meet new friends and get to know people," Pollock said. "But Day 2 was just like a normal day, showing up to the ballpark and working with my teammates. I'm over the weirdness of being on a new team now."
Sign up for our daily sports newsletter »
Pollock hopes to ingratiate himself to a new fan base with his consistent offensive production, keen baserunning skills and elite defense, but not by trying to be someone he is not — most notably, Bryce Harper, the slugger fans were clamoring for until Harper signed a 13-year, $330-million deal with Philadelphia last week.
The Dodgers made a late run at Harper, offering a short-term, high-annual-average-dollar deal in late February. This was the final piece many felt the Dodgers needed to end a 30-year championship drought, and fans were disappointed that the Dodgers refused to extend a bigger offer.
But Pollock doesn't view himself as a consolation prize.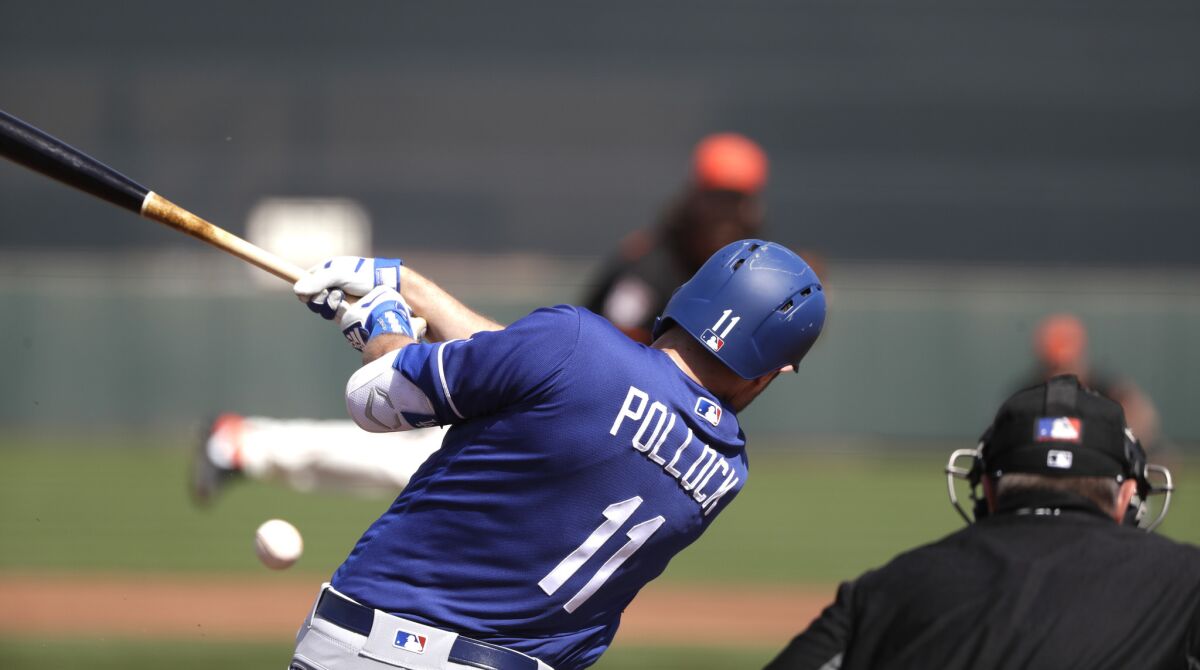 "I get it," Pollock said. "I'm sure every fan base would say, 'Of course I want Bryce Harper,' he's a great player. But I don't read too much into what fans are saying right now. I'm just doing my thing.
"I used to be the type of guy who would seek the approval of other people. I don't really need any of that anymore. I just want to play ball to the best of my ability and help this ballclub win games."
Pollock, a career .281 hitter with an .805 on-base-plus-slugging percentage, can do that when healthy, no guarantee for a player who has missed large stretches of the last three seasons because of a broken elbow, broken thumb and groin strain.
The right-handed-hitting Pollock played only 16 games in 2016 and was limited to 112 games in 2017 and 113 games in 2018. He avoided injury in his best season, hitting .315 with an .865 OPS, 20 home runs, 76 runs batted in and 39 stolen bases in 157 games in 2015.
The Dodgers examined Pollock's injury history and concluded that only one was a significant soft-tissue problem. Pollock broke his right elbow on a head-first slide into the plate in early April 2016 and broke his left thumb while diving for a ball in the outfield in May 2018.
Dodgers infielder David Freese said it's unfair to label Pollock as injury-prone.
"I think it's kind of a lazy reaction," Freese said. "[Stuff] happens … but you're gonna play the game hard. There is definitely something, when you're an every-day guy, to learning how to pick your spots, how to get out of the way [of pitches] and stuff, but he's a hard-nosed guy. You see that right away."
Pollock has led off in five of six exhibition starts, batting .235 (four for 17), and could spend much of the season at the top of the order. The Dodgers believe he'll bring consistency and stability to what was a suboptimal lineup spot last season.
Chris Taylor, Joc Pederson, Chase Utley, Max Muncy, Enrique Hernandez and Brian Dozier combined to hit .248 with a .328 on-base percentage, 167 strikeouts, 73 walks and eight stolen bases in the leadoff spot in 2018. It was more of a power-hitting (33 home runs, 80 RBIs) than table-setting group.
Pollock has made 172 of 546 starts at leadoff, hitting .283 with a .343 OBP, 16 home runs, 67 RBIs and 32 stolen bases.
He's not a player manager Dave Roberts will need to platoon — Pollock has been slightly better against right-handed pitchers (.284 average, .343 OBP) than left-handers (.275 average, .327 OBP) — but Roberts said Monday that Pederson and Muncy could also lead off against some right-handers.
"Right now, I like having him at the top of the order, it makes sense, but that doesn't mean that won't change either," Roberts said. "If we do change in some capacity, I'm sure he'll be open to it."
Pollock has made 135 starts in the second spot and 125 in the third and fourth spots. He batted fifth Monday in the Dodgers' 8-2 exhibition win over the San Francisco Giants at Scottsdale Stadium. He has had the plate discipline, speed and on-base ability to hit at the top of the order, and the power to hit in the middle.
"The goal as a hitter is to put a good at-bat together and get on base — whether that's in the leadoff spot or two, three, four, five, it doesn't matter," Pollock said. "You try to do that every at-bat. There's not a spot in the order I wouldn't feel comfortable with. Wherever they want me, wherever the fit is, I'm up for it."
Get our Dodgers Dugout newsletter for insights, news and much more.
You may occasionally receive promotional content from the Los Angeles Times.