Former Dodgers teammates Dave Roberts and Alex Cora will go head to head as managers in the World Series
Boston Red Sox manager Alex Cora talks about his friendship and time playing with Dodgers manager Dave Roberts.
Reporting from Boston —
The Dodgers had just moved into first place in the National League West for good, in a month they had won 21 of 28 games. They were gliding toward their first division championship in nine years when their first-year general manager suddenly tossed a bomb into the clubhouse.
The starting catcher and clubhouse leader? Gone.
The setup man? Gone.
Two of the top four outfielders? Gone.
"I don't know that there were many days that were much tougher than that one," said Jim Tracy, then the Dodgers' manager, "because of the emotions that were exploding in the clubhouse."
In a 48-hour whirlwind before the July 31 trade deadline, general manager Paul DePodesta had made four deals.
Paul Lo Duca, the catcher, went into Tracy's office and said he didn't want to go. Guillermo Mota, the setup man, went into Tracy's office and said he didn't want to go. Dave Roberts, one of the outfielders, sought consolation from Alex Cora, the second baseman.
"He was crushed," Cora said.
Roberts and Cora had been teammates for three years. On that last day of July in 2004, Cora persuaded Roberts it was time to go, and it was fine to go. The Boston Red Sox were bound for the playoffs, too, and they wanted Roberts.
"Hey, man, you're going to a great city," Cora told Roberts. "They have a chance to do something special."
Roberts stole the base that immortalized him in Red Sox lore, five months after Cora had homered to end an 18-pitch, 14-foul at-bat that Vin Scully called "the greatest single at-bat I ever saw."
But it was that turmoil in the Dodgers clubhouse that helped shape both men into managers, to learn about how to handle the clubhouse when the front office demotes or dumps a player and leaves it to the manager to clean up the emotional aftermath.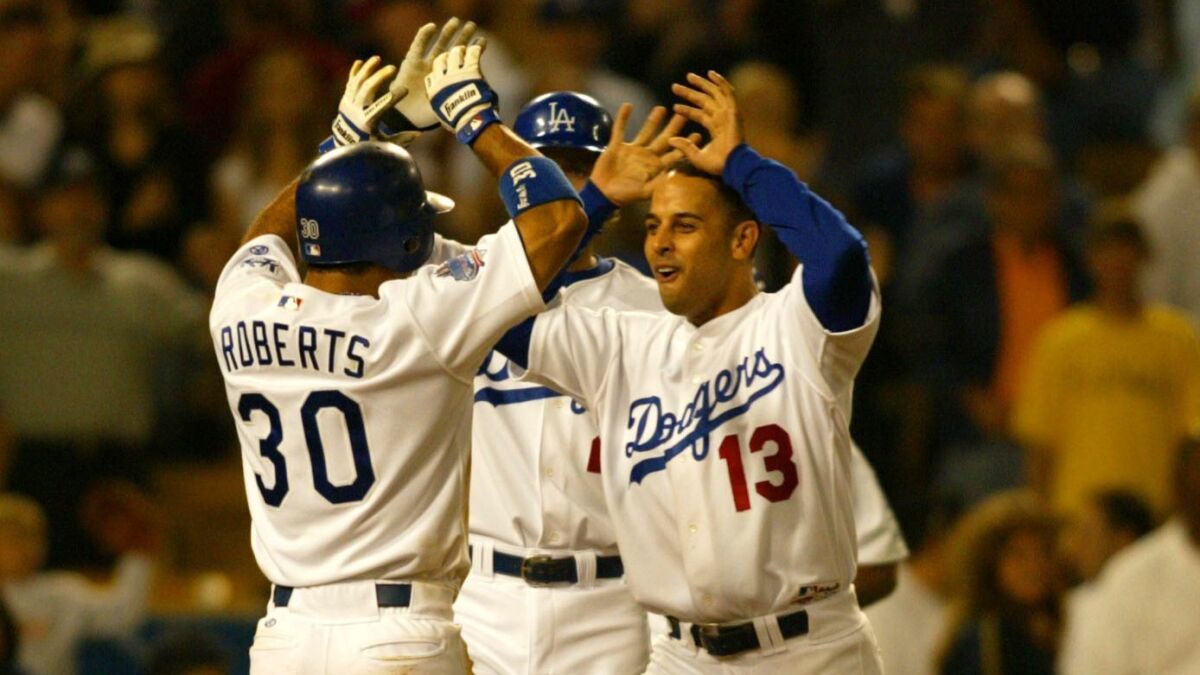 On Tuesday, when the Dodgers and Red Sox open the World Series at Fenway Park, the former Dodgers teammates will manage against one another. For the first time in the World Series, the two managers are minorities, so it is fitting that both men played together on Jackie Robinson's team.
"I always thought both of those guys were such great teammates and such great leaders," said Dan Evans, who preceded DePodesta as the Dodgers' general manager. "They were good players, but they were better people."
Tracy remembered Roberts and Cora each asking him why the Dodgers did what they did on certain plays, the better to learn about strategy, and how decisions were made regarding the role of all the players, not just themselves.
Back then, Cora was the only sure thing as a future manager.
"My wife would even vouch for me on this one," Tracy said. "When I'd come home, and we'd get to talking in the evening, I'd say, 'You know, the second baseman is going to manage someday.' "
And Roberts?
Dodgers manager Dave Roberts talks about managing against his friend, Alex Cora, and managing Yasiel Puig and Manny Machado.
"I thought he would be a TV personality," former Dodgers teammate Shawn Green said. "He's so good, so articulate."
And so he was. In 2009, the first year after he retired as a player, he worked for the Red Sox as a television analyst. In 2010, he took a job in the front office of the San Diego Padres.
Cora was surprised. He wasn't sure Roberts ever wanted to coach, or manage.
"But he lives in San Diego, living the good life," Cora said. "Why not work there with the Padres?"
The front-office job led to a coaching job. In 2015, when the Dodgers hired Roberts as manager, he invited Cora to consider joining the coaching staff. Roberts had seen managerial potential in Cora, even as a player, before he saw it in himself.
At that point, Cora was the one with the TV job, four years into his retirement, working 70 days a year for ESPN, flying back and forth from his Puerto Rico home. He told Roberts thanks, but no thanks.
The next offseason, when the Houston Astros invited him to become their bench coach, Cora called Evans. Cora had decided he was ready to manage, and Evans assured him the bench coach role would be the best possible preparation.
Cora and Roberts each is in his first managerial job — Cora in his first year, Roberts in his third. Neither managed in the minor leagues or in a small market.
In this era, managers can be middle managers, the corporate spokesmen who defend the moves made by their bosses. They cannot overturn tables of food in the clubhouse, lest they be labeled as too emotional or impulsive. They have to hold two news conferences every day, and 25 players in the clubhouse, handling whatever controversies arise without causing any of their own.
In win-now positions, in baseball-crazed cities, without the training wheels of a previous job, Cora and Roberts have aced their tests.
Evans uses the term "impact manager" to describe both men.
"I think there's a big difference between guys who manage and guys who are impact managers," Evans said. "An impact manager is able to seize the moment and do things out of the ordinary, but they're also not afraid to show emotion. They're not afraid to be fully engaged with their players. I think there is a bit of charisma, a bit of guts.
"I'm really rooting for both of them. I just think the world of both of them."
Former Dodgers first baseman Eric Karros said he never thought about whether his two teammates might manage.
"Looking back, it makes all the sense in the world," Karros said. "Pretty cerebral. Saw the game from a lot of different viewpoints. Weren't the superstar guys, so probably understood a lot of the nuances to be successful.
"The most important thing is, they're great human beings."
Of all his 2004 Dodgers teammates, Green said, he wouldn't necessarily have ranked Cora and Roberts as the two most likely to manage.
Robin Ventura already did. David Ross will, as soon as he wants. Adrian Beltre would be terrific, but Green suspects Beltre will "just disappear" after he retires.
And the clubhouse leader, remember, was Lo Duca.
"If I were running a team, he'd be on my list," Green said.
This series is the Dodgers versus the Red Sox, and Roberts versus Cora.
"I'm always pulling for the Dodgers," Green said. "But it's a good backup plan to have a guy I like managing the other team."
Tracy is Baseball Switzerland for the next week, espousing neutrality, not rooting for one his former players over the other.
"I'm rooting," he said, "for one hell of a Series."
Follow Bill Shaikin on Twitter @BillShaikin
---
Get our Dodgers Dugout newsletter for insights, news and much more.
You may occasionally receive promotional content from the Los Angeles Times.