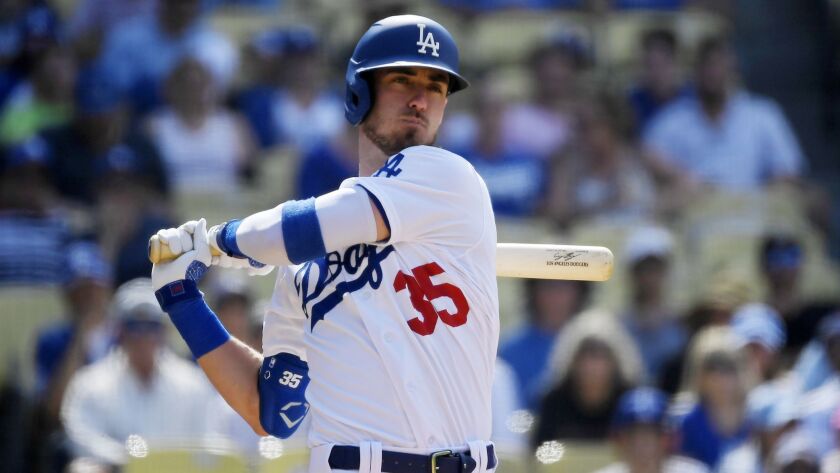 Reporting from CLEVELAND —
The woman bided her time, waiting for the right moment to interrupt the conversation and greet the former major leaguer.
"Congratulations on your son," said the woman, clad in Dodgers gear. "He's doing an excellent job."
"Oh, thank you," Clay Bellinger said, shaking the woman's hand. "Thank you."
It was a sun-doused Fourth of July, and Bellinger was sitting behind home plate at Dodger Stadium watching his son, Cody, take batting practice. The younger Bellinger had delivered a walk-off walk and a walk-off home run the previous two nights, continuing his personal revival and the Dodgers' demolition of the National League in 2019.
Cody Bellinger, who turns 24 Saturday, is a superstar in the country's second-biggest media market for one of the sport's iconic franchises. In his third major league season, he is a contender for NL MVP for the team with the best record in baseball. He is batting .336 with 30 home runs and a 1.124 on-base-plus-slugging percentage. He is a Gold Glove-caliber right fielder with an arm that recently fired a 99-mph laser. He holsters the five tools and this season he is showing them off.
Fans overwhelmingly voted him a starter for the All-Star game. He has seen teenage girls run onto the field during a game, risking punishment, just to hug him — not once, but on back-to-back days. He has made people forget about the previous fan favorite patrolling right field for the Dodgers.
"I always told him at the very beginning, 'Dude, you can be a superstar on the field,' " said Clay Bellinger, who appeared in 183 games across four seasons as an infielder and outfielder and played for two World Series winners. "But you can be one off the field too, just being good to people."
When Cody Bellinger burst onto the big league stage in 2017 to clobber 39 home runs in five months, participate in the Home Run Derby, make the National League All-Star team, help the Dodgers reach Game 7 of the World Series and win NL rookie of the year, this kind of success was, perhaps, a given. Then last season happened, and though, in a vacuum, it wasn't a bad season — plenty of major leaguers would take 25 home runs, 76 runs batted in and 14 stolen bases — context distorted the canvas.
Bellinger, for whatever reason, couldn't consistently hit left-handed pitching. He finished the regular season batting .226 with a .681 OPS against left-handers. It was a problem he didn't encounter in 2017.
"I don't know what happened," said Clay Bellinger, a firefighter in Gilbert, Ariz., who works 10 to 12 24-hour shifts a month. "He just couldn't get out of it. He was swinging at a lot of bad pitches, and when you're swinging at bad pitches in this game at this level, it's hard, man. It's hard when you're swinging at good pitches."
By the end of August, Bellinger found himself platooning. The Dodgers, unexpectedly having to play catch-up to win their sixth consecutive NL West crown, decided they couldn't watch Bellinger struggle against left-handers any longer. He wasn't pleased.
"He was a little bitter about it," said Patrick Murphy, Bellinger's best friend. "He said, 'I'm going to be an everyday guy going forward. I'm not sitting anymore.' "
Murphy, a pitcher in the Toronto Blue Jays' organization, knows this because he and Bellinger talk every day and live together in Bellinger's three-bedroom condo in Arizona during the offseason. He said he noticed a different level of focus from his friend over the winter. Bellinger was back and forth from Arizona and Los Angeles, where he immediately began working out with the Dodgers' hitting coaches once Robert Van Scoyoc was hired.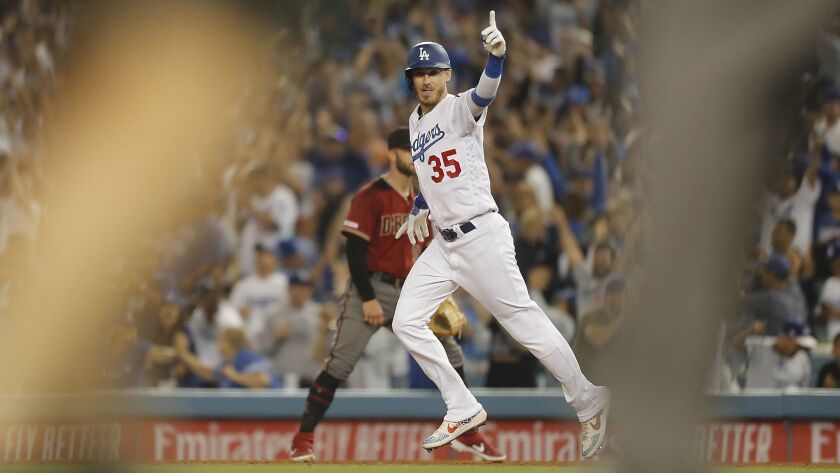 They worked on repeating Bellinger's mechanics from 2017 with slight differences. They decided he was standing too tall and was inhibited by too much movement in 2018. The combination made it difficult to get to some pitches. The modifications have produced a 14.9% strikeout rate — 9% lower than in 2018 — and nearly as many walks (54) as strikeouts (56). On top of that, he's batting .330 with a 1.129 OPS and 11 home runs against left-handed pitching.
"I think the adjustments he's made with two strikes, that's been the most seismic [change]," Dodgers president of baseball operations Andrew Friedman said. "I think what he's doing right now, with two strikes, it's had a lot to do with his dramatic jump in offensive value."
In 2017, Bellinger batted .167 with two strikes. Last year, it was .205. This season, he's hitting .277 — tied for ninth in the majors.
Mike Trout's All-Star peers readily admit his skills are peerless »
"Just the fact that he's been so consistent with his mechanics and his approach, he hasn't changed a lot of that, and that's been the most impressive thing," fellow Dodgers All-Star Max Muncy said. "Guys go through a lot of changes over the course of the season, and he hasn't done any of that. He's been able to keep everything the exact same, and I feel that that's his biggest reason for success this year."
The transformation landed Bellinger at a dais at the Huntington Convention Center of Cleveland during Monday's media availability. He was asked about his stellar season and whether he's ever wanted to travel to China and to finish the lyrics to Lil Nas X's "Old Town Road" in an American flag cowboy hat. Major League Baseball invited him to take part in the Home Run Derby, but he declined the chance to win $1 million, opting to spend the evening relaxing before batting cleanup and playing right field for the National League on Tuesday.
Sign up for our Dodgers newsletter »
"It's special," Bellinger said. "You never know if it'll be your last one, so I'm enjoying every second of it."
The Dodgers will return to action Friday in Boston against the Red Sox, in a rematch of last fall's World Series. They will open with a 13.5-game lead in the NL West, cruising to another division crown, barring a stupefying collapse. Bellinger will be in the thick of the MVP race — the Milwaukee Brewers' Christian Yelich and Pittsburgh Pirates' Josh Bell are the other contenders at the moment — before the Dodgers try to end their championship drought in October again. They will need Bellinger, their young superstar, to reach those heights.
Said Dodgers manager Dave Roberts: "The script is still being written."
Twitter: @jorgecastillo
---