Yasiel Puig left behind a complicated Dodgers legacy
On the broadcast, Yasiel Puig appears as a blur. He sprints toward the right-field line at Dodger Stadium. His eyes pierce the gloaming to trace a sinking drive struck by Houston's Alex Bregman. His legs resemble pistons until he lunges, blue glove extended in desperation, trying to end a 29-year championship drought.
The baseball skims the webbing of Puig's glove and bounces into the stands for a ground-rule double. He skids to his feet, spikes his mitt in the dirt and punches the air. The attempt looks noble but futile, a play even a gifted fielder like Puig cannot complete.
"This," says Fox broadcaster John Smoltz during the eighth inning of Game 2 of the 2017 World Series, "is an unbelievable effort by Puig."
The baseball had sizzled down the line, and "I don't remember looking at it like, 'Oh, that's a ball that should have been caught,'" said Brandon Morrow, the Dodgers pitcher at the time. But Morrow never studied the replay. Hours later — after Bregman scored, the Dodgers blew a lead and forfeited control of the series to the Astros — several members of the organization did.
The footage revealed issues the team had spent years trying to correct. Puig wasn't ready for the pitch and got a late jump. He was out of position, shaded too far toward center field. He often ignored the positioning card distributed to Dodgers defenders before games; according to six people familiar with the situation, he on several occasions ripped up the card in front of outfield coach George Lombard and left the pieces on the ground. In the eyes of Dodgers officials, Puig was unprepared at a time when negligence might mean the difference between a title and heartbreak.
"There were always things like that," manager Dave Roberts said one day this spring. "Taking plays off."
Roberts was trying to explain the gap between what the public saw of Puig and what the Dodgers saw during his six years in Los Angeles. The gap became a chasm, with the organization marketing Puig as a star while the front office tried to trade him. The gap was large enough that fans were shocked in December when the team dealt Puig, along with outfielder Matt Kemp, pitcher Alex Wood and catcher Kyle Farmer, to the Cincinnati Reds. The gap remains in place as Puig prepares to return to Dodger Stadium on Monday with his new club.
The public saw the flair that accompanied Puig's production. His right arm impersonated a cannon. His speed wrought havoc. His power provoked fear. He crackled with life. He wagged his tongue and kissed his hitting coach, shook his backside and chopped his crotch, licked his bat and then flipped it. "You never knew what was going to happen," second baseman Enrique Hernandez said. "It was electric."
The team saw flaws amid the flashes of brilliance, according to interviews with more than 20 current and former Dodgers, coaches and executives. Tardiness plagued Puig. His attention wavered. His preparation waned. He ran the bases with enough recklessness that teammates joked Puig thought he was invisible. He hassled staffers. He ignored suggestions from coaches. He rejected entreaties from teammates.
"The frustrating part is that if Puig was good, and played good, then we would be a really, really, really good team," third baseman Justin Turner said. "So everyone wanted him to be that good player. He didn't see it that way. He just saw it as he was just going to show up and do whatever he wants."
Puig left a complicated legacy. He never won a Gold Glove or hit 30 home runs, but he forged an indelible connection with the Dodger Stadium faithful. He was not the face of the franchise, but he provided its frenetic pulse. The organization deemed his performance inessential, but he created moments that were unforgettable. The Dodgers never missed the playoffs during his tenure, but they do not appear to miss him.
Puig, 28, declined an interview for this story. Greeted by a Times reporter at Great American Ball Park in Cincinnati last week, Puig relayed his preference to talk about the Dodgers upon his arrival Monday at Chavez Ravine.
"I'm not going to talk to you about Los Angeles two times," Puig said. He nodded when asked if he was sure. "Nothing about Los Angeles."
He had already said plenty. Early in his tenure in Cincinnati, Puig confessed "I never worked hard" with the Dodgers. He vowed to apply himself now because he'd be a free agent after the season. He criticized Roberts for decisions in the World Series. He also professed his love for the color red.
Lines of communication with the Dodgers remain intact. Lombard offered to hit fly balls to Puig this winter in Miami. Puig dined with closer Kenley Jansen after the trade. He exchanged texts with Roberts during the spring. Roberts retains affection for his former outfielder, along with the scars formed over three seasons together.
"I have such a great relationship with Yasiel," Roberts said. "To watch him grow over the years has been a lot of fun. But I think [playing for the Reds] is going to be a great opportunity for him."
Roberts did not mind Puig's critique of his managing, but he admitted the comments about effort rankled him.
"I was disappointed to read that he said now that he's a free agent, he's going to work harder and practice and be the best he can be," Roberts said. "That's what everyone around him here was doing. For him to come out and say he didn't give his best effort for us, it's very disappointing. And it just shows that this probably wasn't the right place for him."
::
Joc Pederson eyed the recording device held by a reporter. He had been asked to relay his favorite story about Yasiel Puig. He made clear that he liked Puig — "a lot," Pederson said — but the recorder prevented him from sharing.
"They're probably not for the paper," Pederson said. "But you can use your imagination."
::
In the final week of May 2013, a San Diego Padres scout named Jeff Pickler decamped to the Dodgers' double-A affiliate in Chattanooga, Tenn. Puig had been in the United States for less than a year. At 21, he had defected from Cuba after multiple thwarted attempts. He was more myth than man. The Dodgers gave him $42 million based on a round of batting practice in Mexico City. Scouting director Logan White believed Puig could be the LeBron James of baseball.
Pickler was sold: The raw strength in Puig's 6-2, 240-pound frame, the quick-twitch athleticism, the powerful arm. When Chattanooga rallied late, Pickler noted that "nobody was more excited" than Puig. Near the end of his assignment, Pickler learned the Dodgers were calling up Puig. The scout ended his report with a flourish. "Enjoy the show," he wrote.
The spectacle arrived at Dodger Stadium on June 3. The Dodgers were drowning, nine games under .500, with the job security of manager Don Mattingly in jeopardy. The team needed an outfielder after injuries to Kemp and Carl Crawford. Puig rescued them.
On his first night, Puig singled in his first at-bat and ended the game on defense with a 9-3 double play that made Roberts, then the Padres first base coach, howl. A day later, he homered twice. "Viva Cuba!" Vin Scully said. "Viva Puig!" Puig took a curtain call, and then another when he hit a grand slam two days later. Scully dubbed him "The Wild Horse." Puig was a folk hero before the week was over.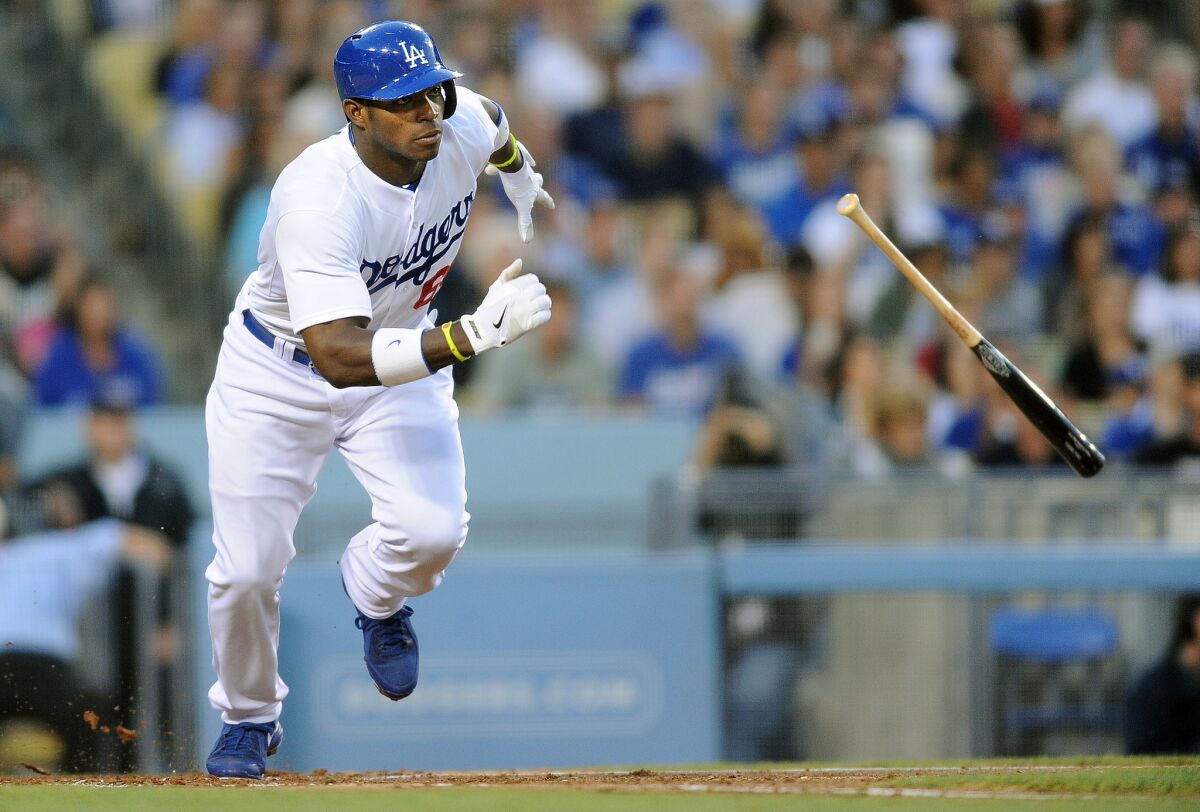 The instant offense was vital for the Dodgers, who went on a 42-8 run and won their first division title since 2009. Yet Puig remained an unfinished player. He airmailed the cutoff man. He ran into outs. He let his strike zone expand. As the industry debated whether Puig was better than Mike Trout and the Dodgers ratcheted up their marketing efforts behind him, the baseball staff aimed to polish his deficiencies.
"We always had to manage in a very unique way, because we didn't want to have him change the passion, the exuberance, the flair that he brought every day," said Ned Colletti, the Dodgers general manager through 2014. "But you also need other elements in order to be successful."
The gap in Puig's perception began in those early days. While the public adored him, Puig sparred with Mattingly over his punctuality and his preparation. Puig had to traverse a language barrier and a cultural one. He was unaccustomed to expectations. He struggled to connect with teammates, who complained about him behind his back. Some of the veterans felt Puig was empowered by the team's zeal for selling him as a star.
Amid the whirlwind, Puig was sensational. He never again touched the heights he reached in 2013, when he batted .319 with a .925 on-base-plus-slugging percentage. He also hinted that the tumult around him would not soon cease.
Near the end of the season, Colletti sat Puig down. He liked to leaven any criticism of Puig with dollops of encouragement. He told Puig he could become a star and have a lengthy career. He just needed to make good decisions. That winter, Puig would be arrested for reckless driving for the second time in a year. Puig listened to his boss. Then he spoke.
"Papi," Puig told Colletti, "where I'm from, we don't worry about tomorrow."
::
Austin Barnes could only see a blur. A favorite Yasiel Puig story? "They're all lumped together in the big Puig room in my head," he said. "He just likes to have fun. He just wants to have a good time. He's like a little kid in a big ol' body."
::
Jansen considered Puig "my brother," an irrepressible source of chatter and emotion and comedy. Jansen could never forget the time a sopping wet Puig burst into the clubhouse during the middle of a game.
Jansen was sitting at his locker when Puig appeared, drenched and fearful. Moments earlier, after making an out at the plate, Puig had flung his equipment against a wall in a hallway behind the Dodger Stadium dugout. The impact triggered a sprinkler, which flooded the hallway and brought the fire department. As Dodgers staffers grumbled at the mess, Jansen cackled at his friend.
"And the reason I was dying laughing is because he was so scared," Jansen said. "He panicked. Like, what happened? There was water all over. It was like watching a little kid panic, like, 'Oh, shoot, I broke something.'"
Puig came from a place that inhibited freedom off the field, but encouraged panache on it, Jansen said. As a native of Curacao, Jansen empathized with Puig's difficulty transitioning to life in the U.S. In the Caribbean, time is a fluid concept. "Five minutes late? That's still on time," Jansen said. "Here, it's like 'You are late.'"
Jansen had five seasons in the minors to adjust. Puig was not afforded a similar runway. He had to learn under the major league microscope. The Dodgers spent years counseling Puig on intricacies some teammates and coaches consider second nature.
"We can't look at it as a fault on him," said Chris Woodward, the former Dodgers third base coach who now manages the Texas Rangers. "He just wasn't taught. If I've got a kid who's never been past second grade, how am I going to teach him calculus?"
The debate over Puig versus Trout ceased, even after Puig made the All-Star team in 2014. Scouts zeroed in on the stiffness of his swing, which allowed pitchers to pound him inside with fastballs and punish him away with offspeed pitches. Aware of the apprehension surrounding the outfielder, the new front office duo of president of baseball operations Andrew Friedman and general manager Farhan Zaidi hoped Puig could benefit from a fresh start in 2015, but hamstring injuries limited him to 79 games.
In the spring of 2016, Puig was invited to dinner by Roberts, Lombard and Woodward, who had taken over for Mattingly and his staff. The new regime aimed to build a bridge toward Puig. Over sushi, the coaches presented themselves as allies rather than enemies.
Puig was still slow to trust. The coaches encouraged him to develop a routine, which was met with skepticism. After a good game, Puig might skip the next day's pregame activity. If he struggled, he might overcompensate in the batting cage. Lombard lobbied Puig to protect his right arm, perhaps his greatest gift.
"I've got a good arm," Puig would tell Lombard. "I don't need to throw."
"If you don't throw," Lombard would reply, "you're not going to have a good arm."
Lombard, who said "I love Puig," admitted the relationship was "challenging." They regularly debated positioning. The Dodgers utilize advanced metrics and lasers to guide their fielders. Puig believed he could read swings and trust his instincts. FanGraphs has rated him a below-average fielder for five of his six seasons, but Puig considered himself elite. That led to the positioning cards being torn up.
"Puig had a lot of success playing this game without computers and without having these little defensive cards," Lombard said. "And my comeback for him was 'Guess what? I didn't have computers in high school, either. And now they're available. And the information that we're getting is very good.'"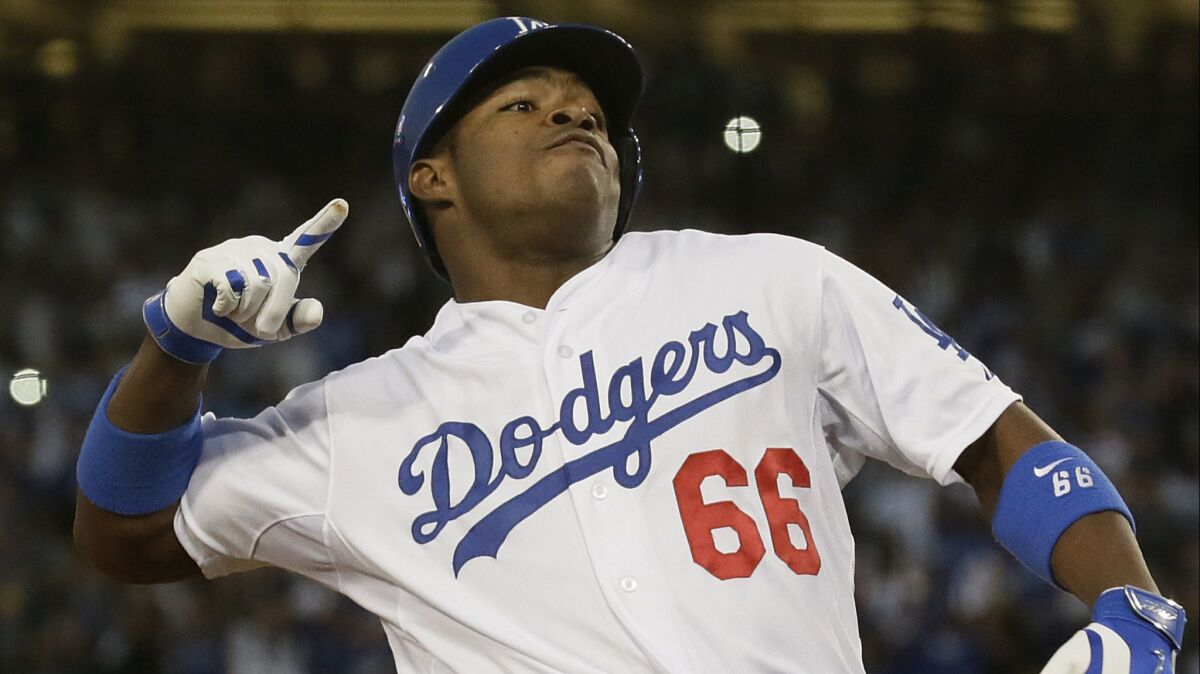 On the bases, Puig helped the Dodgers with his aggression, even when he ignored warnings. Woodward smiled as he recalled defenders throwing the ball away as Puig broke loose, "and I'm at third like, 'This worked out again?'" His teammates called him "Mr. Invisible" or fantasma, the Spanish word for ghost.
"He would run where we would be like, 'Where are you going?'" Hernandez said. "And then it would still work. Like reckless baserunning that, at the end of the day, looked like it was smart baserunning, because it worked out for him."
Puig fixated on results rather than process. He pushed back against criticism from teammates. Pederson described Puig as "very smart, very observant," noting he "will say things from the past if you try to ask him about stuff, because it's like a defense mechanism."
"The hard part was he'd always have a knee-jerk reaction, and try to point out something that you did, a year ago," Turner said. "Like, 'Oh, you did this! It's OK for you?'"
As a rookie manager, Roberts found himself devoting significant energy toward Puig. He admitted he applied a double standard. Puig got away with more than most players would be permitted. Roberts disciplined Puig at times, but he could not enforce every infraction.
Yet Puig lived within another double standard, Zaidi suggested. The Dodgers might have been more permissive toward his behavior than they preferred. But Puig also operated under harsher scrutiny than his peers.
"If you take a step back," Zaidi said, "there might have been too much focus on what he couldn't do, or what he didn't do, than what he did do, and the ways he helped us. And I think he felt that way."
::
Corey Seager shrugged his shoulders. He could not conjure a favorite story about Yasiel Puig.
"Uh . . . not really," Seager said. "Not really, without, like, bashing him."
::
Friedman pointed his car toward Puig's home in Sherman Oaks during the summer of 2016 to deliver the message in person. A few days earlier, as the trade deadline approached, Friedman informed Puig's agents at Wasserman that the team was looking to move him. Unable to consummate a deal, Friedman had decided to send Puig to the minors.
Puig wanted to know why. For the Dodgers, the grievances had added up. Puig showed up late to meetings. He did not do the necessary work to prevent injury. He was uninterested in instruction. His OPS had sunk to a career-worst .706. Once a star, Puig now belonged in a platoon.
"He appreciated the honesty," Friedman said. "Had good feedback, and he made some counter-points. Other things he heard and acknowledged."
Puig spent a month with triple-A Oklahoma City. Outside a night carousing with teammates on a party bus — an event he documented on Snapchat — Puig avoided controversy in the minors. He played part-time after getting called up that September, but stayed with the team for 2017 after the Dodgers could not find a suitable trade partner that winter.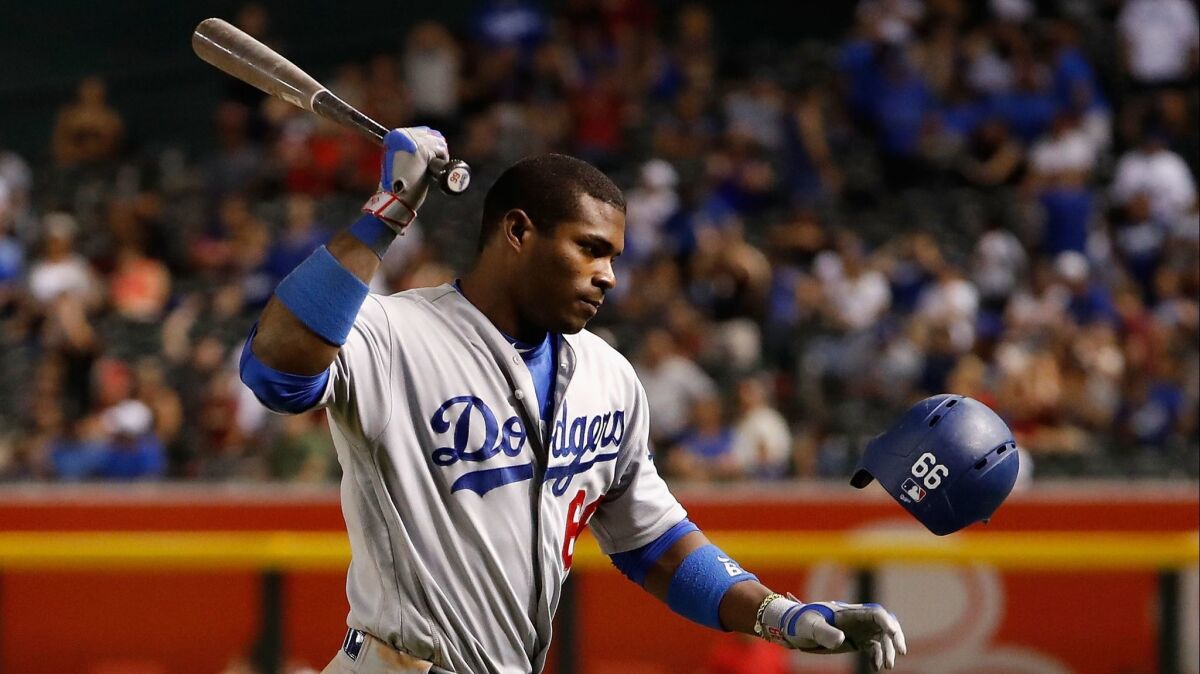 Puig was a useful contributor on the Dodgers' 104-win juggernaut. He was heartened when most of his teammates attended his charity poker tournament. He began smooching hitting coach Turner Ward after homers. He reveled in playing with the coaching staff's kids. Woodward considered it a breakthrough when Puig shared stories about his upbringing and his journey from Cuba.
When the Dodgers grieved over the World Series against Houston, Puig wept at his locker. His improper positioning in Game 2 was overshadowed by Clayton Kershaw's collapse in Game 5 and two meltdowns from Yu Darvish. No longer did Puig dominate the discourse.
The next spring, when Wasserman parted ways with Puig, the news hardly made a ripple. Adam Katz, his former agent, has declined to explain what happened. "I have affection for Yasiel," Katz said. "But I don't represent him anymore, so I have no comment."
On the field, Puig's 2018 unfolded much like the previous year. He was a productive player, but far from irreplaceable. He abided Ward's suggestions about sticking to a routine and running hard on the bases, but still saw his defense regress. He chafed at his platoon role, but learned to be ready to contribute midway through games.
For Roberts, there were still headaches. The gap persisted. The public recalled Puig's titanic home run in Game 4 of the World Series; the Dodgers remembered Puig blundering into an out on the bases in Game 2 of the National League Division Series.
As Friedman pondered how to end the title drought this winter, he focused on clearing his outfield surplus. When the Reds showed interest in Wood, the two teams built a larger deal including Puig. A Dodgers career that began with such fanfare ended with a press release a few days before Christmas.
His teammates moved forward without him. During spring training, a few noted the lower volume in the room. Some mentioned the absence of Puig's energy. Others lamented the time spent on their former teammate.
"The talent is off the charts," Turner said. "He could be one of the best players in the game. But the frustrating part is when you don't see him necessarily having the desire to be as good as he could be.
"It's one of those things where you're like, 'Man, if I had that guy's body and talent, how good of a player would I be?'"
::
Clayton Kershaw chuckled.
"Do I have a favorite Puig story?" he said. "No."
He gathered himself. "Look, Yasiel had a lot of good moments with us. He helped us win a number of different times. The fans loved him.
"Obviously, there was some roller coaster stuff going on there at times. But, shoot, he was here six years. We had a lot of good runs. Every year, we went to the playoffs when he was there. He contributed a lot to that.
"No matter what antics he may have had, he definitely helped contribute to help us win games. You can't argue with that."
::
Yasiel Puig sauntered into the Reds clubhouse at Great American Ball Park one day last week. He has made this park his home, although details are still being sorted out. His nickname, for example.
"Oh, ho, here he is!" second baseman Scooter Gennett said. "The Mad Horse!"
The Reds have opened their arms to Puig. He figures to play right field every day. Despite a slow start, he resides in the middle of the lineup. His outfield coach is Pickler, the former scout who raved about him in 2013. Cincinnati has implemented positioning cards; early in the spring, Puig informed Pickler that he knew the league well enough to position himself.
Roberts still trades messages with Puig. After the trade, he called Puig to thank him. He hopes Puig cashes in as a free agent this winter.
"I want him to do well," Roberts said. "I think it's great for him. I think it's great for the game."
Roberts was watching the Dodgers work out in front of him. For the first time since 2013, that group did not include Yasiel Puig.
"We put a lot of effort into getting him to conform and be the best player he could be to help the Dodgers win baseball games," Roberts said. "And now we have a bunch of guys who are focused on that."
Sign up for our daily sports newsletter »
Twitter: @McCulloughTimes
---
Get our Dodgers Dugout newsletter for insights, news and much more.
You may occasionally receive promotional content from the Los Angeles Times.