Corey Seager will play opening day for Dodgers, Dave Roberts says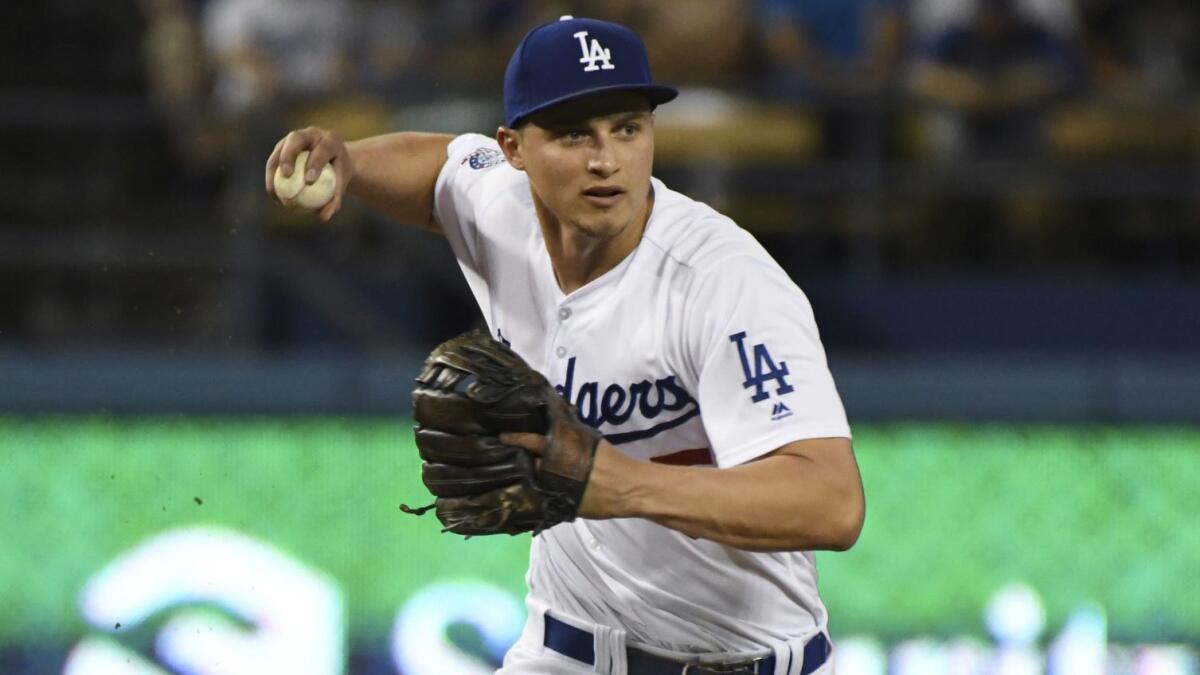 Reporting from Phoenix —
Dave Roberts made the declaration with conviction, not an ounce of doubt in his voice, Sunday morning: Corey Seager, the Dodgers' All-Star shortstop who hasn't played since undergoing elbow ligament-replacement surgery in May, will play on opening day.
"Absolutely," Roberts said.
"I think just talking with the training staff and talking with Corey himself and just where he's at, the progression," he added. "I think that we've been conservative, understandably, and I just don't see any reason why he won't be ready for opening day."
The Dodgers have maintained confidence in Seager's timetable. All along, they have been optimistic the shortstop would be ready for the start of the season. At the same time, Seager has not played in a Cactus League game this spring and started playing shortstop in minor league games only last week.
That apparently isn't a roadblock. Roberts said Seager, 24, was scheduled to take at-bats in a minor league game Sunday before playing seven innings at shortstop in a minor league game Monday. He'll then take a day off, join the Dodgers on the big league side after that and play in all three Freeway Series games against the Angels before opening day March 28.
Seager played five innings in a minor league game Saturday. He didn't field a ball at shortstop and grounded out three times in three at-bats.
"To be quite honest, I'm not too concerned," Roberts said of Seager's performance at the plate. "It's more of concerning myself with the body. With hitters, it can be an at-bat or a couple at-bats, and you can find something, your timing, so right now I just want to make sure his body feels good."
Seager last played for the Dodgers on April 29. He had elbow surgery the first week of May and arthroscopic surgery on his left hip in early August. The elbow, not the hip, has been the chief concern, and the Dodgers played it safe, holding him from playing the field until they were more than confident he could make all the necessary throws at shortstop.
Roberts said Seager will take on a lighter load than usual at the beginning of the regular season, but the Dodgers won't be conservative enough to put him in a straight platoon in the early going. The Dodgers' other options at shortstop are Enrique Hernandez and Chris Taylor.
Clayton Kershaw takes another step forward
Clayton Kershaw threw his third bullpen session Sunday since suffering a setback earlier this spring. The left-hander tossed close to 40 pitches and mixed in breaking balls for the first time off the mound, something he did not do in the previous two bullpens.
"I think that Clayton is in a really good place, as much [as can] be expected," Roberts said. "I think that he wants to be healthy and knows he can really help us when he gets healthy. And he's willing to do whatever to get healthy and to pitch when that time comes. Does he want to be healthy and be active and not having this conversation? Absolutely. But I think he's in a really good place."
Sign up for our Dodgers newsletter »
Kershaw, who declined to talk about his status for opening day, will next face hitters in a live batting practice session. The day is yet to be determined. Kershaw said he hoped it would be Wednesday but added: "Other people have other opinions."
"It's always a bit of a healthy argument," Kershaw said. "No, it's good. It's been good. We got a good plan. Just next step."
Max Muncy is held out again
Max Muncy was not in the Dodgers lineup for the fourth straight day as he dealt with right forearm irritation. Muncy did, however, take batting practice and resumed throwing for the first time since the ailment surfaced.
Twitter: @jorgecastillo
Get our Dodgers Dugout newsletter for insights, news and much more.
You may occasionally receive promotional content from the Los Angeles Times.