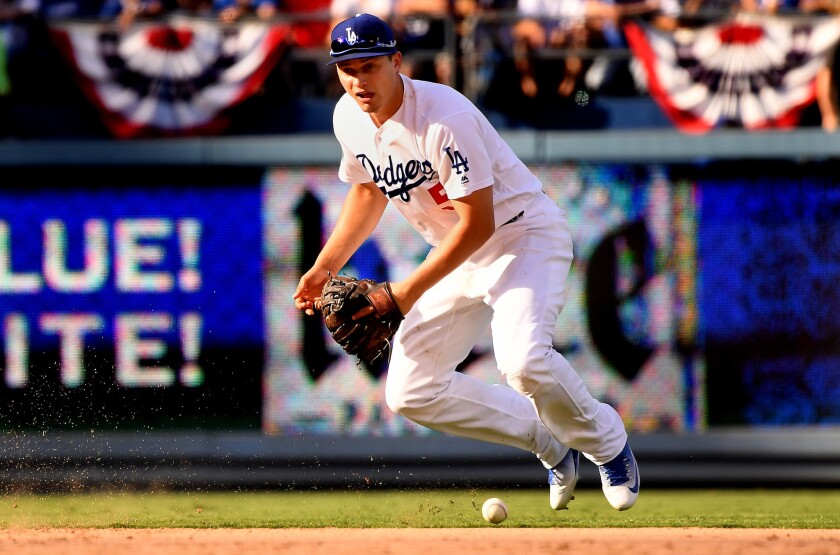 Reporting from Phoenix —
Nearly a year after last appearing in a major-league game for the Dodgers, Corey Seager was back in the team's lineup Wednesday night against the Chicago Cubs. It was not a dull debut.
Batting third in the order, the shortstop drove the ball to the warning track in his first at-bat, slugged a home run on a cut fastball from Cole Hamels in his second, and recorded a sacrifice fly in his third and final plate appearance in six innings in the Dodgers' 4-4 tie with the Chicago Cubs at Sloan Park.
But it was in the field where Seager, who underwent elbow-ligament replacement surgery last May, was tested and encouraged. Shifted toward third base against a left-handed hitter, Seager had to sprint to second base to retrieve a flip and side-arm throw against his momentum to first base. He completed the play without a hitch. It was similar to the play he originally hurt his elbow on, one he couldn't re-create in his rehab process and one he was happy to get behind him.
"Honestly, I didn't think about it until after," Seager said. "That was one of those throws that would've really bothered me before and it didn't really have anything at all. So it was kind of nice to kind of keep making different plays in different angles and stuff, and keep checking off boxes."
Seager also committed an error, booting a routine groundball off Javier Baez's bat in the fourth inning, but throwing balls, not fielding them, is the priority.
"We work him pretty hard," Dodgers manager Dave Roberts said, "but definitely seeing him in a major-league game and to see him make some plays and stay on his feet for 2½ hours, and see what happens and see how his body responds, that was a good thing."
Roberts said Seager will take five at-bats in a minor-league on Thursday before rejoining the Dodgers on Friday at Camelback Ranch. Wednesday was a first step.
"It was just fun," Seager said. "The adrenaline, the excitement, all that, so, yeah, it was really nice."
Sign up for our Dodgers newsletter »
Urias to start season in bullpen
Julio Urias was originally slated to start Wednesday's game, but was moved to the bullpen. Instead, Dustin May got the start. Why? Because, according to Roberts, Urias will begin the season in the Dodgers' eight-man bullpen after an impressive spring.
"If you forecast, project, a role that Julio makes the most sense on our ballclub, it's to come out of the bullpen in long relief," Roberts said. "So, you're looking at him to have two opportunities, two outings before the season starts. So to get two of those dress rehearsals of him coming out of the bullpen gives him the best opportunity to have success."
Urias, who was informed of the switch on Tuesday, surrendered three runs (two earned) in his 2⅔ innings of relief. He will next pitch in a Freeway Series game next week.
Chargois optioned to minors
Earlier in the day, the Dodgers optioned right-hander JT Chargois to minor-league camp on Wednesday, dwindling down the relievers in big-league camp to 10. Of the 10, Kevin Quackenbush and Stetson Allie, two nonroster camp invitees, are longshots to make the final cut, leaving Urias, Kenley Jansen, Pedro Baez, Joe Kelly, Scott Alexander, Dylan Floro, Yimi Garcia, and Caleb Ferguson as the likely bullpen composition for opening day.
Twitter: @jorgecastillo
---