Did Brett Anderson breakdown actually come as surprise to Dodgers?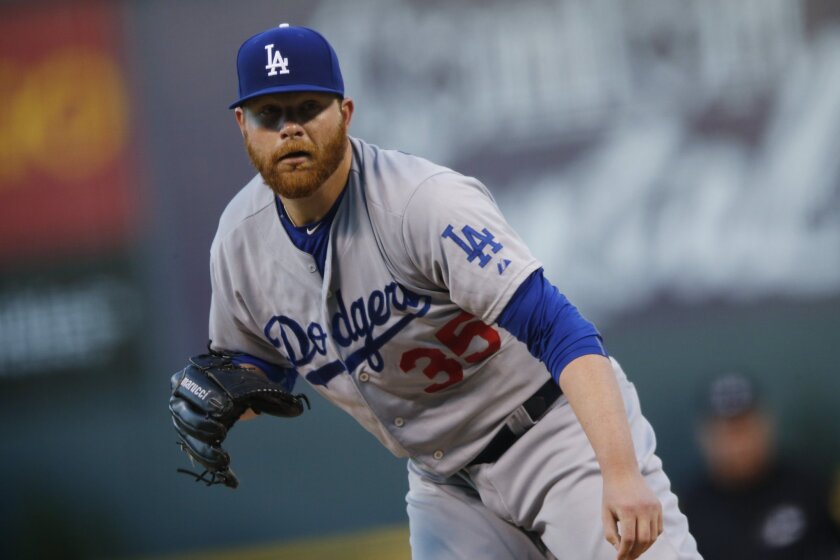 And then the time bomb went boom!
To the great surprise of someone, apparently in the Dodgers front office.
Brett Anderson's back went out again, and you have to feel for the 28-year-old left-hander, who had gambled on himself by accepting the Dodgers' $15.8-million qualifying offer and figuring a second consecutive healthy season would put him in place for a more significant long-term deal after the season.
Only now the Dodgers have announced Anderson will undergo arthroscopic surgery for a bulging disk in his lower back and be lost for three to five months.
Anderson had endured four consecutive years of assorted injuries – including a similar back surgery in 2014 – when he signed a one-year, $10-million contract with the Dodgers last season.
He was part of the front office's great rotation folly last season, counting on three starting pitchers with history of injury. Anderson actually might have been the most likely of the three to break down. But Hyun-Jin Ryu never did make a start before being lost to surgery and Brandon McCarthy made just four before he underwent the knife and was gone for the season.
It was a rotation hole the Dodgers never could fully climb out of, beginning a dizzy parade of starting pitchers and forcing a pair of deadline trades, that at best, provided mixed results (Alex Wood, Mat Latos).
Anderson, meanwhile, made a career-high 31 starts, going 10-9 with a 3.69 ERA and 1.33 WHIP. Maybe not dazzling numbers, but certainly solid. Certainly very good for someone signed to be a No. 5 starting pitcher.
The Dodgers then had to decide in the off-season whether to offer Anderson the one-year qualifying offer. Teams presumably make these under the assumption they are willing to pay the player the nearly $16 million should he accept. Anderson did, no doubt figuring that with a weak free-agent class looming for the next off-season for starting pitchers, he could parlay another healthy year into a career deal.
Now before the first pitch of a Dodgers' spring game, his back has cried out again and he's back to surgery. And the Dodgers could be in early trouble. For his sake, you hope he does make it back in the optimistic three-month timeframe. The Dodgers just can't dare count on it.
SIGN UP for the free Dodgers Dugout newsletter >>
Depth has been their big rallying cry this spring, but already the rotation is being strained in accustomed ways. The Dodgers had hoped Ryu would be ready to start the season, but have already said he's not expected back until at least sometime in May.
That left Wood in the rotation with Clayton Kershaw, Scott Kazmir and Kenta Maeda, but now with Anderson down, moves him up to the No. 4 slot with a glaring opening for the fifth spot.
Renewed opportunity for some of last year's efforts --- Mike Bolsinger, Carlos Frias, Brandon Beachy, Zach Lee? A first for prospects Jose DeLeon, Russ Stripling? Do they push 19-year-old phenom Julio Urias (no), or commit to Jharel Cotton as a starter?
They have a whole spring to sort that out, but their depth is already being tested in unpleasant and familiar ways. Frankie Montas, the hard-throwing prospect acquired in the winter and expected to be in the triple-A rotation, is out two to four months after rib surgery. Ryu is still uncertain, and McCarthy not expected back until midseason.
There is unexpected opportunity here, just not for Anderson. The Dodgers gambled against his history and lost.
MORE DODGERS NEWS
Dodgers plan to use Cuban right-hander Yaisel Sierra as a reliever
Dodgers are taking their time in turning top prospect Julio Urias into a major league starter
Dodgers are brimming with wine enthusiasm as they become owners, investors and enthusiasts
---
Get our high school sports newsletter
Prep Rally is devoted to the SoCal high school sports experience, bringing you scores, stories and a behind-the-scenes look at what makes prep sports so popular.
You may occasionally receive promotional content from the Los Angeles Times.