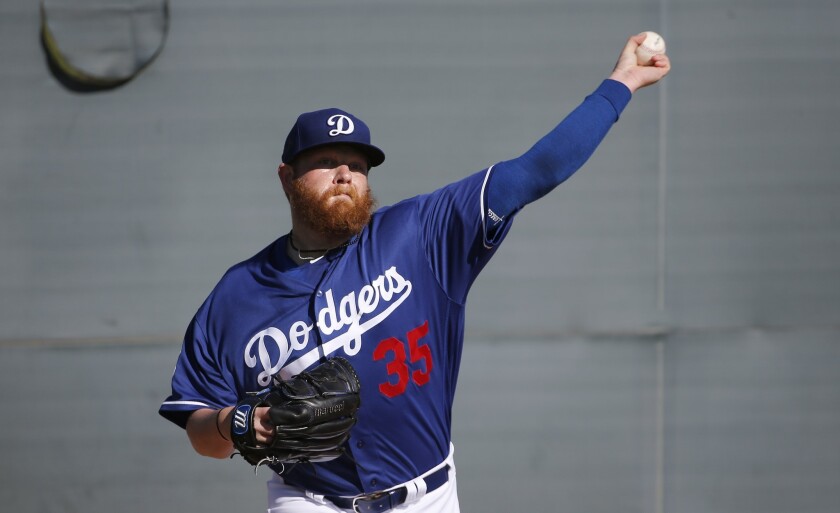 reporting from Phoenix —
Dodgers pitcher Brett Anderson will undergo arthroscopic surgery to repair a bulging disk in his lower back on Thursday, a procedure that Manager Dave Roberts said would sideline the oft-injured left-hander for three to five months.
Anderson, who had a similar procedure in 2014, had approached the spring confident that a rigorous winter regimen to strengthen his midsection would eliminate the lower-back problems that have plagued him for several years.
But Anderson felt discomfort in his lower back after a live-batting practice session earlier this week and on Wednesday underwent an MRI test, which revealed the bulging disk.
Definitely not the start I wanted for this season but hopefully it just means a better ending.

— Brett Anderson (@_BAnderson30_) March 3, 2016
"I was shocked because, in talking to him two days ago and yesterday, he thought it was a couple-of-days thing that would subside," Roberts said before the Dodgers' Cactus League opener against the Chicago White Sox. "We didn't expect our depth to be challenged so early, but you can't plan for everything in baseball."
Left-hander Alex Wood entered camp expecting to battle for the fifth spot in the rotation, but with Anderson's injury and left-hander Hyun-Jin Ryu slowed in his recovery from shoulder surgery, Wood could open the season as the No. 4 starter behind Clayton Kershaw, Scott Kazmir and Kenta Maeda.
Roberts said that right-hander Brandon Beachy, right-hander Mike Bolsinger and right-hander Carlos Frias would be in the rotation mix and that youngsters Ross Stripling and Jose DeLeon would be considered for rotation depth.
Anderson's career has been interrupted by elbow ligament-replacement surgery, a stress fracture in his right foot and a broken finger. He recovered from 2014 back surgery and made a career-high 31 starts for the Dodgers last season, going 10-9 with a 3.69 earned-run average.
Anderson, 28, rejoined the team after accepting a one-year, $15.8-million qualifying offer this winter, but he will probably be sidelined until the All-Star break. Dr. Chris Yeung is scheduled to perform surgery in Phoenix.
"I haven't talked to him, but I'm certain he's disappointed," Roberts said. "He felt coming into spring training that he was in fantastic shape. He had a great winter. I think he was just as surprised as anyone."
Does Roberts expect Anderson to pitch this season?
"We do. We absolutely do," he said. "It's arthroscopic surgery. We have a big window, so we're definitely optimistic. Brett has said time and time again that he's going to bet on himself. With the rehab process, certain things have to take place as far as getting back to health, but we do expect him back this year."
Twitter: @MikeDiGiovanna
---