Yasiel Puig, Dodgers are frustrated in 4-1 loss to Rangers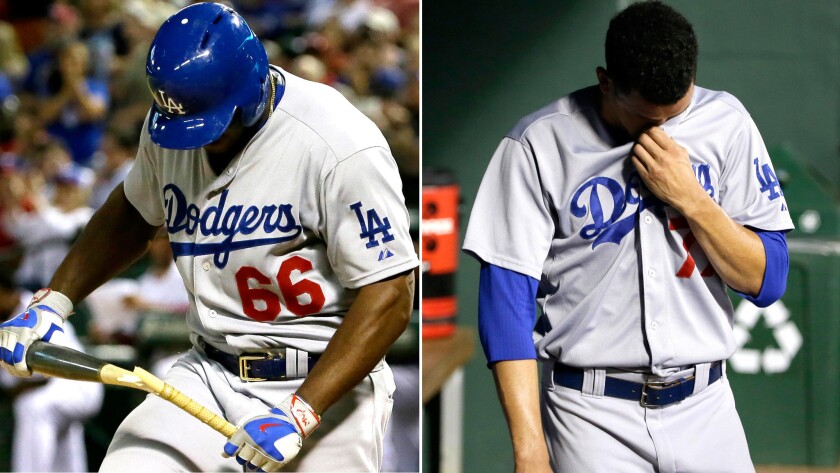 Reporting from Arlington, Texas —
The Dodgers' 4-1 loss to the Texas Rangers on Monday started with a celebration of Korean Heritage Night, during which a group of kids used taekwondo moves to break a wooden board.
Eight innings later, Yasiel Puig of the Dodgers used his knee to break a wooden bat.
Puig had just struck out with two runners on base and said he was frustrated he couldn't come through. He plodded to the dugout with the two bat shards in hand, stomped into the tunnel and chucked the lumber at a light fixture. The light fixture crashed to the cement. Teammates nearby looked startled.
After the game, Puig said through an interpreter that the outburst was "nothing. I struck out, and I didn't get the runner in."
Dodgers Manager Don Mattingly shrugged and mused, "Probably rather see a bat flip than a bat break."
It was a frustrating night for the entire Dodgers lineup, which has plunged into a prolonged offensive recession. The Dodgers remain in first place in the National League West. Yet, in their first 32 games, they averaged 5.3 runs and batted .272 with an on-base-plus-slugging percentage of .842.
In the 31 games since, their output has been slashed to 3.5 runs per game with a .244 batting average and a .700 OPS.
The Dodgers have scored two runs or less in six of the last 11 games, although they have weathered the stretch with a 6-5 record.
"I think we're fine," Mattingly said. "Right now our lineup is not really a problem. We've got spots. I think we're capable."
Catcher Yasmani Grandal, who provided the Dodgers' only offense against the Rangers with a home run in the eighth inning, said he experienced slumps while with the San Diego Padres. This time, he said, feels different. He said signs of frustration are, in fact, rare.
"Here, you've got so many veterans, they know the numbers are going to be there at the end of the day," Grandal said. "It'll get here at some point."
Puig has added a spark since his return from the disabled list June 6. In seven games before Monday's 0-for-4 performance, he was batting 13 for 27 with a home run and four runs batted in.
The eighth-inning strikeout that led to his bat's demise was his third of the game. Aggravation had been building. After his first strikeout, he stood unhappily in the batter's box for several seconds and then slowly made his way to the dugout with his head down.
Later, Puig called for a fly ball, but at the last moment, center fielder Joc Pederson cut him off.
Mattingly said his main concern with Puig's emotional reaction was it causing him to miss time. Right now, the Dodgers do not want to lose Puig's production
"That's the only thing that you'd worry about with slamming helmets or slamming bats, all those kinds of things," Mattingly said. "You just don't want somebody to get hurt."
But Puig alone hasn't been able to cure the offensive stagnation. The Dodgers have scored three runs per game since his return.
Mattingly preferred not to dissect the offense's issues. He needed more time to digest, he said.
"We're trying to win games," Mattingly said. "One game to the next, and anything that's been going on the past to this point really means nothing. That means the good and the bad."
---
Get our Dodgers Dugout newsletter for insights, news and much more.
You may occasionally receive promotional content from the Los Angeles Times.