Loss of A.J. Pollock skews Dodgers lineup even more left-handed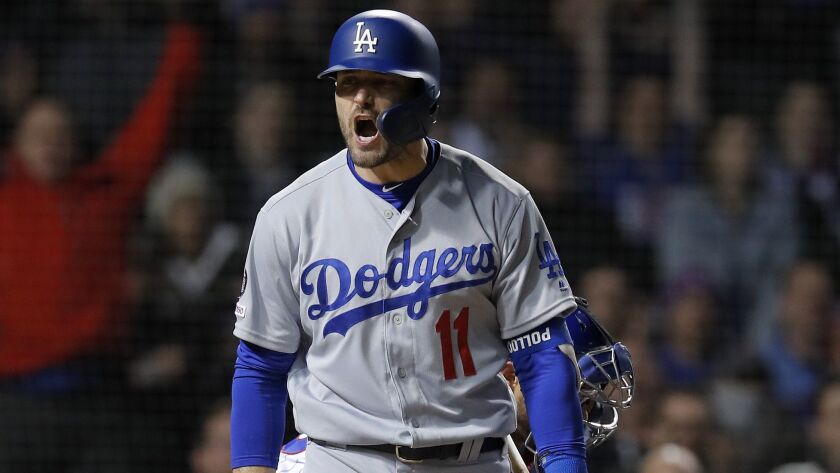 Reporting from SAN DIEGO —
While his teammates enjoyed an off day, Dodgers center fielder A.J. Pollock underwent surgery Thursday in Los Angeles to remove hardware previously inserted in his right elbow, a procedure spurred by an infection.
The Dodgers said the surgery, Pollock's third on the elbow since 2010, "went as expected." A timetable for his recovery hasn't been determined. Dodgers manager Dave Roberts said Pollock was released from the hospital Friday.
"He's got to heal up, and at some point in time he's going to start playing catch and doing all different things and that'll tell us more about when we expect him back," Roberts said before the Dodgers faced the San Diego Padres on Friday. "But right now, for the foreseeable future, he's just in recovery mode."
Pollock, 31, was the Dodgers' biggest free-agent expenditure during the offseason, signing a four-year, $55-million contract after spending six-plus seasons with the Arizona Diamondbacks. He was acquired to play center field every day and supply an established right-handed hitter for a lineup skewed toward the left side. But Pollock arrived with an injury history. He's accrued 500 plate appearances in a season once in his career — in his 2015 all-star campaign — since becoming a big league regular in 2013.
The Dodgers maintained Pollock was snakebitten. They did not see an injury plagued player. They saw a player who produced when fluke injuries didn't surface, and one they could rely on regularly. But Pollock, who is batting .223 with a .617 on-base-plus-slugging percentage this season, will miss substantial time again.
Without him, Roberts said Enrique Hernandez, Alex Verdugo and Chris Taylor will play center field. Cody Bellinger has extensive experience in center, but Roberts said Bellinger will remain in right field. Joc Pederson and Taylor will continue platooning in left field.
Offensively, the Dodgers lose a right-handed hitter and will become more left-handed than envisioned. On Friday, for example, the Dodgers had five left-handed hitters in the starting lineup against left-hander Eric Lauer, including Pederson, who got a rare start against a left-hander partly because David Freese, a right-handed hitter, was limited to pinch-hitting duties after taking a foul ball off his ankle Tuesday.
Roberts pointed to a few of the left-handed hitters' previous successes — namely Bellinger, Corey Seager, Verdugo, and Max Muncy — against left-handed pitchers as a reason for optimism.
"We have guys that can handle left-handed pitching," Roberts said. "If we do what we're supposed to, take good at-bats, there's still balance in our lineup."
Permanent lineup change?
The scorching Bellinger was moved up to second in the batting order Friday for the third time this season and first time since April 17 — and Roberts said he will be there more often. With Bellinger, the National League player of the month for March and April, in the two-hole, Seager, who has batted second or third most of the season, was moved down to four. He'll likely bat cleanup most nights.
"I feel this is the right decision for now," Roberts said. "Could it be long-term? Potentially. I don't see it being something I just change in the next couple days. So it's something I thought through."
Sign up for our Dodgers newsletter »
While Bellinger entered Friday leading the NL in most offensive categories, Seager has gotten off to a slow start in his return from Tommy John and hip surgeries. The shortstop began Friday batting .228 with two home runs and a .674 OPS.
"Corey's been grinding and I think for me, just to give Corey a different look, it's really not, for me, that big of a difference hitting fourth for the Dodgers," Roberts said. "So I definitely don't see that as a demotion. So to get him in there, to get guys on base in front of him. I think he'll fare very, very well."
Twitter: @jorgecastillo
---
Get our Dodgers Dugout newsletter for insights, news and much more.
You may occasionally receive promotional content from the Los Angeles Times.