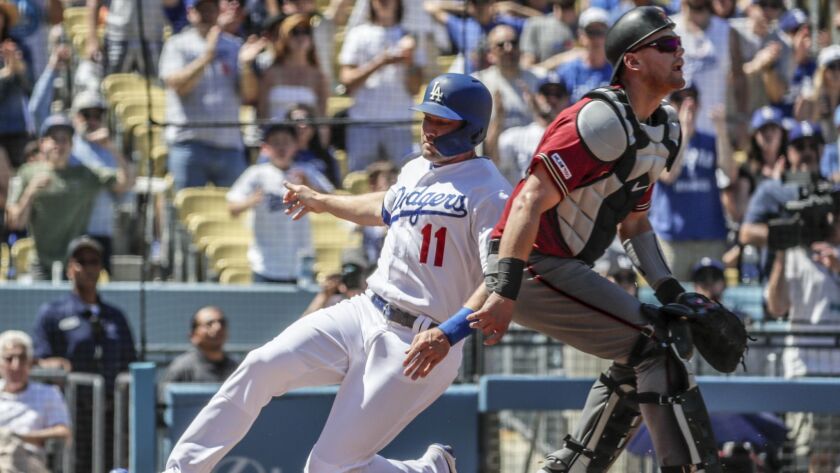 A.J. Pollock saw Yoshihisa Hirano pitch dozens of times as his teammate with the Arizona Diamondbacks last season. He knew the right-hander could be quick to the plate. But he still wasn't quite ready for it in a big spot in the eighth inning of the Dodgers' 8-7 win Sunday afternoon at Dodger Stadium.
"It kind of threw me off a little bit," Pollock said.
And, still, as he did for most of the season-opening four-game series, Pollock found a way to inflict damage on his former team. With runners on first and second and the Dodgers trailing 7-5, Pollock hunted for a pitch up in the zone from the splitter specialist. He got two. He took the first one for a strike and shot the second one down the right-field line to score Justin Turner and Cody Bellinger and tie the score.
"Wasn't the prettiest swing, wasn't the prettiest of hits; I guess it was pretty nice, where I put it," Pollock said. "But it worked out."
It was scored a two-run double, but he alertly took third base when Adam Jones mishandled the ball in right field. Two pitches later, Pollock scored the go-ahead run on Max Muncy's sacrifice fly.
"To come out of the box [hard] and [take advantage of] the play from Jones in right field, to be on third base, that was just as big, really," Dodgers manager Dave Roberts said.
Pollock went two for five to finish his first series as a Dodger seven for 17 with a home run, two doubles, and six runs batted in. He walked twice and struck out once. He reached base in all four games, batting fifth in the order twice, fourth once, and third Sunday. He was a menace.
"You can just see certain players that want to be in that spot and he doesn't let the moment get too big for him," Roberts said. "Stays in the strike zone. Lays off some good pitches and we've seen that already in those spots."
Sign up for our Dodgers newsletter »
Pollock signed a five-year, $60-million contract — the Dodgers' biggest expenditure for a free agent from another team since Andrew Friedman took over in 2014 — to play center field every day. The Dodgers saw a well-rounded outfielder limited by fluke injuries in his seven seasons with the Diamondbacks. The early results have been encouraging, with the Dodgers winning three of four while tying a franchise record with eight homers on opening day and scoring 18 runs Saturday.
To face his former team, Pollock acknowledged, added a wrinkle.
"There are some of my best friends over there," Pollock said. "Friends for life. And yeah. Of course. I've played with them for so long. Trash talking? Little bit. It is early. I don't want to have to swallow my words if I get dominated by one of the pitchers. But you know what, it's good fun, good competition."
Twitter: @jorgecastillo
---