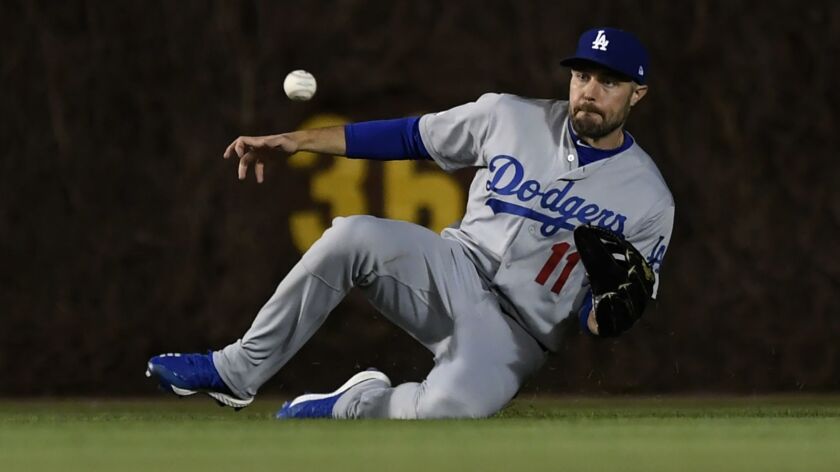 Reporting from PHOENIX —
A.J. Pollock played hundreds of games at Chase Field in his first seven years as a major leaguer. He knows most everybody at the ballpark. The clubbies. The security guards. The guys on the home team. But he got lost when the Dodgers arrived to begin a three-game series Monday. He had never been to the visitors clubhouse. The tunnel from the clubhouse to the dugout was confusing, so he asked for directions.
"It was weird," Pollock said.
After seven years with the Diamondbacks, Pollock signed with the Dodgers during the offseason, crossing the aisle in a rivalry but not leaving behind his bad luck with unusual injuries, which have plagued his career. An elbow infection has kept the outfielder on the injured list since late April, ruining his homecoming this week.
"It's a little bittersweet," said Pollock, who is batting .223 with a .617 on-base-plus-slugging percentage in 28 games. "I would love to come back here and play. I played here so many times, I just feel comfortable here. It'd be fun to play."
Instead, Pollock took solace in having the opportunity to continue his rehab in a city that was home for so long. His workouts will remain limited until the PICC line in his left bicep is removed next week. Doctors told him to avoid sweating because perspiration could infect the PICC line's entry point, so he isn't allowed to do cardio exercising and his strength training sessions take longer.
Pollock said he'll resume baseball activities once the line is taken out. He expects to progress quickly, but Dodgers manager Dave Roberts indicated it would be a lengthy process. Roberts said he envisions Pollock accumulating 40 to 50 at-bats, whether on rehab assignment or at the team's spring training facility in Arizona, before being activated.
"I sort of equate it to spring training," Roberts said.
Based on Roberts' suggested timeline, Pollock likely won't be on the roster when the Dodgers return to Phoenix later in the month. He'll have to wait until the end of August to face his former club.
"I'm just glad I can come here and be a part of it," Pollock said, "instead of being at home."
Sign up for our Dodgers newsletter »
Matt Beaty to the IL
On Tuesday, Roberts said he expected Matt Beaty would start Friday against the San Francisco Giants after taking a few days off to nurse a left hip injury. Those plans changed.
The Dodgers placed Beaty, a rookie infielder/outfielder, on the 10-day injured list Wednesday with a left hip flexor strain. The club recalled outfielder Kyle Garlick from triple-A Oklahoma City to take his place.
The move gives Roberts more flexibility with his four-man bench while Los Angeles continues to be careful with Justin Turner, who is playing through a hamstring ailment.
Barnes completing rehab assignment
Austin Barnes is slated to catch seven innings in his second rehab game for Class-A Rancho Cucamonga on Wednesday. Barring a setback, Barnes will rejoin the Dodgers in San Francisco on Friday. Will Smith is expected to be sent down to triple-A Oklahoma City to make room on the roster.
Barnes has been on the injured list with a left groin injury since Memorial Day. He caught five innings and went 1 for 3 for Rancho Cucamonga on Tuesday.
Twitter: @jorgecastillo
---