Dave Roberts: When A.J. Pollock returns to Dodgers, 'he's gonna play'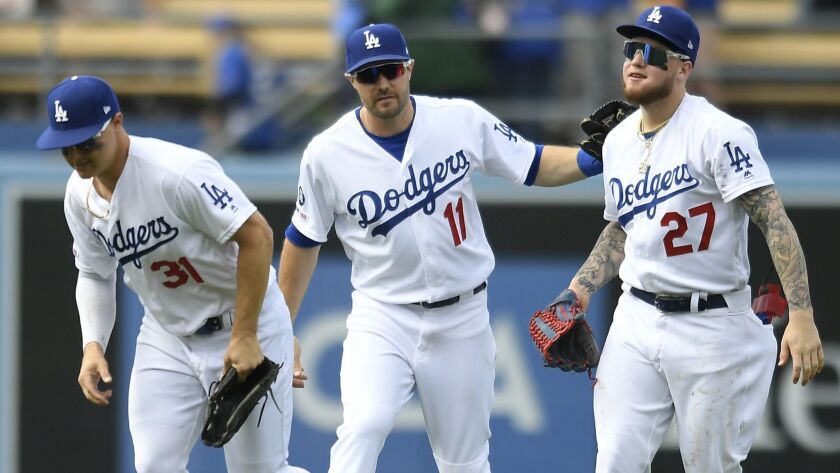 Reporting from SAN FRANCISCO —
Dave Roberts may lean more toward the new-age style of baseball manager, but the former outfielder who is in his fourth year as Dodgers field boss is old-school enough to believe a player should not lose his job to injury.
So no matter how much Alex Verdugo impresses with his lively bat and wows with his athleticism and powerful arm, the rookie center fielder is not expected to remain a starter when veteran A.J. Pollock returns from a right-elbow infection.
"I expect Alex to continue to play well, and when A.J. comes back, he's gonna play," Roberts said before Friday night's game. "Right now, as we sit here, I expect A.J. to play center field. There's something to keeping guys comfortable and we're definitely fine with A.J. there."
Verdugo was not in Friday night's lineup, Roberts choosing to combine Thursday's off-day with a night off so Verdugo could rest a tight lower back that has bothered him since a two-game series on Tampa Bay's artificial surface on May 21-22.
"It's not serious," Roberts said. "It's nagging him a little bit."
The injury appears to be affecting Verdugo at the plate. In 12 games since the Rays series, Verdugo has hit .263 with a .668 on-base-plus-slugging percentage, no homers, three doubles and five RBIs, lowering his season average from .311 to .300 and his OPS from .876 to .823.
Roberts sensed Verdugo might be pressing, so he gave the 23-year-old a pep talk Wednesday in Arizona.
"It was more encouraging him to continue to do things the right way as far as preparation and in the field of play, and we'll bet on the results," Roberts said. "This bit of a struggle as far as getting hits is a little tough for him, so I'm keeping a close eye on how he handles it."
Despite the slump, the results have been encouraging for Verdugo, who took over as starter on May 1. In addition to his .300 average and .823 OPS, Verdugo entered Friday with four homers, 13 doubles, two triples and 28 RBIs in 60 games. He has accumulated seven defensive runs saved according to Fangraphs.
Pollock, an eight-year veteran who signed for four years and $60-million last winter, hit .223 with a .617 OPS, two homers and 14 RBIs in 28 games and cost the Dodgers 2.5 runs in the field before going on the injured list May 1. He is not expected to return until early July.
Roberts was coy when asked if Verdugo has played better defense than Pollock.
"I don't know how many games A.J. played out there," Roberts said. "I don't know. I haven't looked at all that stuff that you have access to."
Sign up for our daily sports newsletter »
All-Star RSVPs
Roberts asked retiring Giants manager Bruce Bochy to serve on his National League coaching staff for the July 9 All-Star game, "but he already has a vacation planned," Roberts said.
Roberts also asked Atlanta manager Brian Snitker to be on his staff, and the 2018 NL manager of the year accepted.
"I've never spent any time with him, but in this game, you talk to a lot of people about people," Roberts said. "I have respect for him, for how his team plays. I've listened to some of his interviews. I want to spend some time with him."
Short hops
Roberts said third baseman Justin Turner, who is nursing a minor hamstring injury, probably won't start against right-hander Jeff Samardzija on Saturday but will play against left-hander Madison Bumgarner on Sunday. … Sixth-round pick Aaron Ochsenbein tweeted that he has signed with the Dodgers. The 6-foot-3, 225-pound closer mixed a 93-95-mph fastball with a split-fingered fastball and slider to fashion an ERA of 0.83 with 90 strikeouts in 54 1/3 innings this season for Eastern Kentucky.
---
Get our Dodgers Dugout newsletter for insights, news and much more.
You may occasionally receive promotional content from the Los Angeles Times.