Calhoun, Muncy homer as Dodgers edge the Angels, 3-2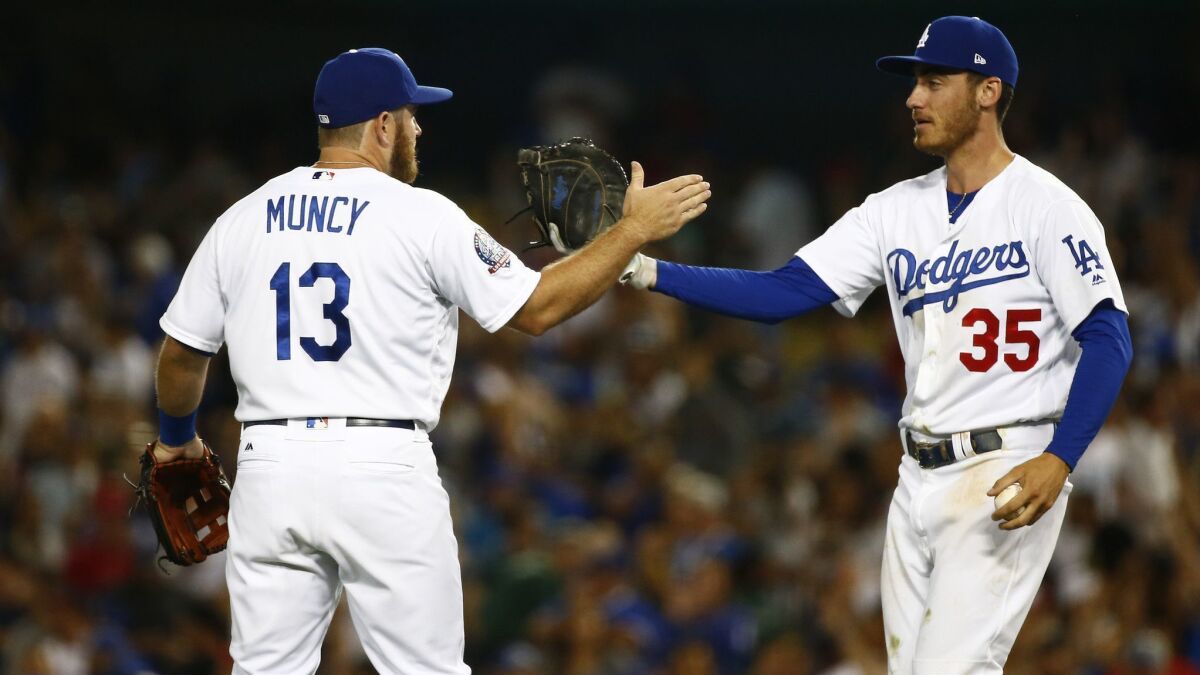 Angels right fielder Kole Calhoun cleared the outfield fence twice and the glove of his leaping catcher once Friday night.
The former was good for the Angels. The latter was not.
Calhoun hit two solo homers as he continued to emerge from a two-month, season-opening slumber. However, he also airmailed a throw to the backstop in the seventh inning, allowing the Dodgers to score the winning run in a 3-2 victory before a sellout crowd of 53,368 in Dodger Stadium, the third one-run game the Southern California rivals have played in four games since last weekend.
The Dodgers trailed 2-1 when Logan Forsythe led off the seventh inning with a pinch-hit single to center field off Angels reliever Cam Bedrosian.
Joc Pederson doubled past the glove of diving first baseman Luis Valbuena, advancing Forsythe to third. Max Muncy, who hit his team-leading 22nd homer of the season in the first inning, ripped an RBI single to right to tie the score 2-2.
Calhoun, a 2015 Gold Glove Award winner who has one of baseball's strongest and most accurate throwing arms, thought he had a shot at Pederson, so he launched a throw toward home as Pederson was held at third.
The ball sailed high over the head of catcher Jose Briceno, allowing Pederson to score for a 3-2 lead and Muncy to take second. Muncy took third on Matt Kemp's roller to second but was stranded when right-hander Justin Anderson relieved Bedrosian and struck out Yasmani Grandal and got Chris Taylor to fly to left.
"Just sailed the throw," Calhoun said. "With Joc on second, I felt like I had to hurry a little bit. Turns out he wasn't even going. It's just a throw that's gotta be down. I just didn't execute."
The Angels put a runner on with two outs in the eighth when Justin Upton walked against reliever Erik Goeddel. Valbuena hit a sharp grounder into right field, but second baseman Forsythe, about 30 feet into the outfield grass, lunged to his left to snag the ball and made a long, off-balance and accurate throw to first to end the inning.
Closer Kenley Jansen was not available after pitching in San Diego on Wednesday and Thursday night, so the ninth inning belonged to left-hander Scott Alexander, who got Ian Kinsler to ground to second for the first out.
Shohei Ohtani, whose pinch-hit homer lifted the Angels to a win over the Dodgers on Sunday night, delivered again in a pinch, one-hopping the left-center field wall for a double. Briceno beat out a slow roller to shortstop for a single, putting runners on first and third.
Dodgers starter Walker Buehler, the flame-throwing right-hander who gave up two runs and six hits in five innings, striking out five and walking one, in his first start since June 8, was watching the game in the clubhouse with Goeddel when David Fletcher came to the plate with a chance to tie the score.
"He's gonna get a ground ball right here," Goeddel said he told Buehler after the television announcer made mention of how they blew a similar situation last Friday night. "He threw a sinker, and he did."
It was a hard ground ball, ripped by Fletcher but right to Muncy at third. Muncy fielded it and fired to Forsythe, whose throw to first pulled Cody Bellinger far off the bag. But Bellinger made a lunging backhanded grab and managed to swipe a tag on Fletcher to end the game.
"That was a huge play, a game-saver," Dodgers manager Dave Roberts said, relieved that he didn't have to tap any more of his bullpen. "If that one goes awry and they score, things could get dicey."
Muncy gave the Dodgers a 1-0 lead in the bottom of the first when he sent a full-count fastball from Angels starter Felix Pena into the right-center pavilion for a solo homer.
"He's a winning player," Roberts said of Muncy, who will participate in the home run derby next week. "Whether it be with the bat or on defense, he's sort of in the middle of everything."
Pena escaped a bases-loaded jam in the first when he got Taylor to ground into an inning-ending 4-6-3 double play, and he blanked the Dodgers on two hits over the next three innings before departing after the fourth.
Calhoun crushed a 96-mph fastball from Buehler over the center-field wall for a solo homer that tied the score 1-1 in the top of the third. The Angels went on to put runners on first and third with two outs, but Bellinger snuffed out the rally when he made a nice diving catch of Kinsler's check-swing line drive.
Calhoun gave the Angels a 2-1 lead in the fifth when he lined an 88-mph changeup from Buehler over the wall in left-center.
"Got a couple of pitches to drive, and I put some good swings on them," said Calhoun, who is hitting .276 with seven homers and 14 RBIs in 23 games since June 18. "Fortunately, they left the yard."
Jose Alvarez (fifth) and Hansel Robles (sixth) threw scoreless innings for the Angels before Bedrosian faltered in the seventh.
"A couple of mistakes, a few bad locations, and they made some good swings," said Bedrosian, who had given up one earned run in 181/3 innings of his previous 18 games before Friday.
Left-hander Caleb Ferguson struck out three in two scoreless relief innings for the Dodgers before handing the ball to Goeddel and Alexander, who walked a tightrope in the ninth inning but managed to get the Dodgers home safely as they remained in first place in the NL West.
---
Get our Dodgers Dugout newsletter for insights, news and much more.
You may occasionally receive promotional content from the Los Angeles Times.