Dodgers minor-league coach opened family home to help catching prospect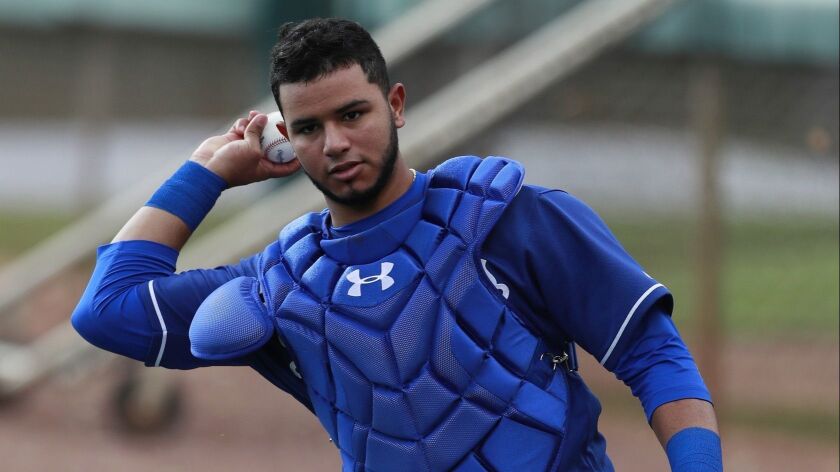 Reporting from Phoenix —
At some point this summer, Travis Barbary, recently named triple-A Oklahoma City's manager, is likely to manage Keibert Ruiz, the Dodgers' top prospect.
Barbary, 47 and from South Carolina, has spent 25 years in the Dodgers' organization, beginning with a 17-game stint as a catcher in rookie ball in 1994. Ruiz, 20 and from Venezuela, is the kind of player the Dodgers picture at catcher and in the middle of their batting order starting in 2020.
They have worked together — Barbary was the Dodgers' catching coordinator the past 12 years — but paths usually don't cross beyond that for a roving coach and minor league player. This bond is different.
"It's almost like having another son," Barbary said.
Barbary first saw Ruiz in the Dominican Summer League in 2015. Ruiz was 16, but Barbary immediately believed he had a chance to rocket through the Dodgers' farm system. It would help, Barbary thought, if he could expedite learning English.
Communication is essential for a catcher, after all. Barbary broached the idea with his bosses of Ruiz living with his family during the 2016 offseason; Ruiz could immerse himself in the language while working out at quality facilities. The Dodgers gave the green light and Ruiz took the offer.
So, three offseasons ago, after batting .374 in his first season in the United States, Ruiz traveled to South Carolina to live with the Barbary family: Travis and his wife Raquel; their sons Chase, Colton, and Cannon; daughter Carsyn Leigh; and two dogs and a cat.
He spent five weeks with the Barbary family that winter, from January until spring training. A woman from a local church tutored him in English on Tuesday and Thursday nights. The lessons lasted 90 minutes and sometimes included Ruiz speaking in front of groups. He would introduce himself, tell the audience where he was from and what he did for a living, the basics. Raquel, a schoolteacher, had Ruiz speak in front of her class. The repetition helped.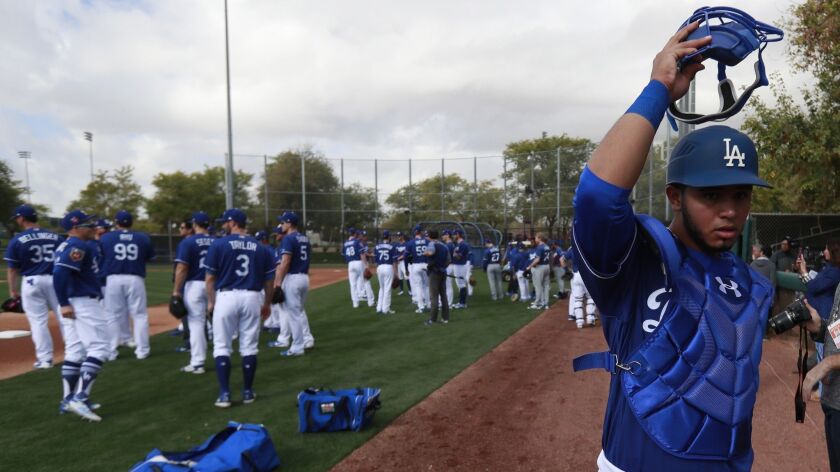 "I give him credit," Barbary said. "I know it can't be easy to go in front of a group of people and speak an entirely different language. There's probably some anxiety about doing that and he was great."
The rest of Ruiz's days were spent working out at Clemson University and familiarizing himself with the foreign surroundings. He played the video game "FIFA" with Cannon, the youngest son, and soccer in the backyard. Barbary introduced him to Southern cooking, and Ruiz grew to love Krispy Kreme donuts, honey buns, and Chipotle. One day, Barbary took Ruiz to a Chick-fil-A on the way to a workout. He told him the biscuits were delicious. Ruiz ordered one.
"He had to get two a day from then on out," Barbary said. "I still think that is his favorite place to go."
Ruiz returned to South Carolina the next January. This offseason, he spent the first two months with his family in Venezuela, a country in political turmoil. Barbary and his wife checked in periodically — Raquel communicates with Keibert's mother through Facebook or Instagram every couple weeks or so — to make sure all was fine.
"It was nice to spend time with my family, but it's a little difficult," said Ruiz, who hails from Valencia, the third-largest city in Venezuela. "Hopefully everything improves."
Ruiz then traveled to Los Angeles for FanFest before spending two weeks in South Carolina to work out. He reported to his second big-league camp this week in Arizona with more hype attached.
Baseball America recently ranked him as the No. 20 prospect across baseball. Teams inquired about him in trade discussions with the Dodgers during the winter, but Los Angeles did not relinquish him after he reached double-A as a teenager last season and overcame initial struggles to finish the season with an offensive surge.
"It was a year full of ups and downs but I learned a lot and I'm still learning," said Ruiz, who batted .268 with 12 home runs in 101 games with double-A Tulsa. "It was a year of blessings. It was a good year."
Manager Dave Roberts said Ruiz is not expected to reach the majors this season — fellow prospect Will Smith is the likelier catcher to debut in 2019 — but his time is approaching. Roberts explained the switch-hitting Ruiz needs to improve from the right side. He wants Ruiz to build a rapport with pitchers and become more vocal. Ruiz aspires to develop his leadership qualities and pitch-calling.
"I want to have that confidence with the pitchers," he said.
Barbary and his wife have never met Ruiz's family in person — their interactions are limited to social media and FaceTime — but Ruiz told Barbary he hopes his parents will travel to the U.S. to see him play this season. Maybe they will head to Oklahoma City to see their son play for the man who has opened his home to him.
"We've talked about it," Ruiz said with a smile. "That would be fun. But I'll put my work in wherever they want me to play."
Extra bases
Dodgers right-hander Walker Buehler didn't throw the bullpen session he was originally scheduled for on Thursday, but Roberts insisted he is healthy.
"We're slow playing him a little bit," Roberts said. "Walker had a tremendous year, big-time workload. So I think for us to slow play it a little bit, get him back in there. But as far as the progression to get him ready for the season, he's right on track."
Buehler, 24, logged 177 innings between the regular season and playoffs last season. He underwent elbow ligament-replacement surgery in 2015.
Sign up for our Dodgers newsletter »
Twitter: @jorgecastillo
---
Get our Dodgers Dugout newsletter for insights, news and much more.
You may occasionally receive promotional content from the Los Angeles Times.