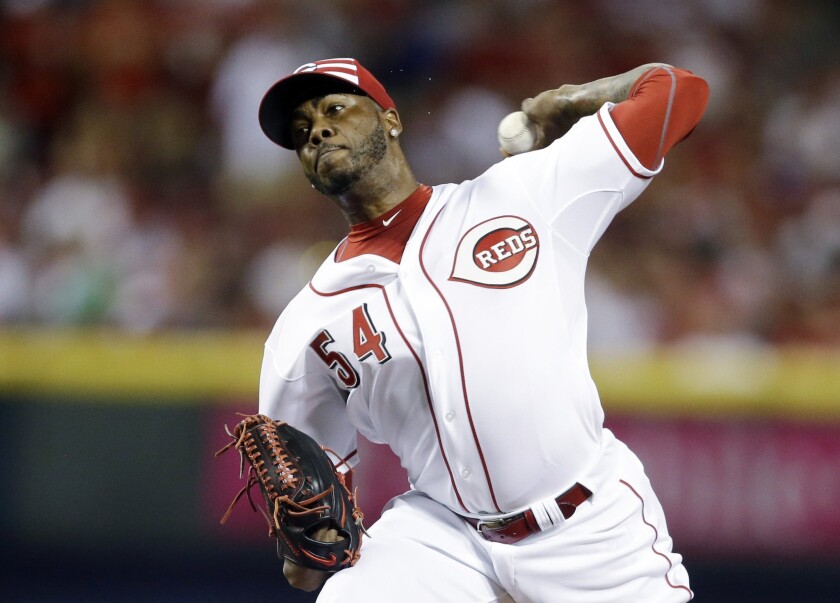 Reporting from NASHVILLE —
The Dodgers could abandon their pursuit of Aroldis Chapman because of domestic violence allegations that have surfaced against the All-Star closer.
The team was set to acquire the hard-throwing relief pitcher from the Cincinnati Reds in exchange for two prospects on the first day of baseball's winter meetings, only to place the deal on hold after receiving word about an alleged October altercation between Chapman and his girlfriend. By the time details of a police report were published by Yahoo Sports, it looked as if the trade could fall apart.
The Dodgers, who were believed to still be gathering information on the alleged incident, declined to comment Monday night, but a person familiar with the team's thinking said the deal could be in jeopardy. The person spoke under the condition of anonymity because of the sensitive nature of the situation.
The addition of Chapman, coupled with a pending deal with free-agent starting pitcher Hisashi Iwakuma, was supposed to help the Dodgers compensate for the shocking departure of Zack Greinke, who moved to the Arizona Diamondbacks as a free agent.
While Chapman isn't facing any criminal charges, he will be investigated by the commissioner's office under baseball's new domestic violence policy, a Major League Baseball official confirmed. The policy has already prompted two other ongoing investigations, including one of Dodgers outfielder Yasiel Puig.
The incident in question is alleged to have occurred on Oct. 30 at Chapman's Miami-area residence, Yahoo Sports reported, citing a police report.
Chapman's girlfriend told police that following an argument, Chapman choked her and pushed her against a wall. Reached by Yahoo Sports, Chapman's attorney denied the allegations.
Chapman reportedly acknowledged to police that he later locked himself in his garage and fired eight gunshots.
Four days later, an assistant state attorney told police there was insufficient evidence to charge Chapman with a crime, according to the report.
The development will certainly come as a disappointment to Dodgers Manager Dave Roberts, who spoke enthusiastically Monday about the prospect of pairing Chapman and incumbent closer Kenley Jansen.
"Potentially, you get two of the best closers, back-of-the-game guys, sharing the same bullpen," Roberts said. "That's exciting."
Possessing a fastball that frequently touches 100 mph, Chapman had 116 strikeouts in 66 1/3 innings this year, an average of 15.7 every nine innings. He saved 33 games.
Roberts was asked about the possibility Jansen could become disgruntled if he were moved into a setup role. Like Chapman, Jansen is in line to become a free agent next winter. A new role could result in a decrease in save opportunities, which, in turn, could translate into a less lucrative contract next year.
"I think it's just managing things," Roberts said. "Again, this is all hypothetical. We don't know. That would be a pleasant problem."
Now, it's a problem Roberts isn't expected to face.
The Reds outwardly remained hopeful of moving Chapman, whom they have openly shopped this winter.
"I think it's still possible," said Walt Jocketty, the team's president of baseball operations. "We've talked to several clubs. I notified all of them tonight that we'd step back a couple of weeks or whatever it takes."
Whatever happens with Chapman, the Dodgers should add Iwakuma in the coming days.
Iwakuma's contract, which is pending a physical examination, would be for three years. The deal is worth $45 million, according to multiple reports.
The Japanese right-hander, who turns 35 in April, would take the place in the rotation that belonged to Greinke, who agreed to a six-year, $206.5-million deal with the Arizona Diamondbacks.
"Haven't seen a whole lot, but when he's healthy, he's as good as anyone," Roberts said of Iwakuma.
Iwakuma, who finished third in voting for the American League Cy Young Award in 2013, pitched in only 20 games this year for the Seattle Mariners because of a strained side muscle. But when he pitched, he pitched well, compiling a 9-5 record and posting a 3.54 earned-run average. In his career he's 47-25 with a 3.17 ERA.
Roberts joked that he would have to relearn Japanese from his Japanese mother to communicate with his new starting pitcher.
Roberts also sounded upbeat about his meeting on Sunday with Clayton Kershaw. Roberts said he spent four hours with Kershaw at the three-time Cy Young Award winner's Dallas-area home.
"You look at the players that have meant so much to the organization and performed at Clayton's level, that's kind of an obligation for me and something I recognized and kind of wanted to build that trust with him," Roberts said.
Roberts acknowledged Kershaw was disappointed by Greinke's departure.
"He was disappointed, but understands the economic side of things," Roberts said. "He is excited about the direction this organization is going in."
Roberts said he had feelings similar to Kershaw's.
"I was looking forward to being on the same club, but that's the nature of this game," Roberts said.
Extra bases
The Dodgers added two players to their 40-man roster, claiming right-hander Danny Reynolds off waivers from the Angels and outfielder Daniel Fields from the Milwaukee Brewers.
Twitter: @dylanohernandez
---