Dodgers' Chris Taylor has opportunity as extent of A.J. Pollock's injury gains clarity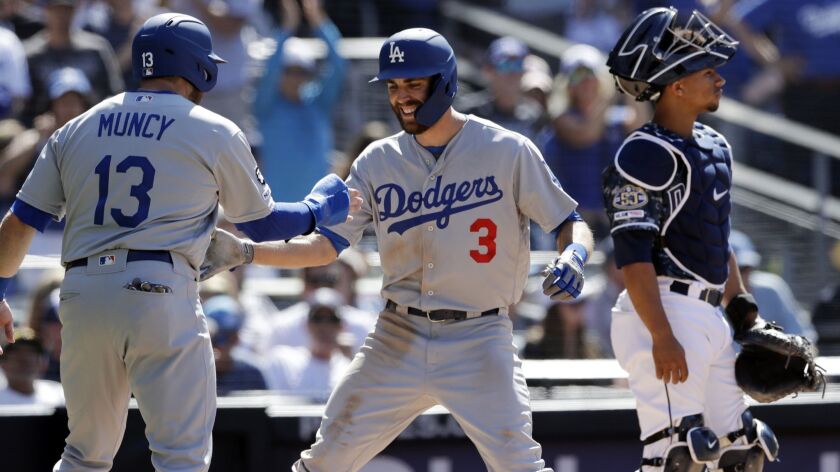 Reporting from SAN DIEGO —
Perhaps the player most affected by center fielder A.J. Pollock's elbow injury is Chris Taylor. Previously in a strict platoon in left field with Joc Pederson, the right-handed hitter's playing time should climb until Pollock returns or a move is made to fill his vacancy. The Dodgers will rely more on Taylor and their other remaining right-handed batters to combat left-handed pitchers and supply more production. So far, Taylor has provided some.
Pollock said Monday that in addition to having a metal screw removed from his right elbow, he had a peripherally inserted central catheter (PICC) placed into his left arm to deliver antibiotics and address a staph infection. It will remain there for six weeks, so he's not expected to come off the injured list for at least two months.
Taylor was a constant in the Dodgers' three comebacks against the San Diego Padres over the weekend. On Friday, he started in center field and cracked a solo home run off left-hander Eric Lauer in the fifth inning. On Saturday, he was back in left field, his usual position against left-handed starting pitchers, and singled and scored during the Dodgers' five-run sixth. And on Sunday, he delivered a go-ahead two-run homer in the eighth against left-hander Robbie Erlin before the Padres rallied in the ninth.
Taylor entered the series with one home run this season — a solo shot April 1. He finished the three-game set seven for 13 after going five for 34 over his previous 15 games. His batting average climbed 56 points, to .218 from .162, in 72 hours. His success lengthened a starting lineup that didn't include Cody Bellinger, baseball's best hitter for the first five weeks, Saturday and Sunday as he recovered from a dislocated right shoulder.
On Monday night, he singled and doubled in runs against Atlanta.
"He's just getting opportunities to go out there and play," Dodgers manager Dave Roberts said. "I think he's taking better swings. When he does get a ball in the strike zone, he's getting it going forward and not fouling it off or swinging through it."
Working with hitting coach Robert Van Scoyoc, who is credited with preparing Taylor for that breakout campaign as a Dodgers hitting consultant, Taylor focused on various aspects of his stance. Among them was easing the tension in his back elbow and shoulder. He wanted to stand more relaxed and loose.
"It hasn't really shown much, but I've actually felt pretty good the last week or two," Taylor said. "And I'm just trying to go up there and I've been working on things in the cage and I felt like I've been really close."
Pollock underwent elbow surgery last week, sidelining him for an undetermined but undoubtedly lengthy period of time. He was an established right-handed outfielder joining a team that leaned left after trading Matt Kemp and Yasiel Puig. Pollock struggled early but his absence has forced the Dodgers to rely on others to counter left-handed pitching.
Sign up for our Dodgers newsletter »
The Dodgers signed catcher Travis d'Arnaud on Sunday partly to add another right-handed hitter and Roberts said he could also play the infield and outfield. But Taylor, who can play outfield, second base and shortstop, will continue to get chances, especially against left-handed pitchers.
"You can't get caught up in the numbers this early," Taylor said. "You just got to go out there and try to help your team win a game any way you can."
'Tiniest' cut turned to infection
Pollock did not know he cut his elbow until he spotted some blood on his uniform during the Dodgers' series against the Chicago Cubs two weeks ago.
"I've had a million cuts my whole life, and didn't think anything of it," Pollock said. "Even though we kept it clean, it just was something that I just couldn't do anything about. It just kind of reared its head."
That cut, which Pollock called "the tiniest little thing," developed a staph infection, sending Pollock to the hospital for six days. He needed surgery last week to remove a metal plate in his arm, which was inserted to help his recovery from a 2010 stress fracture but was close to the infection.
Pollock noticed the infection worsen a week ago.
"I thought we were gonna go drain it, do some antibiotics, and I was gonna play the next day," Pollock said. "But it really ... was a shock that it was this big of a deal."
— Blake Richardson
Twitter: @jorgecastillo
Times staff writer Blake Richardson contributed to this report.
---
Get our Dodgers Dugout newsletter for insights, news and much more.
You may occasionally receive promotional content from the Los Angeles Times.