Column: Dodgers provide the drama, Scully the tears as L.A. wraps up fourth straight NL West title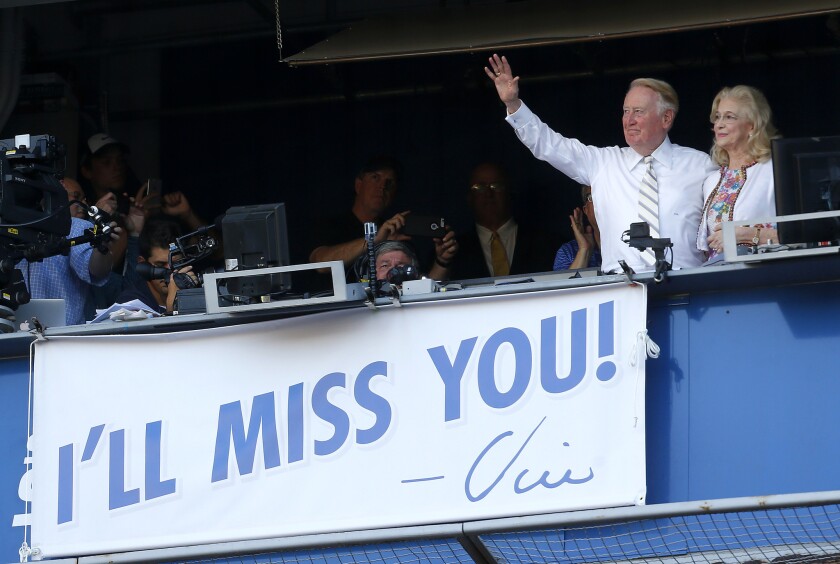 The farewell to the baseball rocked Dodger Stadium with cheers.
The farewell to Vin Scully drowned it in tears.
In what was arguably the most perfect moment at Chavez Ravine since Kirk Gibson's 1988 home run, the Dodgers ended a sweaty Sunday afternoon with a stirring two-part final act that could only be believed in Hollywood.
One moment, the Dodgers' unlikely journeyman, Charlie Culberson, was driving a ball over the left-field fence for a 10th-inning home run to give the Dodgers a 4-3 victory over the Colorado Rockies and their fourth consecutive National League West Division championship.
The next moment, after the team hugged and bounced in the infield while its fans danced in the stands, everyone stopped and pointed to the press box.
"Vin, we love you, and this is for you, my friend!'' screamed Dodgers Manager Dave Roberts.
Vin Scully, who had just called his last game at Dodger Stadium after 67 years as Dodger broadcaster, smiled back, mimicked an embrace, and made an announcement.
A man who had spoken to this city's heart for more than half a century wanted to offer up that voice one last time, but not in a way anyone would dream.
He wanted to sing to us. He wanted to play a song he recorded for his wife, Sandi, 25 years ago, a song he felt expressed his emotions in words he could not speak.
And with that, more than 50,000 Angelenos and exultant players stopped celebrating to listen to Scully's recording of "The Wind Beneath My Wings.''
"That's what you are, the wings beneath the team's wings, the wind beneath my wings,'' Scully told fans as he introduced the song. "I know it's modest, I know it's amateur. Do you mind listening?''
Did they mind? They were transfixed. Entire rows locked arms. Players stood frozen on the infield.
As Scully sang, "So I was the one with all the glory, while you were the one with all the strength,'' fans dissolved in tears.
As Scully sang, "I want you to know the truth, of course I know it. I would be nothing without you,'' players grabbed each other in giant bear hugs.
Vin Scully provides the call to Charlie Culberson's walk-off home run in the legendary broadcaster's final game announcing at Dodger Stadium.
It was a connective moment perhaps unlike any in Dodgers history, a team and a town bonding one last time to the words of a man whose greatness was in sewing that fabric, keeping it strong, and making it shine.
When the song ended, Scully modestly waved, put on his blue coat, and left the roars to disappear into the back of his booth for the last long walk to his car.
Then, and only then, champagne finally popped, huge geysers of bubbly soaring above the crowded field, giant streams as outrageous as the accomplishments of a Dodgers team unlike any other in recent years.
"Those guys love each other, they love this city, they love this organization, especially they love the fans and want to say thank you,'' shouted Roberts. "Back to back to back to back!''
As Sunday's win showed, this franchise-record fourth consecutive trip to the playoffs could be unlike the others, all of which ended in smoldering wreckage for a franchise still searching for its first World Series championship since Kirk Gibson's home run 28 years ago.
These Dodgers didn't chase down the San Francisco Giants in the final months using highly paid veteran superstars. Under the guidance of baseball boss Andrew Friedman, they did it with kids and role players and determined little pieces that came together to form a clubhouse that won games with resilience and reliance on each other.
"We used to out-talent teams; the past three years we out-talented teams,'' first baseman Adrian Gonzalez said. ''This year, we outplayed teams.''
Vin Scully final press conference
On Now
Vin Scully's Final Press Conference Part One (of Four)
On Now
Vin Scully's Final Press Conference Part Two (of Four)
On Now
Vin Scully's Final Press Conference Part Three (of Four)
On Now
Vin Scully's Final Press Conference Part Four
They did it for more than two months without their best pitcher, Clayton Kershaw, who was out with a back injury. They did it for several months without their most celebrated talent, when outfielder Yasiel Puig was injured and then sent to the minor leagues. They did it without their esteemed clubhouse leader, A.J. Ellis, who was traded to Philadelphia at the end of August. And, oh yeah, they did it all season without last year's star pitcher, Zack Greinke, who was allowed to walk away to Arizona as a free agent.
"It was a work in progress all year,'' said Roberts, the first Dodgers rookie manager to win the division since Tom Lasorda in 1977.
They did it with 28 different players on the disabled list, the most for any team in the last 30 years. They did it using a franchise-record 55 players — 31 of them pitchers, including 15 different starters in a rotation that is supposed to consist of five.
Finally, on Sunday, in a moment of splendid serendipity, they did it with Charlie Culberson.
After the score was tied on a two-out, bottom-of-the-ninth home run by wonder rookie Corey Seager, the stage was set for heroics with two out in the 10th by a guy not quite as famous.
Culberson is a 27-year-old utility infielder who has bounced around pro baseball for 10 years with barely one full major-league season on his resume. This was only his 30th game with this team; he has spent twice as much time at triple-A Oklahoma City.
The home run was his first in more than two years, and the sixth homer in his big-league career.
"Charlie Culberson, he's been up and down all year. There's nobody better to hit that home run,'' outfielder Howie Kendrick said. "He's truly a symbol of what we've been all year.''
The only thing that may have traveled farther than his homer was Culberson's batting helmet, which, as he was approaching his celebrating teammates at home plate, he pulled off his head with two hands and heaved to the sky.
That gesture will now live in Dodgers legend alongside the two hands thrust to the sky by Steve Finley, whose grand slam clinched the division title for the Dodgers in 2004.
"To be able to win at this level, the highest level, nothing can describe it,'' Culberson said. "This speaks for itself.''
Well, actually, no. As with every big Dodgers moment in the last 67 years, it was spoken by Scully. While the homer was his final call at Dodger Stadium, he will announce the team's final three games next weekend in San Francisco, all of which will be televised on KTLA.
Scully swears he will not return to the booth if the Dodgers advance to the World Series, but who knows? Maybe he'll be swayed by the fans who on Sunday chanted, "Win for Vin!'' or the Dodgers who tipped their caps to him when they came to the plate to hit.
Or maybe this is how it is supposed to end here, with a call that set off a celebration that, like its narrator, will live forever.
"Oh-and-one to Charlie … swung on and a high drive to deep left field, the Dodger bench empties, would you believe a home run?''
Would you believe any of it?
Twitter: @BillPlaschke
ALSO
Plaschke: Vin Scully is a voice for the ages
Players insist on making the pilgrimage to say heartfelt goodbye to Vin Scully in person
How Vin Scully helped me learn English, and keep my Mexican American family together
---
Get our Dodgers Dugout newsletter for insights, news and much more.
You may occasionally receive promotional content from the Los Angeles Times.