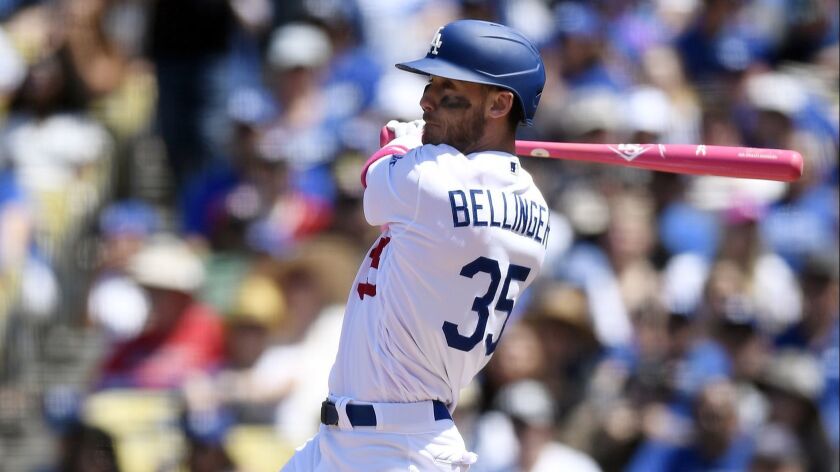 Cody Bellinger's two-run home run Tuesday, a drive to left-center field off San Diego Padres rookie standout Chris Paddack, was his 15th this season. It was also his first in two weeks.
"I'm certain that it was in the back of his mind," Dodgers hitting strategist Brant Brown said. "Like, I haven't hit in a homer.' We're just trying to ease that edge. Like, 'Hey, keep putting good swipes on it. You will hit another homer this year. We promise you.'"
Typically, a slugger's production tapers when the home runs vanish. That was not the case for Bellinger since he last belted a home run April 28. The right fielder batted .357 with an .878 on-base-plus-slugging percentage in the 12 games between home runs. It was simultaneously a slump by the unsustainable standard he set over the season's first month — his batting average dropped from .427 to .407 — and a blistering two-week period for most hitters.
"It's definitely easy to get caught up," Bellinger said. "But I'm just in the on-deck circle, 'All right, stay with the plan. Don't try to get a hit. Just stay with the plan.' That's what I've been doing."
The biggest differences between the Bellinger of last season, which he ended playing in a platoon, and his MVP-level production so far this season are his increased contact and hard-hit rates. Entering Wednesday, Bellinger was making contact on 82.2% of his swings — up from 72.4% last year. His swinging strike rate has dropped from 12.3% to 7.5%. In 2018, he hit the ball hard 40.1% of the time. This year, that number has jumped to 52.8%.
The combination generated one of the best starts in major league history. Bellinger won the National League player of the month award for March and April. He was the best player in baseball. He led the majors in an assortment of categories. He banged 14 home runs.
And then he stopped hitting them. He admitted that would've spelled trouble last year, when he performed below expectations, particularly against left-handed pitchers.
"I think it was just, 'Oh, what do I got to do today to get hits, hits, hits, hits, hits,'" Bellinger said, "When you don't get hits it's depressing. So it's a different mind-set."
Sign up for our Dodgers newsletter »
The mentality was tested in the two weeks before Tuesday. Brown noticed Bellinger was getting away from the mechanics he used to pound pitchers for a month. The coaching staff suspected the lack of home runs was creeping into his mind. So they reminded him and Bellinger listened.
"He was just doing some things that we kind of didn't see before, kind of cheating for the home run," Brown said. "So it was reeling him back in to understand you're going to hit your homers, but what are you doing when you're not hitting homers? Are you still productive? With the skill set he has and the speed that he has, he can do a lot of damage on the field without hitting homers."
Ryu to start Sunday
Dodgers manager Dave Roberts announced Hyun-Jin Ryu will start Sunday against the Cincinnati Reds. Ryu will start on seven days' rest after taking a no-hitter into the eighth inning against the Washington Nationals last Sunday. That outing followed a complete-game shutout against the Atlanta Braves.
"Hyun-Jin is in a very good place," Roberts said. "Whether he pitches every fifth day or there's two days extra rest, I don't think it really matters to him."
Twitter: @jorgecastillo
---