Walker Buehler and Dodgers' bullpen falter late in 11-5 loss to Cubs
Clayton Kershaw made what amounted to a major league rehabilitation start last Saturday, forgoing a minor league tuneup in his return from a lower-back strain to throw 55 pitches over three innings in a win over the New York Mets.
The strategy worked so well that the Dodgers tried it with hard-throwing right-hander Walker Buehler, who was originally scheduled to start for triple-A Oklahoma City on Thursday night but was instead called back to Los Angeles to pitch against the Chicago Cubs.
What's good for the ace was not good for the rookie.
Buehler, sidelined for three weeks because of a small rib-cage fracture, replaced Kershaw to start the sixth inning Thursday and quickly gave up a two-run lead. He was then charged with three of the Cubs' seven runs in the seventh inning of an 11-5 loss before 52,187 in Dodger Stadium.
"We asked a lot out of Walker today," Kershaw said. "That was tough for him to fly back and have to pitch out of the bullpen his first time back out. Walker can handle a lot, but we're not worried about him. He'll be just fine."
Buehler, 23, who hadn't pitched since June 9, threw 25 pitches in a bullpen workout in Dodger Stadium on Tuesday. He traveled to Oklahoma City on Wednesday and took in that night's game against Nashville.
But when it became clear Wednesday night that reliever Josh Fields (right shoulder inflammation) would join bullpen mates Pedro Baez and Tony Cingrani on the disabled list, the Dodgers brought Buehler home.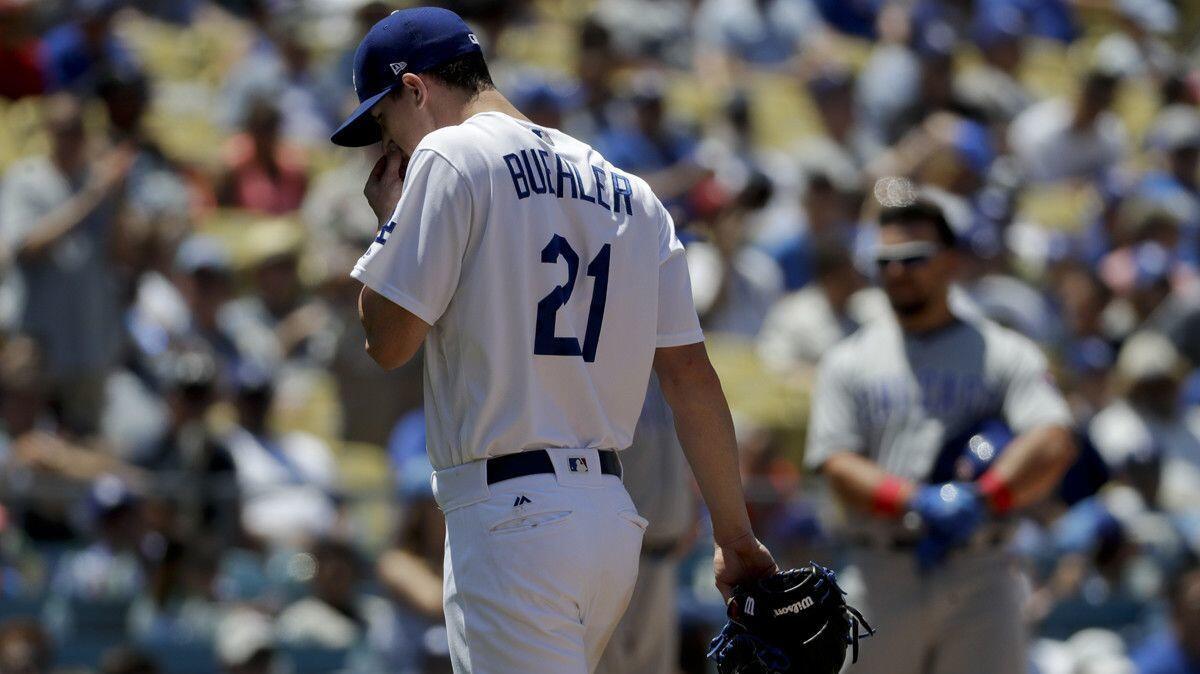 Buehler boarded a 6:15 a.m. flight in Oklahoma City and flew to Los Angeles, racking up 2,400 frequent-flyer miles in two days. The Dodgers thought he would be OK without a minor league stint.
"Every injury is different," manager Dave Roberts said before the game. "When you see the way [Buehler] is throwing the ball and he's pain-free, I think it was pretty clear that, with the pitching we had, the health, it made sense at this point in time. You get the comfort level and confidence in the player, in Walker. It was pretty easy for us to make that decision."
The plan was for Kershaw to throw five innings and about 75 pitches and for Buehler to throw three innings, bridging the gap between Kershaw and closer Kenley Jansen.
The first part of that plan worked perfectly. Kershaw needed only 68 pitches to get through five innings, giving up one run and four hits, striking out six and walking none. The second part went haywire.
Buehler took over to start the sixth inning with a 3-1 lead. Five batters later, the lead was gone. Albert Almora Jr. led off with a home run to left field. Willson Contreras singled with one out and took third on Anthony Rizzo's double to right-center. Addison Russell's sacrifice fly to center made it 3-3.
Ian Happ opened the seventh inning with a double to right-center. Kyle Schwarber walked. Jason Heyward doubled to right-center field for a 4-3 lead, and Roberts pulled Buehler in favor of Erik Goeddel, who didn't fare any better.
With runners on second and third, Almora hit a popup that first baseman Max Muncy lost in the sun. The ball dropped behind him for an RBI single and a 5-3 lead. Javier Baez loaded the bases with a bunt single.
Goeddel struck out Contreras, but Rizzo broke the game open with a three-run double to right-center for an 8-3 lead. Russell lined a two-run homer to left. The seven-run outburst was the most runs the Dodgers have given up in an inning this season.
"I made some bad pitches to good hitters," Buehler said. "I'm trying to get back in the swing of it. Those guys are good. You can't make pitches like that to them."
Did the back-and-forth travel contribute to Buehler's off day? Was he rusty?
"We talked about it," Buehler said. "I felt good about it, and I didn't execute. That's about it. … You can call it rust, whatever you want, but I didn't throw the ball the way I wanted to, and those guys took advantage."
Velocity wasn't a problem. Buehler, who gave up five earned runs and five hits in one inning, with one walk and no strikeouts, cranked his fastball up to 97-98 mph, a pretty good indication he is physically sound.
"I think the velocity was there, but he was missing in the big part of the plate, and the slider just wasn't there today," Roberts said. "There's some rust, obviously. He hasn't pitched in a few weeks. He wasn't sharp."
Roberts said Buehler, who threw 35 pitches Thursday, would throw in the bullpen this weekend and return to the rotation next week. Did the manager have any reservations about having Buehler making a rehab appearance in the big leagues?
"Obviously, when you look at the result, probably," Roberts said. "But before that, where our bullpen was at, we have four guys down, we have Walker, who was gonna pitch that same day …
"Any time he takes the mound we feel good. And seeing him from the side, the stuff was good, he was throwing 97-98 mph. You have to give credit to the guys over there. They squared him up and had good at-bats."
Get our Dodgers Dugout newsletter for insights, news and much more.
You may occasionally receive promotional content from the Los Angeles Times.