Dodgers Dugout: The playoff bullpen should be...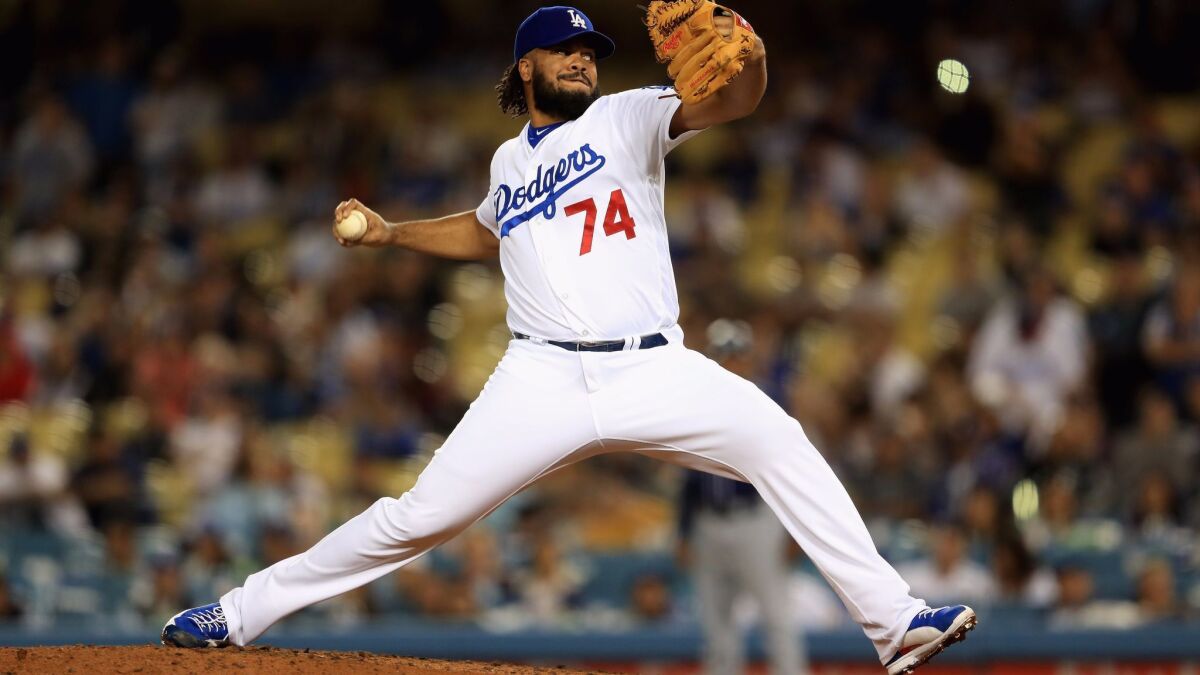 Hi, and welcome to another edition of Dodgers Dugout. My name is Houston Mitchell. The Dodgers start their 2017 World Series title run one week from today.
And the pitchers should be…
In the most recent edition of this newsletter, we went over which position players should be on the playoff roster. Let's look at the pitchers now:
Starters
Clayton Kershaw
Yu Darvish
Rich Hill
Who's the fourth starter, Alex Wood or Hyun-jin Ryu? Wood has the better numbers overall, but he has a 4.03 ERA and a 1.276 WHIP in September. Ryu has a 1.38 ERA and a 1.231 WHIP in September. Since the All-Star break, Ryu has a 2.42 ERA and a 1.231 WHIP. Wood has a 3.89 ERA and a 1.242 WHIP.
Wood has a 2.57 ERA and a 0.952 WHIP in 21 innings against Arizona this season and a 3.18 ERA and 1.294 WHIP in 17 innings against Colorado. Ryu has a 6.30 ERA in 10 innings against Arizona and a 6.75 ERA and 1.977 WHIP in 14.2 innings against Colorado.
It's closer than most people seem to think, but I'd go with Wood. His success against Colorado and Arizona compared to Ryu is too dramatic for me.
Of course, what are the odds the No. 4 starter is used in the five-game NLDS? There could be a sweep. If the Dodgers are down 2-1, would they go with Wood/Ryu or would they bring Kershaw back? I'm thinking the only way a No. 4 starter is used is if the Dodgers are up 2-1.
Bullpen
Let's get the locks for the bullpen out of the way first:
Kenley Jansen
Brandon Morrow
Luis Avilan
Tony Watson
So who does that leave? And how many relievers will the Dodgers have on the roster? Let's go with eight relievers, meaning there are four spots left. They go to:
Tony Cingrani: He has pitched well in September, with a 1.04 ERA and a 0.923 WHIP to go along with 12 strikeouts in 8.2 innings.
Kenta Maeda: I think his stuff translates well in relief. He has struck out eight in six relief innings this season. Plus, he is one of the few relievers who can go more than an inning, which could be important.
That leaves two spots for these candidates: Ryu, Ross Stripling, Josh Fields, Walker Buehler, Brock Stewart. I would leave Ryu off and let him rest up for a potential NLCS, plus there are already three lefties in the bullpen and he'll be of more use in a seven-game series. I like Ryu a lot, so it's not an easy call. I'm also leaving off Buehler. Even if you remove his one really bad outing, when he gave up four runs against Colorado, then he still has allowed six hits and three walks in six innings. Stripling just looks exhausted to me, and has an ERA of 9.00 this month. However he may start Sunday, so he could pitch himself back onto the roster. But if he doesn't, the last two spots go to:
Josh Fields
Brock Stewart
Really though, it's a roll of the dice no matter who you pick. And how people pitch in the final three games against Colorado will probably play into the decision a lot too.
Gonzalez is shut down
Dave Roberts said Wednesday that Adrian Gonzalez will be shut down for the rest of the season. After hitting a double and a homer on Tuesday, Gonzalez had back tightness on Wednesday and it was mutually decided to send him home and have him start preparing for next season.
"You can't go into a postseason with tightness and be a question mark that's going to be up in the air when you've got healthy guys in there," Gonzalez said. As for next year? "My plan is to be an everyday player again and give it a go to have a really good season. Like I expected for this year."
Gonzalez deserves a lot of credit for being a team player this season. He could have demanded his job back or made things difficult when he returned from the DL, but he saw how well the Dodgers were doing with Cody Bellinger at first and accepted a role on the bench. Now he is gracefully stepping aside for the betterment of the team in the postseason. Some will say that he's just doing what he should be doing, so why praise him. But we are all so quick to bash players nowadays, it's important to recognize people when they do the selfless thing.
When you look back on the season, the injuries to Gonzalez and Andrew Toles opened the door for Bellinger. Without those injuries, the Dodgers probably don't win more than 100 games. No team goes into the season hoping for injuries, but it turned out to be just what the Dodgers needed.
By the way, the loss of Gonzalez all but assures Andre Ethier of a spot on the postseason roster.
What about Puig?
Yasiel Puig just couldn't make it through the whole season without a little bit of drama. On Saturday, he got thrown out at second (without even attempting to slide) to end the game in a loss to the Giants. Puig said he didn't slide because he felt a twinge in his leg. Roberts benched him for Sunday's game. Then Puig arrived late for Monday's game, causing him to be benched again. He returns to the lineup Tuesday and doubles, then hits a home run on Wednesday.
Reaction? Looks like it has been handled. Puig is going to be a key guy in the postseason, and there's no reason to blow it up into something bigger than it is.
Best record in baseball
The Dodgers have clinched the best record in the NL and are trying to get the best record in baseball. Here's how it stands:
Dodgers, 102-57
Cleveland, 100-59, 2 back
Houston, 99-60, 3 back
The Dodgers just need to win once against Colorado to clinch best record. Or Houston and Cleveland need to lose just once.
Shameless plug dept.
On Wednesday, Oct. 11, at 7 p.m., I will be moderating a discussion with former Dodgers GM Ned Colletti at Chevalier's Books at 126 N. Larchmont Blvd. in Los Angeles. Colletti will also be signing copies of his book at the event. For more information, click here.
Also, if you are a fan of horse racing, The Times is starting a horse racing newsletter that will work very much like this Dodgers newsletter. It will include entries and results and the news of the day. And it's free! To sign up, click here: https://lat.ms/2wVt9oq. The first issue went out today.
Ask Ross Porter
Terry Sovine asks: If the Dodgers and Indians wind up with the same record, who gets home-field advantage if they play in the World Series?
Ross: The Dodgers because they won two of three from the Indians in the regular season. (Source: Meghan Sheehan, STATS.) Colorado would have to take three from L.A. and Cleveland would have to sweep the White Sox to give the Indians a better record than the Dodgers. The Dodgers were 20 games better than the Indians in late August.
Clyde Smith asks: If the World Series goes to seven games, Ross, have home or road teams won more?
Ross: Clyde, in 21 of the last 56 years, the Series has lasted seven games with home teams capturing 12, including nine of the past 11. Don't lose Game 1.
Gavin Dluehosh asks: Hey, Ross, in 1988 the Dodgers had a worse record than both the Mets and A's, but had home field advantage in both the NLCS and World Series. Why?
Ross: From 1969 to 1993, Gavin, home field edge was alternated between divisions. The Dodgers have a record of 5-6 in the NLCS.
Greg Moore asks: Which team had the longest losing streak by a world champion?
Ross: The 1953 Yankees dropped nine in a row, and the 1990 Reds and 2006 Cardinals each lost eight straight. If the Dodgers win this year, their 11-game skid would be the record. (Source: Eric Stephen, True Blue LA.)
Scott Walden asks: Is there any chance Steve Garvey and/or Ron Cey ever make the Hall of Fame?
Ross: I doubt it, Scott. Garvey drew 42.6% of the votes in 1995 and you need 75%. His only hope is for the Expansion Era committee to select him. Twice as many players in the Hall of Fame broke in before 1950 compared to afterward.
Dale Johnson asks: How often are doubleheaders scheduled before a season?
Ross: In this century, three times. Oakland at Minnesota in 2001, San Diego at Philadelphia in 2003, and the Angels at Oakland in 2011.
This is our final Q&A this season. Thanks to all who sent in questions and I'm grateful to Houston for giving me a chance to interact with you. God bless!
Former Dodgers announcer Ross Porter will be back next season to answer select reader questions. Email me a question for Ross, and I will pass it on. Please include "Ask Ross" in the subject line of the email.
Next series
Friday, 5 p.m. PT, Dodgers (Hyun-jin Ryu, 5-8, 3.47) at Colorado (Chad Bettis, 1-4, 5.72)
Saturday, 5 p.m. PT, Dodgers (Clayton Kershaw, 18-4, 2.21) at Colorado (German Marquez, 11-7, 4.38)
Sunday, Noon PT, Dodgers (Ross Stripling, 3-5, 3.91) at Colorado (Tyler Chatwood, 8-14, 4.65)
Note: Pitchers are subject to change
And finally
Dodgers will take steps to increase fan safety next season. Read all about it here.
Have a comment or something you'd like to see in a future Dodgers newsletter? Email me and follow me on Twitter:@latimeshouston.
Twitter: @latimeshouston
Get our Dodgers Dugout newsletter for insights, news and much more.
You may occasionally receive promotional content from the Los Angeles Times.