Dodgers Dugout: Why isn't Gil Hodges in the Hall of Fame?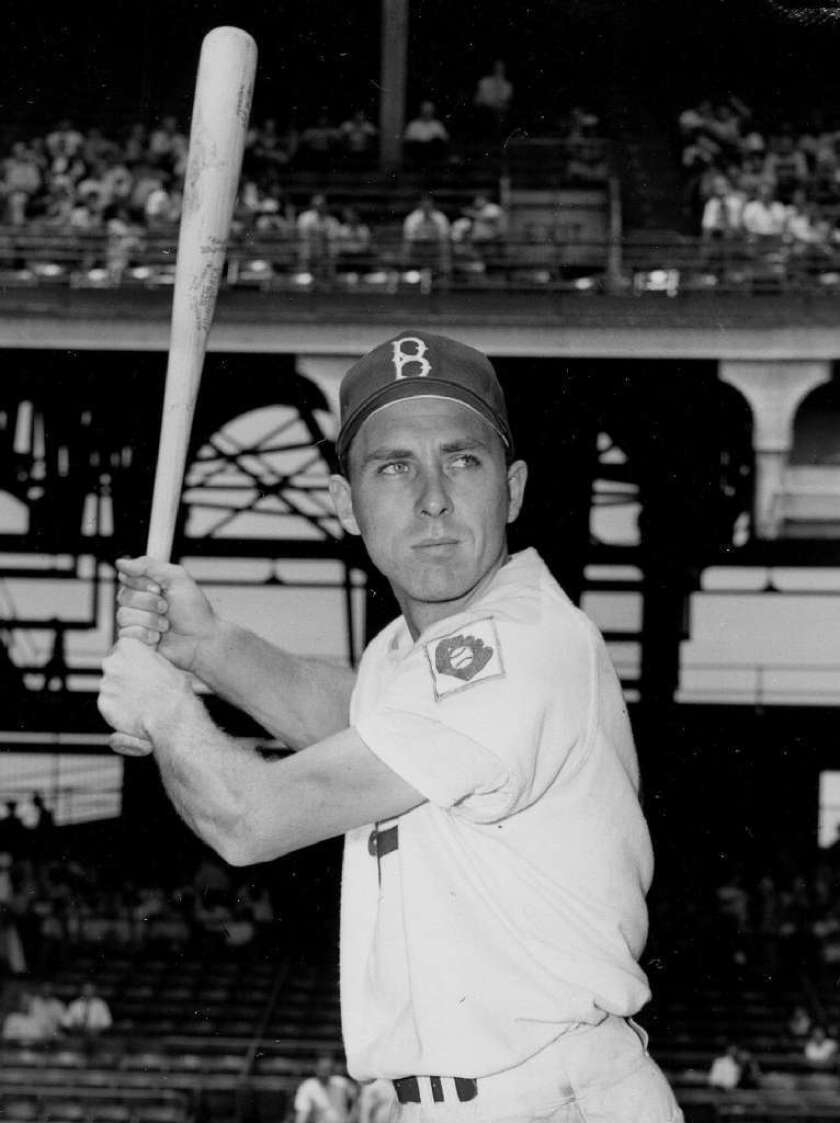 Hi, and welcome to another edition of Dodgers Dugout. My name is Houston Mitchell, and I'm happy Andrew Toles will be 100% for spring training.
Gil Hodges for the Hall of Fame
On Wednesday, the Baseball Hall of Fame will announce the results of the voting for the 2018 class. Leading candidates include Vladimir Guerrero, Chipper Jones, Trevor Hoffman and Jim Thome. Last month, the Modern Era committee, comprised of 16 people who considered 10 candidates whose careers lasted mainly from 1970-87, elected Jack Morris and Alan Trammell.
And, while he wasn't eligible to be considered this year, I always wonder: When is Gil Hodges going to make the Hall of Fame?
Let's take a look at how he compares statistically to first basemen in the Hall of Fame.
There are 25 men who primarily were first basemen in the Hall of Fame. That includes Rod Carew, Ernie Banks and Harmon Killebrew, who all played a few seasons at other positions. Three of the 25 men, Buck Leonard, Mule Suttles and Ben Taylor, were from the Negro Leagues, so we can't really compare their stats. Suffice to say that all three belong in the Hall of Fame. So, we will be comparing where Hodges ranks in the stats among 22 Hall of Famers.
Home runs: Hodges' 370 homers ranks 11th.
Hits: 1,921, 20th.
RBIs: 1,274, 17th (tied with Hank Greenberg)
Average: .273, 21st
OB%: .359, 18th
SLG%: .487, 14th
OPS+: 120, 22nd
WAR: 45, 21st
Hodges appeared on the Hall of Fame ballot the maximum 15 times, and got 63.4% of the vote in 1983, his highest total in his final year of eligibility. Seven people who finished behind him in voting that season eventually made it into the Hall of Fame: Nellie Fox, Billy Williams, Red Schoendienst, Jim Bunning, Orlando Cepeda, Bill Mazeroski and Joe Torre (who was pushed over the top by his managing career).
From 1948-59, Hodges led all first baseman in home runs, RBIs, extra-base hits, OPS and runs created. (I love baseball-reference.com, where I am able to find things like that.)
The Gold Glove Awards were first handed out in 1957, near the end of Hodges' career. He won the first three, in his final three seasons as a full-time player. Safe to say that Hodges could have 10-12 Gold Gloves if they had been handed out for his whole career. Keith Hernandez has the record for first baseman with 11 Gold Glove Awards.
So, an impartial person might look at all that is listed above and say that Hodges is a borderline candidate at best. Statistically, he is either in the middle or near the bottom of the first baseman already in. And I would agree with you. However, there is one more thing to consider:
Gil Hodges managed the 1969 Miracle Mets, one of the most famous, and unexpected, World Series winners in history. Before that, he managed the Washington Senators and improved then from a team with a .347 winning percentage to a .472 winning percentage. He turned the Mets from lovable losers to World Series champions and consistent winners. Yeah, I know he didn't do it alone, but I'm trying to make a point here.
And by the way, Hodges joined the Marines in World War II and was an anti-aircraft gunner in the battles of Tinian and Okinawa. He was awarded the Bronze Star Medal with a Combat V for heroism under fire.
Or, as self-appointed Hall of Fame arbiter Joe Morgan put it in 1992: "Gil Hodges should have been in the Hall of Fame a long time ago."
Hodges will next be considered for the Hall of Fame when the Golden Era committee meets in 2020. Let's hope their vision is 20/20.
Big deals
The Dodgers have reached deals with all seven of their players who were eligible for arbitration. Each player received one-year deals. They are (with salary):
Yasmani Grandal: $7.9 million
Alex Wood: $6 million
Joc Pederson: $2.6 million
Tony Cingrani: $2.3 million
Josh Fields: $2.2 million
Kiké Hernandez: $1.6 million
Pedro Baez: $1.5 million
Payroll blues
I was going to go into another lengthy explanation of why the Dodgers need to keep their payroll below $197 million this season, so don't look for any big signings. But then Times columnist Dylan Hernandez did it better than I could. Read all about it here.
The greatest of all time
I asked you to send me your list of the 10 greatest Dodgers of all time. Anyone who had a Dodgers connection, Los Angeles or Brooklyn, was eligible, including managers, announcers and front-office people.
Well, I have received more than 5,000 ballots. Some interesting trends so far:
—Eighteen different people have received first-place votes.
—Eighty-three people have been named on at least one ballot.
—Since I have received so many ballots, and because baseball goes with a 25-man roster, I have decided to expand the final list to the top 25.
--If voting ended today, the top 25 would consist of 15 people best known for their time in L.A. and 10 best known for their time in Brooklyn. But that could easily change, because not many votes separate No. 20 on the list from No. 30.
--The top eight are far ahead of everyone else.
--I'll reveal my ballot after voting ends so as to not unduly influence the voting.
There is still time for you to vote. Voting closes at midnight, Jan. 31. Email me your list of Dodgers you consider to be the 10 greatest. Please list them in order from 1 to 10. Points will be assigned based on their place in the ballot, with 12 points going to your No. 1 choice, 10 points for No. 2, eight points for No. 3, seven points for No. 4, all the way down to one point for No. 10.
Soon after balloting ends, I will count down the top 25 vote getters, starting with No. 25 and revealing one each newsletter until we reach No. 1.
Shameless Plug Dept.
Some of you came out for my discussion with Ned Colletti a few weeks ago at the South Pasadena Library Community Room. Well, another discussion is taking place later this month (Jan. 29) with Dodgers announcer Joe Davis.
Joe and I will talk about Vin Scully, Orel Hershiser and just about anything Dodgers related we can think of, and we will be taking question from the audience.
The Community Room is at 1115 El Centro St. Admission is free and doors will open at 6:30 p.m. No tickets or reservations are necessary. For more information go here, or call (626) 403-7332. I guarantee you will have a good time. Please come out and say hi.
And finally
Bill Plaschke talks to some unhappy season-ticket holders. Read about it here.
Have a comment or something you'd like to see in a future Dodgers newsletter? Email me and follow me on Twitter: @latimeshouston.
Twitter: @latimeshouston
---
Get our Dodgers Dugout newsletter for insights, news and much more.
You may occasionally receive promotional content from the Los Angeles Times.