Column: Tough decisions loom for Dodgers amid payroll concerns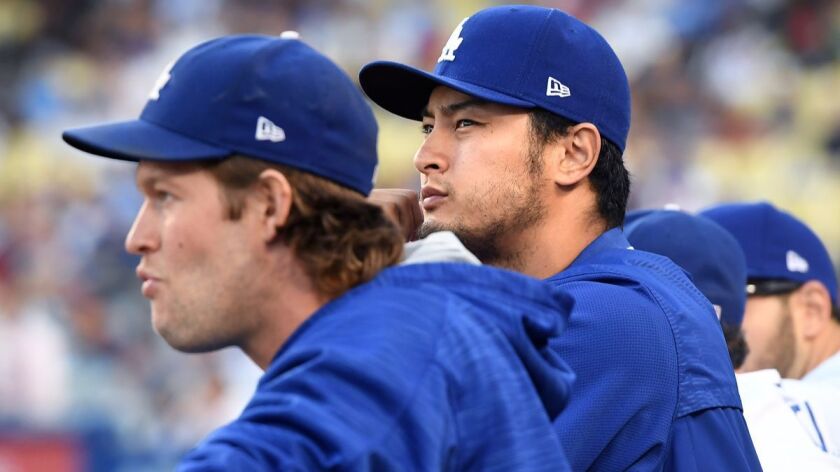 The foundation of another playoff run is being set in suburban Dallas, where Clayton Kershaw and Yu Darvish have become offseason throwing partners.
The World Series didn't unfold how either of them envisioned. Kershaw failed to protect leads of four runs and three runs in a Game 5 loss. Darvish registered a combined 10 outs in his two starts, including his infamous Game 7 debacle.
So there they are, with pictures on Darvish's social media accounts showing them in an indoor athletic facility at Kershaw's high school alma mater, rebuilding their arms and psyches.
Only they might not have the chance to finish what they started. The Dodgers can't afford to let them — specifically, they can't afford to re-sign Darvish, who is a free agent. At least at the moment.
The Dodgers are determined to hold their payroll under $197-million this year and not only to avoid an escalating luxury tax. They are also seeking compliance with Major League Baseball's debt service rule, according to a person familiar with the situation who spoke under the condition of anonymity.
Exceeding the $197-million luxury-tax threshold could result in failure to comply with the rule, which is designed to ensure teams generate enough revenue to cover designated percentages of their debt, with latitude given to clubs that have financed stadium construction or renovation projects in recent years.
The commissioner can take action against violators.
Individual franchises can decide whether they are willing to pay a luxury tax. That's not the case with the debt service rule, which is at the discretion of the commissioner.
In other words, the Dodgers effectively have a $197-million salary cap this year.
What this means is the franchise that bought whatever it wanted in its first six years under Guggenheim Baseball Management will have to exercise restraint.
Andrew Friedman and Farhan Zaidi will have to be smarter. They will have to be more selective and make tougher decisions.
The Dodgers will return a majority of the players from last year's National League championship team. They have an established ace in Kershaw. They have a dominant closer in Kenley Jansen. They have a fearsome lineup that features Corey Seager, Justin Turner and Cody Bellinger. Those players aren't going anywhere.
The Dodgers aren't the Arizona Diamondbacks, who would have to trade No. 1 starter Zack Greinke if they want to re-sign power-hitting outfielder J.D. Martinez. But the Dodgers won't be content with beating out the Diamondbacks for another division championship; they are looking to win the World Series that slipped out of their hands last year. And they will be looking to do it with a roster that isn't as solid from top to bottom, a roster that prioritizes certain areas over others.
They luxury-tax payroll is currently around $180-million. That leaves them with a little more than $17-million to spend, but in the end it probably won't be that much.
The figure right now includes right-hander Kenta Maeda's $3-million base salary. But it doesn't include the incentive pay he could earn this year, which could total in the millions and will count toward the luxury-tax payroll. Maeda earned $8.9-million in incentives in 2016 and $4.9-million last year.
Set aside $9-million for Maeda to be safe and the Dodgers have only $8-million to spend, part of which they will want available at the July 31 non-waiver trade deadline.
At this stage, any meaningful addition would require a meaningful subtraction.
Take Darvish, for example. The Dodgers can't re-sign him without shedding salary. They would like to unload the $21.5-million they owe Matt Kemp, but it's unlikely they will find a taker for his full contract.
Moving Kemp would likely require him to be packaged with a more desirable player or parts of the highly rated farm system the Dodgers spent considerable resources to build.
They could also deal Logan Forsythe and his $9-million contract, or Yasmani Grandal and his $7.9-million salary. But dumping Forsythe would create a hole at second base and moving Grandal might require Austin Barnes to catch somewhere in the vicinity of 130 games. Barnes is generously listed at 5 feet 10, 190 pounds, and many scouts wonder if he could play that many games without breaking down.
Or they could do what the Dodgers are expected to do, which is to not sign Darvish. That has a downside as well: Kershaw, Rich Hill and Alex Wood, the top three starters, all have disconcerting medical histories.
Friedman and Zaidi will have to be more precise in their assessment because any errors in judgment will be magnified in this environment.
The Dodgers reached the World Series last year because they were smart and wealthy. In order to return, they will have to rely more on intellect and less on their wallets.
Follow Dylan Hernandez on Twitter @dylanohernandez
---
Get our high school sports newsletter
Prep Rally is devoted to the SoCal high school sports experience, bringing you scores, stories and a behind-the-scenes look at what makes prep sports so popular.
You may occasionally receive promotional content from the Los Angeles Times.