Dodgers Dugout: Taking a closer look at the 2018 roster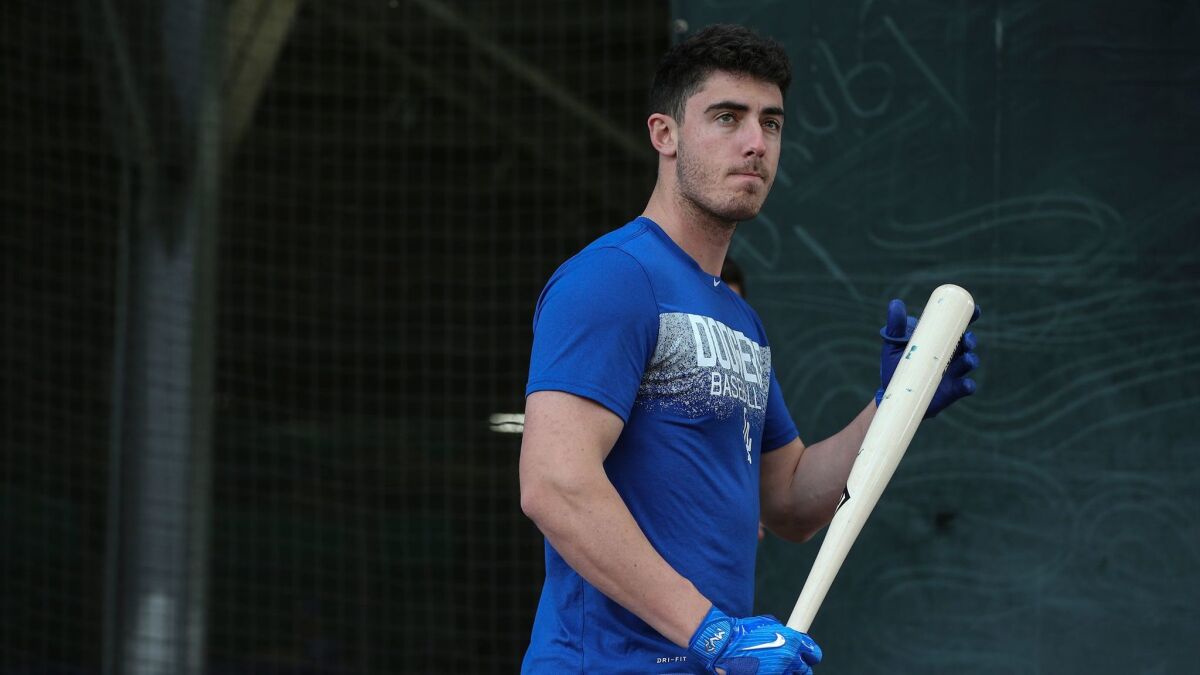 Hi, and welcome to another edition of Dodgers Dugout. My name is Houston Mitchell and remember, the Dodgers' first spring training game is Friday.
The Dodger roster
You know the problem with spring training this year? Nothing exciting is going to happen. The roster is pretty much set. The only big questions are who will start in left field and who will take over Brandon Morrow's role as set-up man to start the season.
With that in mind, before we compare the Dodgers at each position to other NL West teams, let's take a look at players who are candidates to make the opening day roster. Today, we will look at the position players.
Catchers
Austin Barnes (.289/.408/.486/137 OPS+). Barnes went from role player to the Dodgers' starting catcher down the stretch and in the playoffs. Despite that, manager Dave Roberts said he expects Yasmani Grandal to get most of the playing time this season as they return to a platoon, with Grandal starting against righties and Barnes against lefties. But Barnes will get plenty of opportunities, especially if Grandal's second-half slump continues.
Yasmani Grandal (.247/.308/.459/100). Grandal looked like an All-Star in the first half last season, hitting .267/.319/.469 with 19 doubles and 11 homers. Then he injured his thumb and hit .217/.292/.444 in the second half. He still rates as a great pitch framer, but he allows a lot of passed balls and is a free agent after this season. Or as he put it: "The way I see it is I'm hitting free agency next year. I've got to be concentrated to help this team do the best that they can do, so that next year 29 other teams would love to have me on their team — or, if I end up signing back here."
Kyle Farmer (.300/.300/.350/72). Barring injury, the only way Farmer makes the team is if the Dodgers like the versatility of having three catchers on their roster, which would permit them to pinch-hit with either Barnes or Grandal.
Infielders
Cody Bellinger (.267/.352/.581/142). Bellinger arrived in spring training with a more sculpted look to him. But there's one question lingering for all Dodger fans. Will we get the Bellinger from the season, or the Bellinger who went four for 28 with 17 strikeouts in the World Series? You know, the one who couldn't hit an inside breaking pitch. That's a key thing to watch early in the season.
Logan Forsythe (.224/.351/.327/82). Judging by the emails I get, Forsythe isn't the most popular Dodger in the world. He was a disappointment at the plate and took a lot of hittable pitches (which did lead to a decent OB% despite a low batting average. Plus, there was the strange fascination with batting him fifth in the lineup. But Forsythe is good on defense, and the Dodgers know they need solid infield defense. Many considered the Dodgers to have the best infield defense in baseball last season, and Forsythe was a big part of that.
Corey Seager (.295/.275/.479/125). All Seager did last season was develop a better batting eye, walking 13 more times than 2016 in 74 fewer plate appearances. Most teams would take him in a heartbeat and he drew quite a few votes in the greatest Dodgers of all time balloting despite playing only two full seasons.
Justin Turner (.322/.415/.530/149). How good is Turner? He struck out only 56 times in 543 plate appearances. I kept getting complaints from people that he was not good in the second half, but he hit .296/.396/.531 in September. Fielding wise, while his bad knee hurts his range a little, he made only eight errors. He has replaced Adrian Gonzalez as the heart of the Dodgers offense.
Chase Utley (.236/.324/.405/92). The Silver Fox is back, signing a two-year contract last week. As Barnes put it, "We got our leader back." He will spell Forsythe at second, be a key pinch-hitter and let players know when they step out of line.
Outfielders
Kiké Hernandez (.215/.308/.421/91). Hernandez is one of the more popular Dodgers, can play almost every position and can't hit righties (.159/.244/.255 last season). There's no reason to think those three things will change this season.
Matt Kemp (.276/.318/463/103). Most still don't expect the Dodgers to keep Kemp. But if they do, he will give them a guy with decent power who is basically immobile in the outfield and a GIDP machine.
Joc Pederson (.212/.331/.407/95). Pederson went from starting center fielder, to losing his job to a guy who had never played center and getting sent to the minors. The Dodgers went into a tailspin right after they sent him down, leading some fans to conclude that Pederson's cheerleader personality was the key to the Dodgers' amazing success. Which is sort of like saying the temp worker who misfiles things and costs you that key account is worth keeping around because he makes a great coffee and is always smiling. Pederson will get another chance this season, but it may very well be his last one unless he decides to start hitting consistently.
Yasiel Puig (.263/.346/.487/118). Just a quiet guy who goes about his business and doesn't draw any attention to himself. I don't know what Puig did to cause his agent to dump him so publicly, but the Dodgers aren't worried about it, so neither will I. If he hits like he did last season and plays Gold Glove-level defense, we'll all be happy campers.
Chris Taylor (.288/.354/.496/122). There are two big questions in my mind heading into the season. One is covered in the Bellinger comment, the other is whether Taylor is for real. After hitting .234/.289/.309 in his first three seasons, Taylor suddenly became the catalyst atop the lineup. He actually hit better in the second half than the first, though he did tail off a bit in September, which could be attributed to fatigue due to playing in 20 more games in 2017 than he did in his first three seasons combined.
Andrew Toles (.271/.314/.458/101). Toles will probably start the season in the minors so he can get some consistent at bats and build back his endurance after missing almost all of last season because of a knee injury. He's still only 25, and if he can come back to play like he did briefly in 2017, then that will be a huge bonus for the Dodgers.
Alex Verdugo (.164/.240/.304/43): The Dodgers' top non-pitching prospect will have a chance to win the left field job in spring training, but he's only 21 and will more than likely start the season at triple A.
Ask Ross Porter
Former Dodgers announcer Ross Porter will be back this season to answer select reader questions. To send a question to Ross, email me and I will pass it on to him. Please include "Ask Ross Porter" in the subject line.
And finally
The Dodgers will honor Kirk Gibson during the season's opening weekend and help raise money for Parkinson's disease. Read more about it here.
Have a comment or something you'd like to see in a future Dodgers newsletter? Email me and follow me on Twitter: @latimeshouston.
---
Get our Dodgers Dugout newsletter for insights, news and much more.
You may occasionally receive promotional content from the Los Angeles Times.