Dodgers Dugout: Save Clayton Kershaw for the season, not for opening day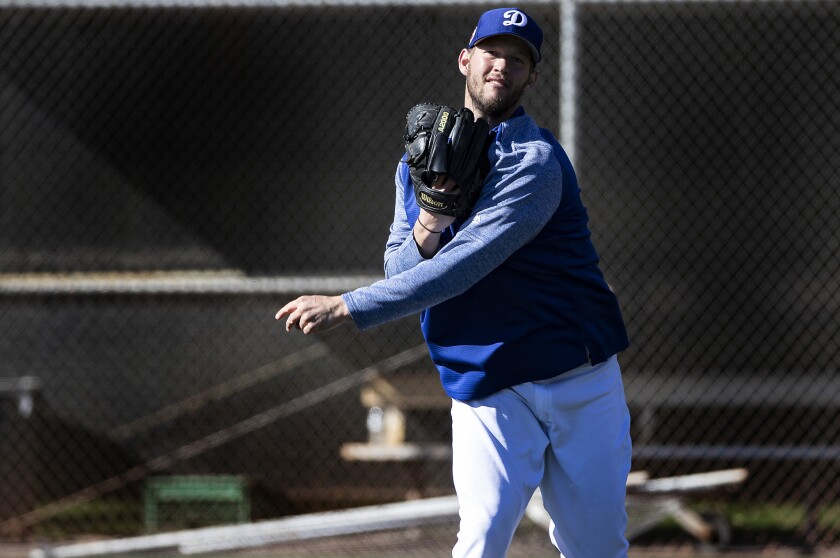 Hi, and welcome to another edition of Dodgers Dugout. My name is Houston Mitchell and there are only 15 days to opening day.
Spring training update
It has been a relatively uneventful spring for the Dodgers so far (and let's hope it stays that way). However, there are some areas of concern, so let's talk about those things.
Clayton Kershaw: He threw a bullpen session on Monday and everyone came away encouraged. It was the first time he had thrown off a mound since Feb. 20. He threw 20 pitches, all fastballs. Pitching coach Rick Honeycutt said Kershaw appeared "freer and cleaner" while throwing at 80% effort.
Maybe I'm too cynical, but I'll wait until he's throwing at 100% effort before I start doing cartwheels in joy. The Dodgers are still giving lip service to Kershaw starting on opening day, but I think it's in deference to his status and I hope they have no real plan to rush him back for opening day. Starting on Game 1 is nice and all, but it's still just one game out of 162.
Walker Buehler: They still don't want him to have a heavy workload yet, as they try to conserve his arm for the season. He hasn't pitched in a game this spring. These are things you can afford to do when you have the pitching depth the Dodgers have, even though there's nothing out there that shows conserving innings actually extends a pitcher's career or helps him avoid injury (see Urias, Julio).
Opening day starter: So, with Kershaw and Buehler not even pitching yet, who gets the opening day nod? Rich Hill? Kenta Maeda? Hyun-Jin Ryu? I have a crazy idea. I remember 1981, when Jerry Reuss and Burt Hooton were ailing and the Dodgers had no veteran ready to start opening day. They turned to this young left-hander named Fernando Valenzuela. He did pretty well for himself, I believe. So, while the parallels aren't perfect, why not young left-hander Julio Urias? I know, I know, you can't make a decision because something worked out well almost 40 years ago. But it's fun to think about things like that. After all, Urias is pitching great this spring.
Andrew Toles: The Dodgers put him on the restricted list on Monday, which is basically just a procedural move to open a spot on the 40-man roster. Toles is dealing with a personal issue and hasn't been in camp at all this spring. A lot of people have emailed me to ask what issue Toles is dealing with, but Toles doesn't want that information released and I think we should all honor that request.
Corey Seager: He batted in a minor-league game on Monday and is scheduled to play defense in a game for the first time later this week. I don't see him being ready on opening day either, but he is progressing nicely and there seems to be no after effects from his two surgeries last year.
Josh Fields: The Dodgers have released him. It's a bit of a surprise because he pitched decently for the team the last three seasons, but he was out of options, meaning another team could claim him if they sent him to the minors. This gives him a chance to hook on with another club before spring training ends and it cleared a space on the 40-man roster.
That about sums up the big problem spots. Now let's take a look at spring training stats for the main players. Of course, spring training stats are effectively meaningless, but that doesn't mean they aren't interesting to look at.
Batters
Justin Turner, .421 (8 for 19), 10 runs scored, 4 doubles, 1 homer
Kiké Hernandez, .379 (11 for 29), 3 doubles, 2 homers, 8 RBIs
Austin Barnes, .304 (7 for 23), 2 doubles, 8 RBIs
Russell Martin, .300 (3 for 10), 1 double
Alex Verdugo, .280 (7 for 25), 3 doubles
David Freese, .235 (4 for 17), 2 doubles
Cody Bellinger, .217 (5 for 23), 3 doubles, 1 homer, 4 strikeouts
Chris Taylor, .200 (5 for 25), 3 doubles
Max Muncy, .192 (5 for 26), 2 doubles
A.J. Pollock, .185 (5 for 27), 1 homer
Joc Pederson, .160 (4 for 25), 2 doubles, 2 homers
Pitchers
Scott Alexander, 0.00 ERA, 3 innings
Tony Cingrani, 0.00, 4 innings,
Yimi Garcia, 0.00, 5 innings
Kenley Jansen, 0.00, 3 innings, 1 hit, 3 strikeouts
Hyun-Jin Ryu, 0.00, 6 innings
Rich Hill, 1.42, 6.1 IP
Julio Urias, 1.50, 6 IP, 1 hit, 6 strikeouts
Joe Kelly, 0.00, 3 IP
Ross Stripling, 3.60 ERA, 5 IP
Kenta Maeda, 4.50 ERA, 6 IP
Pedro Baez, 6.00 ERA, 3 IP
Caleb Ferguson, 9.64 ERA, 4.2 IP
Ask Ross Porter
Ross Porter will once again answer reader questions this season. All you have to do is email me your question at houston.mitchell@latimes.com. I will forward the email on to Ross, and he will answer two or three each week. Ross has done this every year for the newsletter and has done it for free, so my thanks go out to him.
TV schedule
KTLA will televise 10 Dodger games during the season. They are:
Tuesday, April 2, vs. San Francisco, 7 p.m.
Friday, April 12, vs. Milwaukee, 7 p.m.
Thursday, April 18, at Milwaukee, 5 p.m.
Wednesday, April 24, at Chicago Cubs, 5 p.m.
Saturday, April 27, vs. Pittsburgh, 6 p.m.
Saturday, May 11, vs. Washington, 6 p.m.
Monday, May 27, vs. New York Mets, 5 p.m.
Thursday, May 30, vs. New York Mets, 6:30 p.m.
Saturday, June 1, vs. Philadelphia, 7 p.m.
Saturday, June 15, vs. Chicago Cubs, 6 p.m.
And finally
The Dodgers clubhouse band covers 3 Doors Down's "Kryptonite" and George Strait's "Troubadour." Watch it here.
Have a comment or something you'd like to see in a future Dodgers newsletter? Email me and follow me on Twitter: @latimeshouston.
---
Get our Dodgers Dugout newsletter for insights, news and much more.
You may occasionally receive promotional content from the Los Angeles Times.