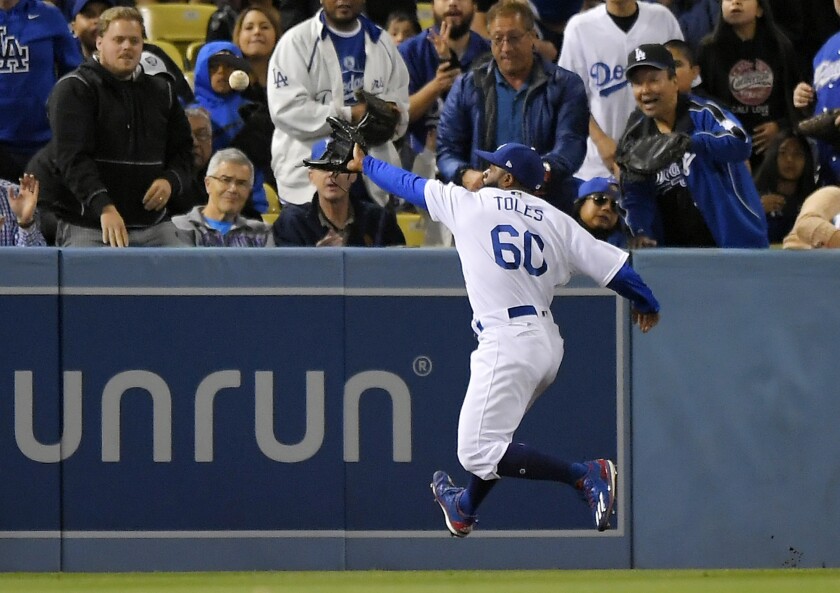 Hi, and welcome to another edition of Dodgers Dugout. My name is Houston Mitchell, and I'm wondering if the Hall of Fame will suspend their rules and put Cody Bellinger in now.
Toles out, Bellinger in
Andrew Toles went knee-first into the left-field fence at Dodger Stadium on Tuesday while trying to make a catch and preserve Julio Urias' no-hitter. He left the game and got some bad news Wednesday: he has a torn ACL and will be out for the rest of the season.
This is really sad news, because Toles' story is so amazing. He was released by the Tampa Bay Rays before the 2015 season and got a job at a grocery store, working in the frozen foods section. For most people, that would be the end of their baseball career. But the Dodgers took a chance and signed him in 2016. He raced through the minors and joined the Dodgers on July 8, hitting .314 in 48 games and giving the Dodgers some much-needed speed in the lineup. After getting off to a slow start, he was hitting .375 in his last 11 games before he was injured.
But Toles' absence becomes less painful because of Cody Bellinger. Without Bellinger, left field would belong to either Scott Van Slyke (recalled from the minors on Wednesday), Enrique Hernandez or Brett Eibner (recalled from the minors on Wednesday).
One thing the injury does is make the Dodgers' decision easier when Adrian Gonzalez comes off the disabled list. The Dodgers no longer have to worry about playing Gonzalez or Bellinger at first, they can just put Bellinger in left field. Until then, Bellinger can play left with Chase Utley or Van Slyke playing first, and Bellinger can move to first against left-handed pitchers with Franklin Gutierrez playing left.
Toles was also a backup center fielder to Joc Pederson, but Eibner can play center, as can Hernandez.
Random numbers
--Bellinger is tied with Yasiel Puig for the team lead in homers with six. Of course, Bellinger hit his six in 14 games while Puig hit his six in a more human-like 33 games.
--Bellinger is already tied for second with Corey Seager in RBIs with 17. Puig leads with 19.
--Over the last seven days, Austin Barnes is hitting .600, Yasmani Grandal is hitting .500 and Chase Utley is hitting .429.
--On April 22, Kenta Maeda was 1-2 with an 8.05 ERA. Since then he has gone 2-0 with a 2.21 ERA in three starts.
Julio Urias
Urias had a no-hitter going in the seventh inning of Tuesday's game against the Pirates, leading many to wonder if Dave Roberts would have left him in if it continued. Last season, Roberts removed Ross Stripling from a no-hitter in the eighth inning. So what about Urias? Well, Roberts didn't want him throwing more than 110 pitches, and he was already over 80 pitches when the no-hitter ended. To make it worse, it was Mexican Heritage Night at the stadium, and Urias is from Mexico.
"I was figuring out, Mexican Heritage Night, pitch count starting to creep up there, and I've got to take this young kid out of a no-hitter," Roberts said. "I think 45,000 fans would have really come down on me."
Book recommendations
Two books have come out recently about former Dodgers. The first, "Casey Stengel: Baseball's Greatest Character" by Marty Appel, which is a workman-like account of Stengel's lengthy career, including his stint as a player and manager of the Brooklyn Dodgers.
The best of the two books is "Leo Durocher: Baseball's Prodigal Son" by Paul Dickson, who does a great job of capturing the two sides of Durocher, the brilliant manager and the man who hung out with Frank Sinatra and liked to gamble. It's an excellent book and the chapters focusing on Durocher's handling of Jackie Robinson and his overall tenure with the Dodgers are must-read for Dodgers fans.
Comparison
The Dodgers are trying to win their fifth consecutive division title. Let's take a look at this year's record and how it compares through the same point the last four seasons.
2017: 20-14, second place, 1 1/2 games behind Colorado
2016: 17-17, tied for first place with San Francisco
2015: 22-12, first place, four games ahead of San Diego
2014: 19-15, third place, 2 1/2 games behind San Francisco
2013: 13-21, fifth place, 7 games behind Arizona and San Francisco
Ask Ross Porter
Once again, former Dodgers announcer Ross Porter is back again to answer select reader questions. Email me a question for Ross, and I will pass it on. Here's this week's answer:
Mike Margy asks: Ross, you truly were a generation ahead of yourself with all your brilliant statistical knowledge. But, on a personal level, what was it like to work with and know guys like Vin Scully and Don Drysdale, and what was it like in the booth after Don passed?
Ross: Mike, first and foremost, Vin and Don were wonderful men, and there was never a single word of discord between any of us.
In 28 years of working with Vin, I never saw him rude to a fan even once. Whether he was asked to pose for a photograph, sign an autograph, or listen to someone relate in great detail a rambling experience, Vin was always polite, friendly, cooperative, and appreciative. It was because of his recommendation that I was offered the Dodgers job before the 1977 season, and to have the finest baseball announcer ever do that was a significant honor.
Don joined us in 1988, and my five and a half years working with him was a joy. He was gregarious, not shy about voicing his opinion, and brought an insight into baseball from a Hall of Famer's perspective that was both informational and instructive for me. I immediately missed Don's presence in the booth, and more importantly, his friendship.
Having an opportunity to share time with Vin Scully and Don Drysdale was a divine gift.
Next series
Thursday, 5:30 p.m., Dodgers (Hyun-jin Ryu) at Colorado (Tyler Anderson)
Friday, 5:30 p.m., Dodgers (Clayton Kershaw) at Colorado (Tyler Chatwood)
Saturday, 5 p.m., Dodgers (Alex Wood) at Colorado (TBA)
Sunday, Noon, Dodgers (Julio Urias) at Colorado (Antonio Senzatela)
And finally
Will Alex Wood remain in the Dodgers' rotation? Read all about it.
Have a comment or something you'd like to see in a future Dodgers newsletter? Email me and follow me on Twitter: @latimeshouston.
Twitter: @latimeshouston
---