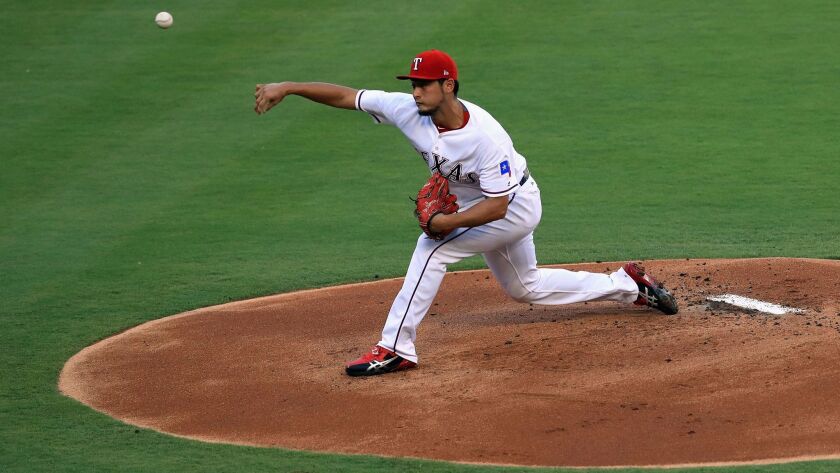 Hi, and welcome to another edition of Dodgers Dugout. My name is Houston Mitchell, and The Times tried to send me to the Washington Post just before the trade deadline, but the Post thought the asking price of a bottle of water was too steep.
Trade deadline deals
The non-waiver trade deadline came and went on Monday, and it looked like the Dodgers weren't going to make a deal. But in the last 45 minutes,Andrew Friedman and Farhan Zaidi went wild. Let's take a look at each deal
Dodgers acquire Yu Darvish from Texas for Willie Calhoun, A.J. Alexy and Brendon Davis.
Yu Darvish: The 30-year old right-hander (he turns 31 on Aug. 16) has a 4.01 ERA, a 3.98 FIP, a 1.168 WHIP and a 114 ERA+ this season. He has averaged 6.2 innings per start.
Let's talk about that ERA. That 4.01 is the highest of his career, spiked mainly by the highest home-run rate of his career. He has allowed 20 homers this season, or 1.3 every nine innings, worse than his former career high of 1.1 in 2013. He'll be moving to a better pitcher's park, so some of the edge should come off his ERA and FIP. His strikeout rate is also down a bit this season, from 11.8 every nine innings last season to 9.7 this season (career: 11.0). But why quibble over a 9.7 strikeout per nine rate? Darvish is a very, very good pitcher.
Looking at how he rates in the AL this season, he is in the top 10 in WHIP, hits per 9IP, strikeouts per 9IP, innings pitched and strikeouts. And for those of you concerned about his last few outings, including one in which he gave up 10 runs, Darvish was tipping his pitches, a situation he says he has corrected.
Acquiring him suddenly gives the Dodgers this potential rotation in the playoffs:
Clayton Kershaw
Yu Darvish
Alex Wood
Rich Hill
And for a fifth man during the season they can choose from Brandon McCarthy, Kenta Maeda and Hyun-jin Ryu.
Darvish is a great pickup who becomes a free agent at the end of the season.
Or as Zaidi said, "Every team wants to load up with as many starting pitchers they feel good starting playoff games as possible. Having four is certainly better than having three."
Willie Calhoun: The "second baseman" is L.A.'s fourth-ranked prospect, because he can really hit. At triple-A Oklahoma City, he was hitting .298 with 24 doubles and 23 homers in 99 games. His trouble is he can't field very well, wherever they put him. (That's one reason the Dodgers acquired Logan Forsythe, because Calhoun's defense will eventually move him off second). He has always belonged in the AL, where he can eventually become a DH.
A.J. Alexy: A 19-year-old right-hander, Alexy is the 17th-ranked prospect for the Dodgers. He has a 3.67 ERA at Class A Great Lakes this season, and most scouts project him to eventually be a No. 3 starter.
Brendon Davis: Davis, 20, was the Dodgers' 27th-ranked prospect who has played second, third and short for Great Lakes this season, hitting .245. He's the wild card in this deal. He strikes out a ton, but draws a fair amount of walks. Still though, a .243 minor league average means he's probably not going to be the next Corey Seager.
All in all, this is a good deal for the Dodgers, and it's also a good deal for Texas, who have a hitting gem in Calhoun. The best part is the Dodgers didn't have to part with Alex Verdugo or Walker Buehler.
Tony Cingrani from Cincinnati for Scott Van Slyke and Hendrik Clementina
Tony Cingrani: The 28-year-old left-hander has a 5.40 ERA and a 7.01 FIP in 23 1/3 innings. He had a 2.55 ERA on July 15, but a 14.29 ERA in six outings since then. Left-handers are hitting .293 off him this season with six home runs in 43 plate appearances, but for his career they are hitting .219 against him. He has allowed 27 of 69 inherited runners to score in his career. He's not the greatest in the world, but he gives the Dodgers more left-handed depth. He is arbitration-eligible and will be a free agent after the 2019 season.
Scott Van Slyke: I don't think I need to write much about him. He was a good bench player for a while, but fell way down the Dodgers depth chart after the emergence of guys such as Andrew Toles, Cody Bellinger and Chris Taylor. His last good season was in 2014. We wish him well.
Hendrik Clementina: The 20-year-old catcher is not listed among the Dodgers' top 30 prospects. He has spent all four years of his pro career in the Rookie Leagues (considering his age, that's not unexpected) and is hitting .370 for Ogden his season. But he has a lot of work to do defensively before he makes the majors.
I view this trade as a wait-and-see. Maybe the Dodgers have detected a flaw in Cingrani's delivery. He had 17 saves with the Reds last season. If he can recapture some of that, then it's a good deal. They certainly didn't give up much for him.
Tony Watson from Pittsburgh for Angel German and Oneil Cruz
Tony Watson: The 32-year-old left-hander began the season as the Pirates' closer but lost the job after blowing five saves and having a 4.44 ERA. Since then, he has pitched well, with a 2.16 ERA in 16 2/3 innings. His 1.521 WHIP is by far the worst in his career. From 2011-16 he had a 2.56 ERA and a 3.45 FIP in 386 1/3 innings. Lefties are hitting .308/.357/.354 against him this season but only .217/.277/.293 in his career. If he recaptures his old form, he will be quite a steal. He will probably be battling Luis Avilan to be the top left-hander in the bullpen for the rest of the season. He will be a free agent after the season.
Angel German: The 21-year-old right-handed reliever is not listed among the team's top 30 prospects, but pitched well in Great Lakes, putting up a 1.91 ERA with 37 strikeouts in 33 innings. Right now, he's just one of dozens of guys in the minors who throw in the mid-90s and hope they make the majors before their arm blows out.
Oneil Cruz: The 18-year-old shortstop is the No. 21 prospect for the Dodgers. He is 6-foot-6, which is tall for a shortstop, and has shown no appreciable hitting skills, with 110 strikeouts and a .240/.293/.342 slash line in 89 games at Great Lakes this season.
This is a good deal for the Dodgers. Though it would have been nice to get Zach Britton or Brad Hand, the asking price was too high. Watson is a good pitcher and if he can pitch like he did his first five seasons (he made the 2014 All-Star team), then the Dodgers will have the left-hander they've needed.
Basically, on Monday the Dodgers got Yu Darvish and two established left-handers in the bullpen for six minor leaguers (only one of whom was considered a top 10 prospect) and Scott Van Slyke. Friedman and Zaidi made the team stronger without giving away the future. You can't ask for much more than that. The Dodgers were already the best team in baseball and the favorite to win the World Series; now they should be even better.
We will have a bonus newsletter this week looking at what the other playoff contenders did to make themselves better.
Well done
Congratulations to former Dodger Adrian Beltre, who got his 3,000th on Sunday.
Beltre had one of the all-time great Dodger seasons in 2004, hitting .334 with 48 homers and 121 RBIs and finishing second in MVP voting. He signed a five-year, $64-million deal with Seattle after that season, then spent a season with the Boston Red Sox before playing the last seven seasons with Texas.
You can watch Beltre get his 3,000th hit here.
The obscure Dodgers record of the week
Which Dodger has the best career ERA+ with the team (minimum 500 innings)?
1. Clayton Kershaw, 162
2. Zack Greinke, 156
3. Kevin Brown, 147
4. Ron Perranoski, 132
5. Sandy Koufax, 131
6. Dazzy Vance, 129
6. Andy Messersmith, 129
8. Whit Wyatt, 128
9. Jim Brewer, 127
10. Jeff Pfeffer, 125
If we limited it to L.A. Dodgers, the top 10 would be Kershaw, Greinke, Brown, Koufax, Perranoski, Messersmith, Brewer and
8. Eric Gagne, 125
8. Alejandro Pena, 125
10. Derek Lowe, 120
The 10 worst:
1. Jim Pastorius, 78
2. Hal Gregg, 82
2. Harry McIntyre, 82
4. Jack Coombs, 86
4. Joe Moeller, 86
6. Elmer Knetzer, 87
7. Cy Barger, 90
8. Ray Benge, 91
9. Oscar Jones, 92
9. Rex Barney, 92
If we limited it to L.A. Dodgers, then the worst 10 would be
1. Moeller, 86
2. Darren Dreifort, 95
3. Jeff Weaver, 97
4. Rick Honeycutt, 100
5. Kevin Gross, 102
5. Odalis Perez, 102
5. Charlie Hough, 102
8. Bob Miller, 104
8. Pedro Astacio, 104
8. Johnny Podres, 104
8. Hideo Nomo, 84
All these numbers, and more, can be found at baseball-reference.com.
Next series
Tuesday, 4:30 p.m. PT, Dodgers (Kenta Maeda, 9-4, 4.09) at Atlanta (Lucas Sims, first major league game)
Wednesday, 4:30 p.m. PT, Dodgers (Brock Stewart, 0-0, 0.00) at Atlanta (Julio Teheran, 7-9, 5.09)
Thursday, 4:30 p.m. PT, Dodgers (Alex Wood, 12-1, 2.38) at Atlanta (Sean Newcomb, 1-5, 4.50)
Darvish last pitched on July 26, so it's very possible he will pitch against Atlanta, probably Wednesday instead of Brock Stewart, but no official announcement has been made at the time this newsletter was sent.
Note: Pitchers are subject to change.
And finally
Adrian Gonzalez and Andre Ethier are making progress in their attempted return from back injuries. Read all about it here.
Have a comment or something you'd like to see in a future Dodgers newsletter? Email me and follow me on Twitter:@latimeshouston
Twitter: @latimeshouston
Twitter: @latimeshouston
---