Dylan Floro has been a standout in the Dodgers bullpen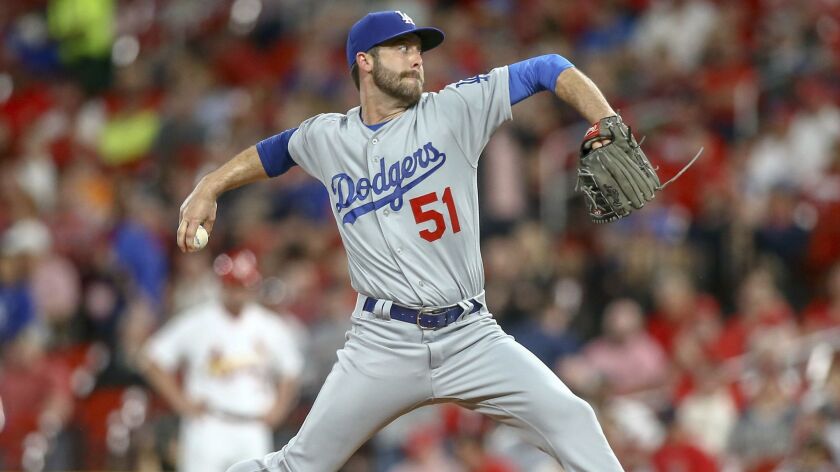 Reporting from Milwaukee —
Something wasn't quite right with Dylan Floro in spring training and the numbers showed it. He finished the spring giving up six earned runs in 8⅓ innings. Spring stats are often disregarded, but Floro didn't ignore them. In search of a solution, the right-handed reliever and Dodgers coaching staff members pored over video. They found he wasn't balanced so they addressed it.
"Just more staying over the rubber and getting back to being more flexible in the hips, like I was last year where I had a lot more rotation," Floro said. "This year I was stiffer and I wasn't getting the same rotation and torque going towards home plate."
The work has paid dividends. Entering Saturday, Floro had logged 10 scoreless innings across nine appearances. He posted six strikeouts without walking a batter. It's been a continuation from his startling success since the Dodgers acquired him from the Cincinnati Reds last July. In 38 appearances with Los Angeles, the 28-year-old Floro has a 1.19 earned-run average over 37⅔ innings.
"It's getting ahead in the count and making the hitters start to swing at pitches I want them to swing at instead of getting pitches that they want to swing at," Floro said.
As a result, Floro has become a weapon for Dodgers manager Dave Roberts to deploy in big spots.
"I think if you just kind of weigh it with leverage, whether that's the sixth inning or whether that's the eighth inning," Roberts said. "Certainly, I saw a lot from him last year that built that trust for me. Spring training's spring training but it really didn't affect my thought of him. So I'm just happy he came into the season and has really thrown the ball well."
Clayton Kershaw is helping out in L.A. again
Helping children is at the root of Clayton Kershaw's charitable efforts. Through Kershaw's Challenge, Kershaw and his wife, Ellen, have focused on aiding at-risk children. They've helped in Dallas, their hometown, and in Africa. They spent four days over the offseason in the Dominican Republic with the International Justice Mission to raise awareness about child sex trafficking.
And, of course, they've made an impact in Los Angeles. This month, Kershaw's Challenge is partnering with the Los Angeles Dodgers Foundation to refurbish Jackie Robinson Stadium and build a "Field 42" at Gonzalez Park in Compton. Kershaw's foundation is also raising funds for the effort through a sweepstakes that include playing catch with Kershaw, roundtrip airfare to Los Angeles and two tickets to a Dodgers game. All proceed will go toward the completion of the park in Compton.
"I think having kids of my own now, understanding that the environment that's created around them, they don't have a choice," said Kershaw, who will make his second start of the season Sunday against the Milwaukee Brewers. "They're born into it so to have situations for kids that might not have opportunities, really hits home to me.
"They get out. They have chances. They get to do things. They have the opportunity for greater things in their life, so to be able to provide some type of opportunity could be life-changing."
Russell Martin's next step is unclear
Veteran catcher Russell Martin doesn't want to go on a rehab assignment, but he might anyway, Roberts reiterated Saturday. The 36-year-old Martin was placed on the 10-day injured list with lower back inflammation April 10. He caught a bullpen and took batting practice on the field Saturday for the first time since suffering the back injury.
Whether Martin's progression includes a pit stop in the minors is to be determined. Regardless, Roberts said he doesn't expect Martin to return until sometime during their next homestand, which begins Friday.
"Some players feel that it's not necessary so we're going to keep that conversation," Roberts said. "To see what's best for him and the Dodgers."
Sign up for our Dodgers newsletter »
Short hops
Roberts said Rich Hill will likely make his second rehab start Monday in extended spring training at the club's facility in Phoenix because weather and logistics make the team's minor league affiliates unfavorable destinations. The Dodgers want Hill to log six innings and 90 pitches before coming off the injured list. Hill, who has been out with a strained medial collateral ligament in his left knee, tossed four scoreless innings in his first rehab start Wednesday for Class-A Rancho Cucamonga. … The Dodgers optioned right-hander Josh Sborz to Oklahoma City on Saturday to make room on the roster for Hyun-Jin Ryu, who started against the Brewers. Sborz spent six days with the club without making his major league debut.
Twitter: @jorgecastillo
---
Get our Dodgers Dugout newsletter for insights, news and much more.
You may occasionally receive promotional content from the Los Angeles Times.