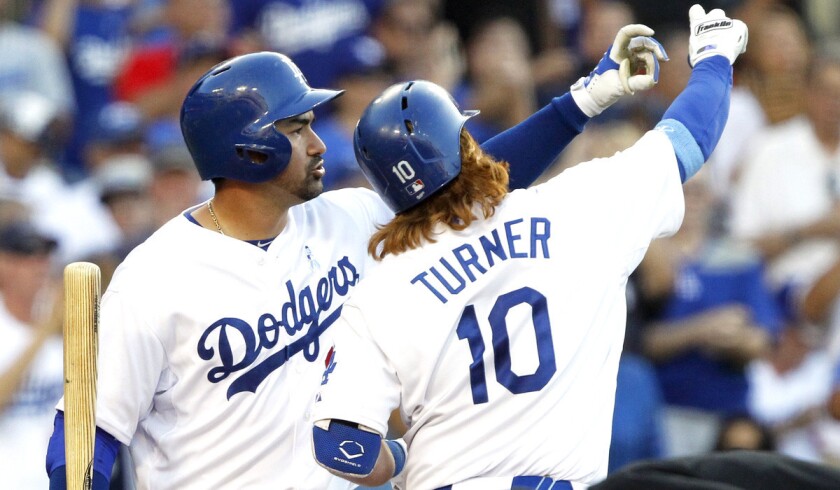 KEY MOMENT: The Dodgers scored early and often against Giants starter Tim Lincecum. When Justin Turner lined an RBI single to raise the lead to 5-0 with one out in the second inning, Giants Manager Bruce Bochy pulled Lincecum and left the remaining 20 outs to the bullpen.
ON THE MOUND: Brett Anderson, who has developed into a steady force in the rotation, hasn't given up more than four runs in any outing this season, so the early run support was more than enough. Anderson took a line drive to his right ankle in the first inning, but stayed in the game to collect the win. He limited the Giants to one run and five hits over six innings despite striking out only one batter. "Other than the kick-save off my ankle, it was good," Anderson said of his performance. Daniel Coulombe allowed one run in two innings of relief, and Matt West threw a scoreless ninth inning.
AT THE PLATE: The first run was a gift — a wild pitch in the first inning that scored Turner. The rest were all well-earned. In the second inning, Yasiel Puig drove in two runs, Joc Pederson doubled home another and Turner followed with his RBI single that knocked out Lincecum. Yasmani Grandal added solo home runs in the third and fourth inning for his fourth career multi-home-run game, Adrian Gonzalez had a solo shot of his own, also in the fourth inning, and Turner hit a two-run home run in the fifth. Jimmy Rollins, who had three hits in four at-bats, had his best performance at the plate since May 15, when he went four for five. It was his second straight multi-hit game. "Hopefully this is the start of something good," Dodgers Manager Don Mattingly said.
EXTRA BASES: A trio of Dodgers pitchers made rehab appearances with triple-A Oklahoma City on Sunday. Brandon Beachy threw 45 pitches and allowed one hit with three strikeouts over two innings. Brandon League allowed an unearned run in one inning of work, and Pedro Baez threw one scoreless inning. … Joel Peralta, who has been on the disabled list for nearly two months with a nerve-related problem, threw at Dodger Stadium on Sunday. He said he could be activated as soon as Monday.
Up Next: Dodgers left-hander Clayton Kershaw (5-4, 3.29 ERA) will face the Chicago Cubs and left-hander Tsuyoshi Wada (1-1, 3.68) at Wrigley Field on Monday at 5 PDT. TV: SportsNet LA; Radio: 570, 1020.
---