Dodgers splurge on Kenley Jansen, close in on reunion with Justin Turner
On Saturday evening, inside the Santa Barbara Beach & Golf Resort in Curacao, four members of the 2016 Dodgers gathered with their spouses for a photograph. In the center of the shot, wearing a bow-tie, sat Kenley Jansen. To his left was Justin Turner, his collar unbuttoned, with Scott Van Slyke and Yasiel Puig rounding out the group. They had flown to the island to attend Jansen's wedding, and so they beamed for posterity.
Two days later, there would be more to celebrate.
The Dodgers completed a significant portion of their off-season shopping on Monday, reaching an agreement to re-sign Jansen, while approaching the final stages of an agreement with Turner, according to people familiar with the situation, who requested anonymity because neither contract had been finalized.
Jansen spurned a more lucrative offer from the Washington Nationals to stay in Los Angeles with a five-year, $80-million deal. Turner was close to reaching a four-year contract believed to be worth $64 million.
When the off-season began, the Dodgers identified a trio of their own players as primary targets in free agency: Jansen, Turner and left-handed Rich Hill. After inking Hill to a three-year, $48-million deal last week, the team debated a variety of trade scenarios and contingencies in case they could not afford the other two. In the end, the Dodgers ponied up the necessary cash, an expected bill of $192 million for the three.
"If you're always rational about every free agent, you will finish third on every free agent," president of baseball operations Andrew Friedman said last week at baseball's winter meetings. The statement looked prophetic on Monday.
Each contract represents a gamble, and the spending surprised rival executives who predicted an off-season of frugality from the Dodgers as the team attempted to avoid luxury-tax penalties. But the splurge also demonstrated the team's internal belief in its roster. By effectively getting the band back together for 2017, Friedman's front office delivered a vote of confidence to a group that finished two victories shy of the World Series in October.
The Dodgers still seek an upgrade at second base. The team continued discussions with Minnesota about second baseman Brian Dozier and maintained dialogue about a reunion with Chase Utley. Dozier clubbed 42 homers in 2016, posted an .800 on-base plus slugging percentage the last three seasons and is only owed $15 million through 2018.
The team also needs a bullpen in front of Jansen, which is one of the reasons the club has engaged with former All-Star closer Greg Holland, who missed last season after undergoing elbow ligament replacement surgery. The presence of Jansen provides security for the team as it searches for the other members of the relief corps.
Jansen, 29, will earn the second-largest free-agent contract ever given to a reliever. He finished shy of the $86-million package Aroldis Chapman received from the New York Yankees last week. Jansen can opt out of his contract after the 2019 season, according to a person familiar with the situation.
The Dodgers won a bidding war for Jansen that included the Miami Marlins as well as the Nationals. Miami offered a five-year, $80-million deal, according to Yahoo Sports, but rival executives speculated the contract would involve significant deferred money and little no-trade protection. The offer was likely "incredibly back-loaded," one official said, and would have exposed Jansen to the likelihood of being traded elsewhere.
Unlike Miami, the Dodgers offered stability in addition to financial security. Washington could also provide both components. The Nationals made an offer that was "exceptional and generous and for more money," according to Jansen's agent, Adam Katz.
"At the end of the day, Kenley loves Los Angeles, his Dodgers family, the fans here, and although money was a factor, it wasn't the most important thing," Katz said.
The history of long-term contracts for free-agent relievers is not positive. But Jansen did not become a pitcher until 2009, has no history of arm issues and wields an elite weapon in his cut fastball. During the last three seasons, he ranked fourth among relievers in FanGraphs' version of wins above replacement. During the playoffs, he demonstrated his willingness to be utilized whenever necessary.
Like Jansen, Turner displayed his importance to the club in October. During the season, he hit 27 homers, posted an .832 OPS and played in a career-high 151 games. He established himself as an every-day star and a leader within the clubhouse. His prominence within the organization only grew during his three seasons as a Dodger.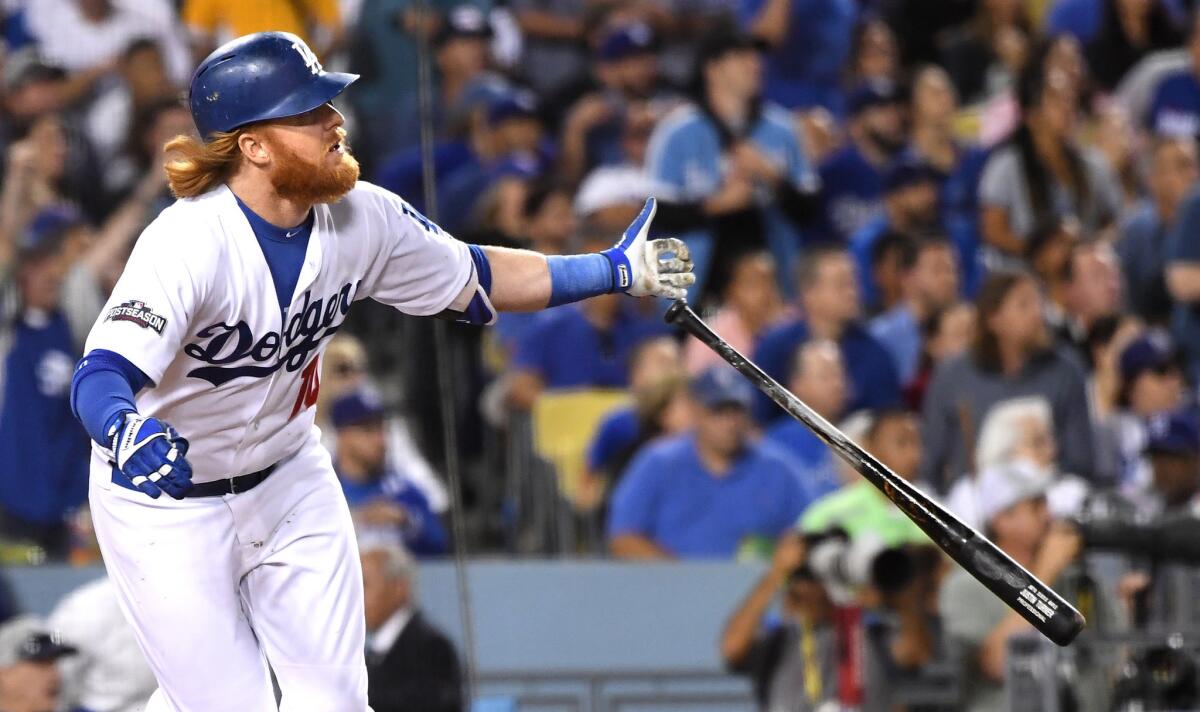 Cut loose by the New York Mets after 2013, Turner agreed to a major-league contract with the Dodgers, the team he rooted for while growing up in Bellflower. But Turner flunked his physical because of an issue with his knee. Concerned about his fragility, the Dodgers countered with a minor-league offer and an invitation to camp. Turner hit his way into a permanent spot on the big-league roster.
Turner underwent microfracture surgery on his left knee last winter. He turned 32 last month. But he has reshaped his physique under the tutelage of Dodgers strength and conditioning coach Brandon McDaniel, a process that has improved his dexterity in the field while increasing his power at the plate. He offers right-handed balance for a lineup stocked with left-handed hitters.
The off-season has not ended for the Dodgers. But with Monday's activity, the team fortified its position as one of the Chicago Cubs' primary challengers for supremacy in 2017.
Like those four men in Curacao on Saturday, the club's fans can smile.
Twitter: @McCulloughTimes
ALSO
Rams fire coach Jeff Fisher during fifth straight losing season
Lane Kiffin reportedly accepts head coaching job at Florida Atlantic
Blake Griffin is probable for Clippers' game against Portland
Get our Dodgers Dugout newsletter for insights, news and much more.
You may occasionally receive promotional content from the Los Angeles Times.