Dodgers' Joc Pederson has a home run stat that boggles the mind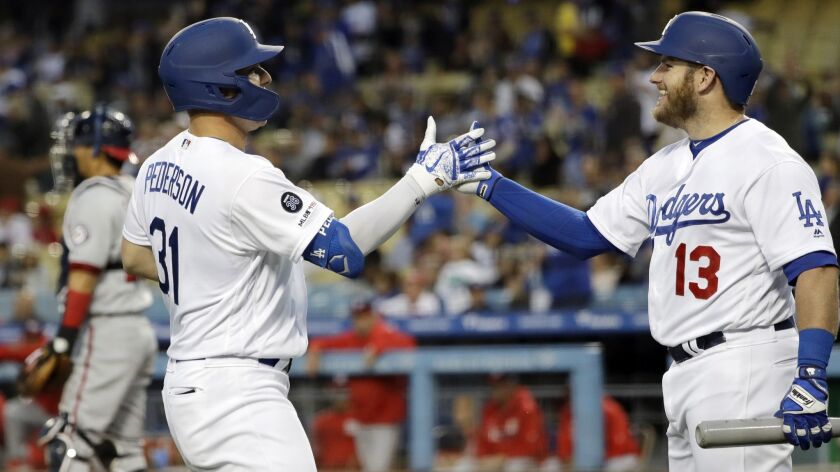 Manager Dave Roberts found the statistic difficult to believe after the Dodgers' 5-0 win over the Washington Nationals on Friday: Joc Pederson has more home runs than singles this season.
"He's done a job of getting the ball in the air," Roberts noted matter-of-factly.
Entering Saturday, Pederson had 25 hits. Twelve were home runs. Ten were singles. He was batting .229 with a .606 slugging percentage — an unusually large gap between the numbers. His home-run-to-fly-ball ratio was the third highest in baseball at 34.3 percent. Only Joey Gallo, a notorious true-outcome machine, and Christian Yelich, the reigning National League MVP, had higher percentages.
On Friday, Pederson hit his third leadoff home run this season and 14th of his career, tying Rafael Furcal for the second most in Dodgers history. He's halfway to Davey Lopes' record of 28. He added another home run, a rocket into the visitors' bullpen, in the fifth inning. They were his first home runs since he belted two on his birthday, April 21, against Milwaukee.
Pederson maintained he doesn't step into the batter's box trying to hit a home run. He said that strategy doesn't work; he admitted trying to in his final at-bat in the eighth inning Friday and grounding out. But his swing, which he described as "overly aggressive," is designed to drive balls in the air. It's a trend sweeping baseball. Pederson succeeds more than most.
"The goal is to hit the ball hard on the barrel as much as possible," Pederson said.
Friday's performance snapped a rough patch for Pederson, a stretch made more difficult by the inconsistent playing time he's limited to as part of a platoon in left field. Pederson had started seven of the Dodgers' 16 games after his birthday bash in Milwaukee and appeared in five others as the Dodgers confronted a flood of left-handed starting pitchers. In those 12 games, he went three for 30 with two walks, 11 strikeouts and a triple. Pederson acknowledged his role — starting only against right-handed pitchers — is challenging.
"We've had some long runs of lefties this year where I come back after I had a really good game the night before and then I don't play for a few days," Pederson said. "It's tough to pick up where you left off and that's what you want to do. It's a mental kind of game and you got to just stick with it."
He was back in the lineup Saturday against Max Scherzer and went 0 for 3. He will be in there again Sunday when the Dodgers face Stephen Strasburg. They are his first starts on consecutive days since April 28 and 29. It'll be a chance to maintain his form.
"Rhythm, flow, I think plays a huge role in to being consistent and effortless; not overthinking," Pederson said. "So it's really good to get in there and get in the game, just to ride out pitches. I think it makes it more comfortable."
Sign up for our Dodgers newsletter »
Short hops
Caleb Ferguson will make his second rehab appearance for triple-A Oklahoma City on Monday. The left-hander tossed a scoreless inning for single-A Rancho Cucamonga on Friday, striking out two and walking one. He was put on the injured list with a strained oblique April 28. ...Tony Cingrani, the Dodgers' other left-handed reliever on a rehab assignment, will remain with Oklahoma City until he pitches in back-to-back games and logs more than an inning in an outing, Roberts said. Cingrani has appeared in three rehab outings, one for Rancho Cucamonga and two for Oklahoma City. He's tossed three scoreless innings.
Twitter: @jorgecastillo
---
Get our Dodgers Dugout newsletter for insights, news and much more.
You may occasionally receive promotional content from the Los Angeles Times.