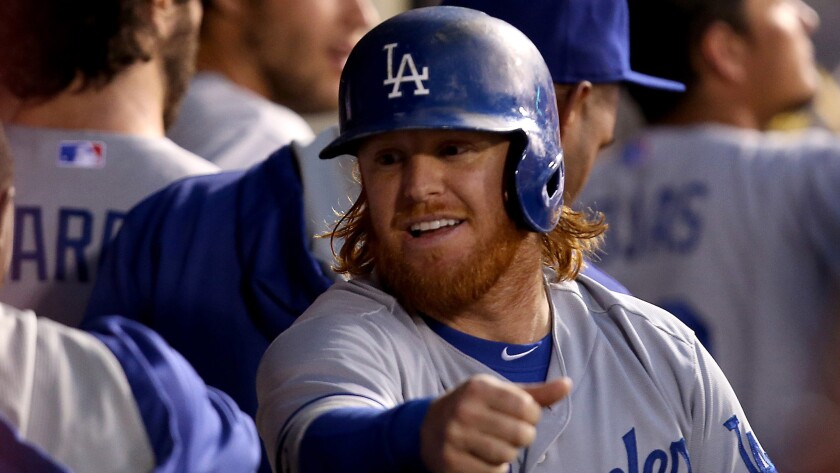 Justin Turner's role with the Dodgers carries an unglamorous title: Utility player.
Turner, a Cal State Fullerton product, has played every infield position this season, helping his injury-prone team to a comfortable advantage in the National League West.
When all the Dodgers infielders are healthy — which hasn't been often — Turner typically will fill in as a pinch-hitter or on defense late in a game.
But with third baseman Juan Uribe on the disabled list because of leg problems for the second time this season, Turner recently has been starting — and producing.
His .313 batting average far surpasses the .256 career average he took into this season, meaning there's now another word that aptly describes his contributions:
Valuable.
"You've got to look at it as an opportunity," Turner said of his chance to play regularly. "It's a chance for me to get four or five at-bats a night and try to make a difference."
Turner already has 257 plate appearances, the most he's had in a season since 2011, when he was the New York Mets' second baseman.
For the Dodgers, he has covered for Uribe at third, made spot starts behind shortstop Hanley Ramirez, who also has spent time on the disabled list, and given breaks to second baseman Dee Gordon and first baseman Adrian Gonzalez.
Ned Colletti, the Dodgers' general manager, seems to have a penchant for bringing in players who are productive as reserves. Turner, who is making $1 million this season after making the team during spring training, has helped fill a void left by the departures of Nick Punto and Skip Schumaker.
"In the National League you have to have players that can come off the bench," Colletti said. "You have to have players that are versatile, that can play more than one position. You have a lot of double switching in the National League and you have to have players that are really, the phrase is, 'He's a baseball player.'"
Translation: Turner is required to do a little bit of everything.
"People in the early spring were doubting our bench," Colletti said. "We had lost Nick and Skip. They were doubting it, and I think our bench has been great."
The Dodgers' other top reserves are outfielder Scott Van Slyke and shortstop Miguel Rojas. Outfielders Carl Crawford and Andre Ethier have come off the bench at times too.
"We have the kind of lineup and the kind of team that there's plenty of guys to fill in," said Manager Don Mattingly. "We're not a one-man show. It's when you get multiple injuries for a sustained period of time that you really get in trouble for a couple days here and couple days there. As long as you've got the right club, you really survive those."
Indeed, although the Dodgers have lost players to the disabled list, they have never lost more than three consecutive games.
Turner played a big part in two of the Dodgers' most recent victories. He had two hits, scored two runs and drove in two runs in an 8-6 win over the San Diego Padres last Tuesday, and his two-run eighth-inning home run against the Padres two days later accounted for the Dodgers' only runs in a 2-1 win.
"He's done an incredible job," Gonzalez said. "He's definitely been a solid rock."
Some utility players are stronger in some areas than in others. For example, Van Slyke is known more for his hitting than his defense, and Rojas has a trusty glove but a suspect bat.
Turner, 29, is pretty good in both areas.
"In his case, he can provide both sides of it," Colletti said, noting that Turner's experience playing in a big market such as New York was "another plus."
Turner starred at Lakewood Mayfair High and Cal State Fullerton before the Cincinnati Reds chose him in the seventh round of the 2006 MLB draft, but he made his big league debut with the Baltimore Orioles and spent the last three seasons with the Mets.
Over the years, Turner said he has developed a routine to stay loose and focused when he's not playing. For example, batting practice isn't really for hitting.
"It's more for me to get my work defensively, move around, take ground balls at different positions that I could possibly play later that night coming into the game somewhere," Turner said.
"I have my routine for getting ready for a pinch-hit during a game that I do in the cage, and that gets me to where I need to be. So the batting practice part of it's more fun for me and to get defensive stuff out of the way."
Even with Uribe due off the disabled list soon, Turner should have many more opportunities to have an impact since few players are 100% healthy at this time of the season.
"It happens on every team. Guys go down," he said. "People have to fill in, and you just prepare yourself as best as you can and go out and try to have fun playing the game."
---