Trade Matt Kemp? That'd be a bum deal, and a dumb deal, for Dodgers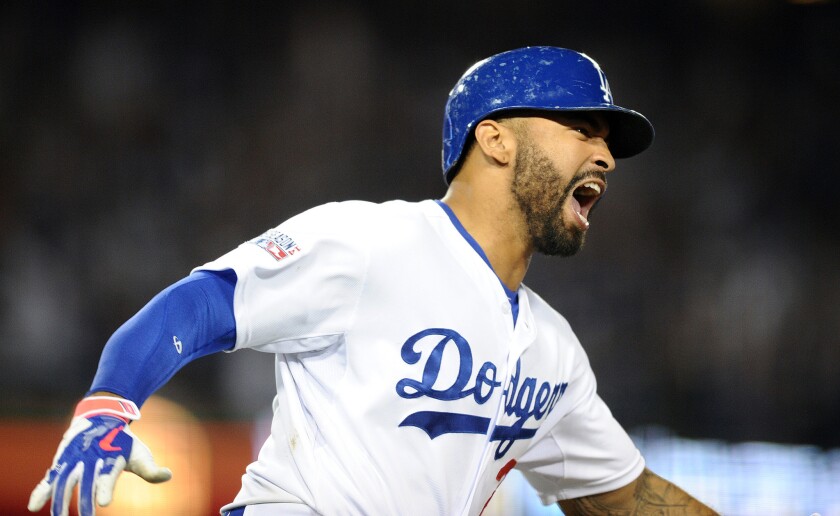 This column should not have to be written. The truths here should go without saying. Any Dodgers fan will understand it implicitly.
But these out-of-towners are running the baseball operations in Chavez Ravine these days, they don't yet know the pulse of the dugout, they haven't learned the heartbeat of the clubhouse, and they just might need a little advice.
So listen up, new guys.
You don't trade Matt Kemp.
You don't trade the one man whose bat can change the complexion of the team from beige to red. You don't trade the one guy who can transform the lineup from stilted to swaggering.
(And, of course, you don't trade the only guy willing to publicly call out Yasiel Puig during the middle of a game, but that's another story.)
When Matt Kemp is right, the Dodgers offense is right, and by the end of last summer he was finally right. He had 17 home runs and 49 runs batted in over the final two months of the season, and had a .365 on-base percentage in the second half. In September, he had nine homers and 25 RBIs.
It's easy to blame everyone in uniform for the postseason debacle, but Kemp was not the reason the Dodgers lost to the St. Louis Cardinals. In fact, he's the reason they won the one game they did win against the Cardinals, his go-ahead homer in the eighth inning giving them a 3-2 victory in Game 2.
The new guys will surely talk to players who said that Kemp can be a clubhouse irritant, loud and abrasive. But when he's going well, it's a happy, even inspirational noise. The team fed off that sound at the end of last season, and there's no reason for the Dodgers to suddenly silence it now.
Even Kemp's grumbling about playing left field has stopped. His agent, Junior Spivey, confirmed to The Times' Dylan Hernandez this week that Kemp is no longer demanding a return to center field. Kemp is a proud man who felt he was being embarrassed in an unfamiliar position, but now that he's hitting again, that embarrassment is gone.
Obviously, the new guys have holes to fill, and Kemp is the easiest way to fill them. He could be used to pick up a top starting pitcher, or a shortstop and a catcher, or any combination of the three with a veteran reliever tossed in. Just as obviously, the Dodgers have an outfield surplus, and Kemp is the most obvious way to try to improve while reducing the clutter.
One problem. At this stage in their careers, the combination of Andre Ethier and Carl Crawford can't come close to matching Kemp's impact. And who knows what you're going to get out of the kid Joc Pederson, or even that bigger kid named Puig.
Puig hit four homers with 17 RBIs after the All-Star break last season before striking out eight times in 12 postseason at-bats. There is an equal chance of his upcoming season being either breakout or breakdown. It's impossible to guess, and the new guys shouldn't try.
Besides, if you trade Matt Kemp, where do you find a threat against all those late-inning left-handers? Adrian Gonzalez, Juan Uribe, Puig, Ethier and Crawford combined to hit nine homers in 474 at-bats against left-handed pitching last season. Kemp hit six homers in 148 at-bats against lefties, a pace that would make him almost twice as effective as the rest of the team's power hitters combined. Pederson isn't included in that first group because, well, in seven plate appearances he is still waiting for his first career hit against a left-hander.
There has been talk at this week's winter meetings about Kemp being traded to the San Diego Padres for catcher Yasmani Grandal — seriously — but one of the new guys told reporters Tuesday that this deal was not close.
"I think the information that's coming out there may be driven more by either what people are hearing in snippets or what people want to believe we're willing to do than what we're actually willing to do," said General Manager Farhan Zaidi.
Good. Let's keep it that way.
The new guys certainly cannot be blamed for listening to offers for the 30-year-old Kemp and a contract that will pay him $107 million for the next five years. For most of his nine seasons in a Dodgers uniform, Kemp has pretty much driven everyone crazy, particularly this columnist, who has suggested both that the Dodgers trade him and keep him — sometimes in the same column.
But he finally seems mature, focused, healthy and absolutely vital to what happens next here. The championship window is closing fast on the core of this Dodgers group. Despite his great numbers, Gonzalez appears to be slowing; Uribe is aging; the bullpen behind Kenley Jansen is weathered; Zack Greinke can opt out of his contract after next summer; and who knows how long Clayton Kershaw can physically handle being baseball's best pitcher.
This could be the last season that this collection of players can seriously contend for a title. If the new guys truly want to win right now, which the Los Angeles market demands in a way that the new guys never experienced in St. Petersburg or Oakland, they will try to win it with Matt Kemp.
Follow Bill Plaschke on Twitter @billplaschke
---
Get our high school sports newsletter
Prep Rally is devoted to the SoCal high school sports experience, bringing you scores, stories and a behind-the-scenes look at what makes prep sports so popular.
You may occasionally receive promotional content from the Los Angeles Times.