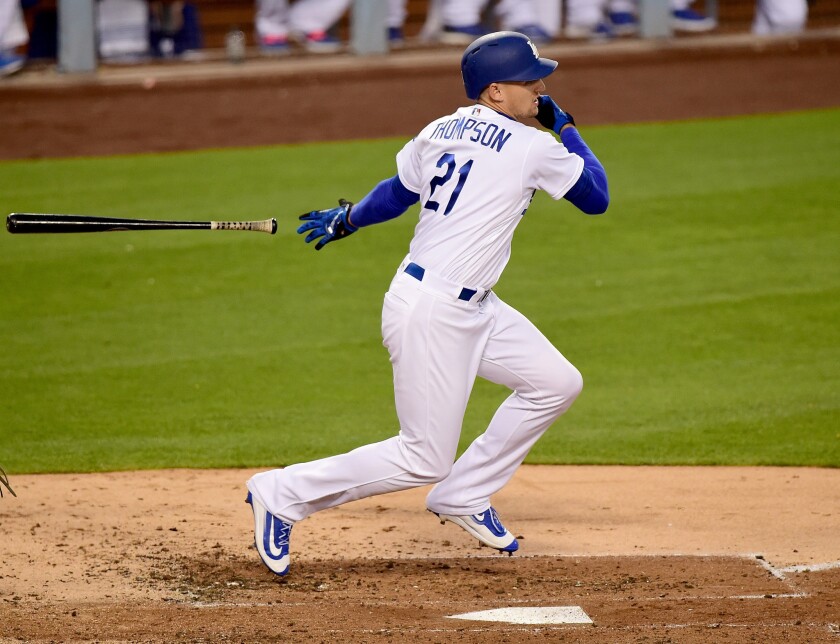 The Dodgers are 20-18. That translates to an 85-win pace over the course of the season, which is below the team's expectations for 2016. But the team went 4-3 last week against a pair of competent teams, the Mets and the Cardinals, and the schedule calls for seven this week against the Angels and the Padres.
As always, there is plenty to discuss. As always, you can send me questions on Twitter @McCulloughTimes. Let's do this.
@McCulloughTimes what are the chances Trayce stays on the 25 man roster for the rest of the year.

— nick charles (@_itsnickgatti) May 11, 2016
The Dodgers had a decent week. Trayce Thompson had a great week. He hit a two-run homer on May 9. He hit a walkoff homer as a pinch hitter on Tuesday. Two days later, he contributed a walk and a two-run single.
Manager Dave Roberts is still wary about playing Thompson on a regular basis, so Thompson operates as part of the roving band of spare parts (Carl Crawford, Howie Kendrick, Enrique Hernandez) used to fill the void in left field created by injuries to Andre Ethier and Scott Van Slyke.
But Van Slyke is getting closer to a rehabilitation assignment, and fans are terrified. Will Thompson get sent down when Van Slyke returns? It's a reasonable fear, since Thompson entered this spring looking like he was bound for the minors. Only a slew of injuries forced him onto the roster. But Thompson has played well enough that a demotion, frankly, does not make sense.
It is always folly to predict a roster move. So much can change in a week. Two weeks is a lifetime. But if Thompson continues to perform, I would be stunned if he gets optioned.
The Dodgers have plenty of other choices. They could send backup infielder Charlie Culberson to the minors. Crawford could turn up with an injury. Or, if the club is in the business of hard choices, it could send Hernandez to Oklahoma City.
Hernandez is hitless in the month of May. He has never hit right-handed pitchers at the major-league level, and since his one-game decimation of Madison Bumgarner in April, he has a .249 on-base plus slugging percentage. Overall, he has a .603 OPS, which pales in comparison to Thompson's .837 mark.
Hernandez still provides plenty of value with his utility. He can play shortstop, second base and third base. But both second and third are occupied, with Chase Utley, Howie Kendrick and Justin Turner soaking up playing time. And Culberson can handle shortstop. With Hernandez slumping, a stint to boost his confidence in the minors may not be the worst solution to the team's roster crunch. He is certainly more deserving of a demotion than Thompson.
Well, Corey Seager plays almost every day. He has been given some days off this season against certain tough left-handed pitchers because the Dodgers do not want him to play 162 games. But he still sees plenty of at-bats against lefties.
As for Joc Pederson, given the current roster construction, I doubt he'll start facing more left-handed starters in the coming weeks. The team wants to keep Hernandez and Thompson fresh, and both may give the club better at-bats against lefties than Pederson. Some in the organization also worry that by allowing Pederson to struggle against lefties, that may affect his performance against righties. And he has been crushing right-handed pitchers this season, with his .859 on-base plus slugging percentage leading the team.
Yes, there is a strong chance the Dodgers revisit a trade. I expect them to make a heavy pursuit of Oakland starter Sonny Gray when he becomes available this summer. Will they get him? Who knows? But if they do, Andrew Friedman gets to soak Dylan Hernandez in a dunk tank. You know what I'm rooting for.
@McCulloughTimes people been talking about urias but what you think about de Leon getting some spot starts sooner than later?

— Owen (@owenmain) May 11, 2016
I do not think it will happen sooner. That's for sure. The team has given Jose De Leon the past two weeks off to rest his arm after he made his 2016 debut for triple-A Oklahoma City on May 3. De Leon reported some soreness after that outing, so the team has backed him off. On Sunday, he was not listed on the OKC Dodgers' pitching schedule for the next five days.
And considering Julio Urias' 22-inning streak without allowing a run, he's going to keep knocking on the door. The Dodgers might have to answer.
who gets canned when this team finishes .500 and sputters to the end of the line?

— Chavez Levine (@ChavezLevine) May 14, 2016
You sound optimistic about the team's future!
is it a coincidence that you left and the royals start losing?

— Shelby Steffen (@Sdsteffen55) May 12, 2016
Not if you believe in chaos theory.
I have not eaten a burrito yet since arriving in Los Angeles in January. I have had several excellent meals. I have enjoyed, in no particular order, the spicy fried chicken wings at OB Bear, the pork belly bowl at Chego and the pastrami sandwich at Langer's. My immersion into L.A. food culture has not more of a toe-dip than a full-on splash – one downside of this job is you eat too many meals at the ballpark – but I'm looking forward to expanding my horizons as the year continues.
Is Thursday actually touring? It seems like the band is just playing one show in Atlanta. If that's the case, I have to side with a new Taking Back Sunday record. I loved the self-titled reunion record, in part because I had missed John Nolan's voice within TBS's construct, and in part because some of those new songs ("Best Places to Be a Mom," "This Is All Now") just crushed.
While disappointing at first, I learned to appreciate the charms of "Happiness Is." It was a solid transition record into musical middle age. It isn't a young band by any stretch these days, and its fans aren't that young, either. I'm 28 and I've been listening to their music for 14 years. So it's nice to see the band translate their passion into songs for people with jobs and families and grown-up problems ("Better Homes and Gardens" comes to mind). I'm happy these guys can tolerate each other enough to keep making music, and I'm happy I get to listen to it.
I would like to withhold judgment until I can hear the full record with Skiba. This is less a dig at Skiba and more a nod to just how great Tom DeLonge's contributions to the band were. I loved his goofy, nasal voice, and how the band could weaponize the contrast on songs like "I Miss You." He also sang the lead of classics old ("Dysentery Gary," "Mutt," "Story of a Lonely Guy") and new ("Ghost on The Dance Floor," "When I Was Young").
So I'm interested to see what the band does with Skiba, but I'll miss DeLonge. That weirdo was great.
@McCulloughTimes as a 29 year old man that is into emo music, what emo bands would you recommend?

— Brandon Aspe (@RealBrandonAspe) May 11, 2016
I am very excited about The Hotelier's new record "Goodness," which comes out May 27. That should be tremendous. If you are looking for other relatively new bands, or at least bands that have released new music in the past year or so, I would recommend Pity Sex (a pitiable name, but a good band), Sorority Noise, Foxing and Better Off.
Probably all of those bands would chafe at the "emo" label, but you get the drift. There's some good stuff in there.
Andy.mccullough@latimes.com
Twitter: @McCulloughTimes
---