Dodgers' Max Muncy named to the National League All-Star team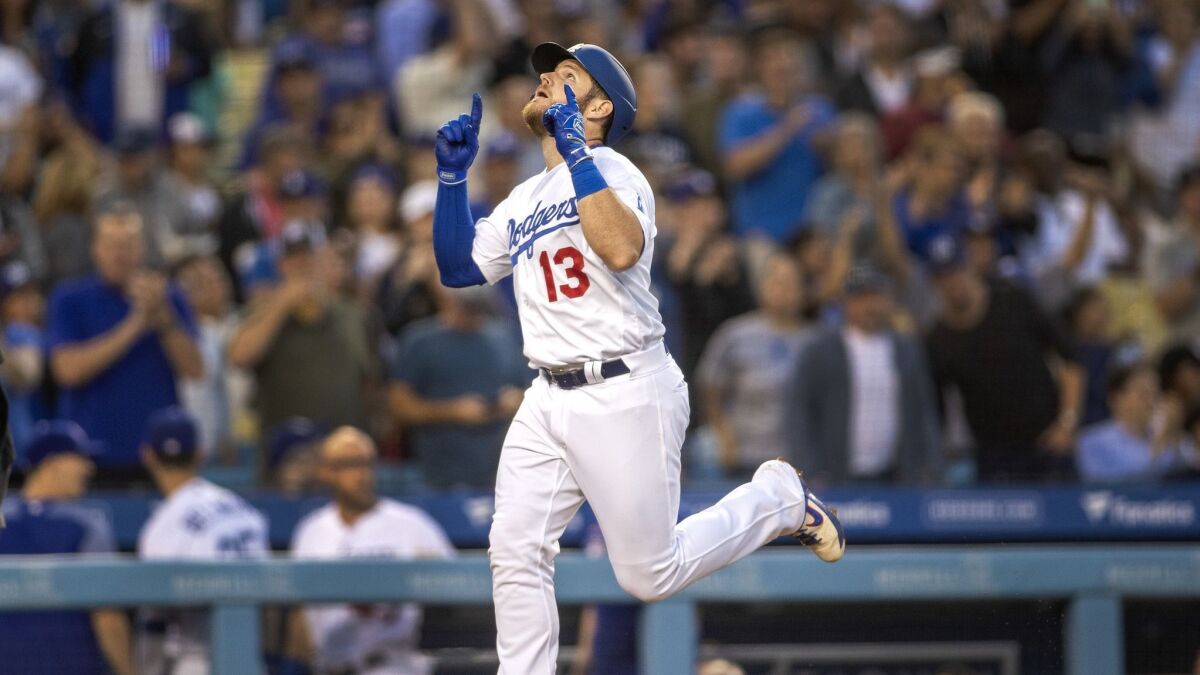 Dodgers infielder Max Muncy was named to the National League All-Star team Friday, replacing Washington Nationals third baseman Anthony Rendon, Major League Baseball announced. Muncy joins a large Dodgers contingent headed to Cleveland for the event.
Cody Bellinger, Hyun-Jin Ryu, Clayton Kershaw, and Walker Buehler were already named All-Stars while the Dodgers' coaching staff will serve as the National League's coaching staff. Dodgers manager Dave Roberts will manage the team.
"It's kind of everything to me," Muncy said. "It's a dream true. It's something that I wouldn't have thought would happen but here we are."
Muncy was one of the prominent snubs in the National League when MLB unveiled the original roster Sunday. The 28-year-old slugger was batting .276 with 21 home runs and a .921 on-base-plus-slugging percentage entering Friday.. His 3.5 Baseball Reference WAR was tied for eighth among National League position players. His 3.2 FanGraphs WAR was tied for ninth.
Roberts had strongly lobbied for Muncy. He lamented that the league's decision to designate Muncy as a first baseman despite making more starts at second base, arguing it hurt Muncy's chances.
Sign up for our Dodgers newsletter »
"I think in this day of self-promotion and a lot of things that lead to the fans, and it's not always about who is having the best first half," Roberts said. "You look at all these statistics — WAR, OPS — to me, he deserves it."
The selection is the next step in Muncy's rapid ascension. Two years ago, the Oakland Athletics cut him. He was an unemployed baseball player without an obvious position and 96 forgettable major-league plate appearances on his résumé.
The Dodgers signed him to a minor-league deal in 2017 and called him up last season as an injury stopgap. But he produced and stuck around to bang 35 home runs and become a key component during their World Series run.
The challenge this season was replicating the success. To do that, he said, he approached the offseason as if his emergence didn't happen. Getting married helped keep his mind occupied.
"I was hitting a home run every 10 at-bats or whatever it was," Muncy said. "That's probably not going to happen again. You got to be realistic about it. And so when I did that, it was, 'Alright let's get back to work. Let's act like nothing has happened before.'"
Now he will travel to Cleveland, where his father grew up attending Indians games and some relatives still call home, as an All-Star for the club with the best record in the majors.
"It'll be pretty special," Muncy said.
Rehab assignments underway
Shortstop Corey Seager began a rehab assignment with single-A Rancho Cucamonga on Friday, joining center fielder A.J. Pollock, who started his assignment Thursday.
Roberts said Seager will play three games through Monday. Pollock will play five games. Both players will join the Dodgers for their first series out of the All-Star break in Boston. Roberts said the plan is to have both activated.
Seager has been on the injured list since June 13 with a left hamstring injury. Pollock was placed on the injured list April 30 after his elbow became infected.
More injuries…
David Freese said he could come off the injured list Sunday, but his left hamstring strain hasn't healed and the club could decide to wait until after the All-Star break. Freese, 36, was put on the injured list June 21. ...Will Smith was optioned to triple-A Oklahoma City on June 26 but didn't play in a game for the affiliate before he was placed on the major-league injured list Thursday with a strained right oblique. Roberts said Smith suffered the injury during a swing in his final game for the Dodgers on June 25. ...Dodgers prospect Tony Gonsolin logged one start for Oklahoma City after making his major-league debut June 26 before he was placed on the injured list with a hamstring injury Friday.
Twitter: @jorgecastillo
---
Get our Dodgers Dugout newsletter for insights, news and much more.
You may occasionally receive promotional content from the Los Angeles Times.