Hyun-Jin Ryu pitches seven scoreless innings in 4-0 Dodgers victory over Nationals
There might come a time this season when Hyun-Jin Ryu will be welcome to pitch the eighth inning. Or, frankly, there might not.
Ryu has not lasted beyond seven innings in four years, in a game so long ago that Andre Ethier was the Dodgers center fielder and Cuban prospect Erisbel Arruebarrena, since banished by the organization, was the shortstop.
In the interim, Ryu tore up his pitching shoulder. Doctors rebuilt the anatomy, and Ryu rebuilt the strength, but "handle with care" remains the watchword for a pitcher whose fastball never was all that fast even when he was healthy.
The prudent approach paid dividends Saturday, when Ryu worked seven innings to tame the Washington Nationals and their more glamorous starter, Stephen Strasburg.
The Dodgers won 4-0, but the final score belies how taut Ryu's performance was. Birthday boy Joc Pederson hit the home run that gave Ryu a 1-0 lead after two innings, and the Dodgers did not score again until Ryu had departed.
"Maybe it should be my birthday more often," said Pederson, who was serenaded with "Happy Birthday" by fans in the pavilions.
Enrique Hernandez hit a home run in the seventh inning. Saturday's bobblehead honoree, Cody Bellinger, hit a two-run home run in the eighth.
Tony Cingrani and Kenley Jansen worked an inning each in relief, finishing off the two-hitter, with the velocity of the embattled closer hitting a season-high 96 mph.
"That's great," Jansen said. "Probably, maybe, the season is starting for me."
The Pederson home run was Strasburg's only blip through the first six innings. That he could go deep into the game was not in question.
Ryu, well, that was another matter. The Dodgers do not push him toward the late innings, and a decision he made early in the evening appeared to doom his chances to survive for long this time.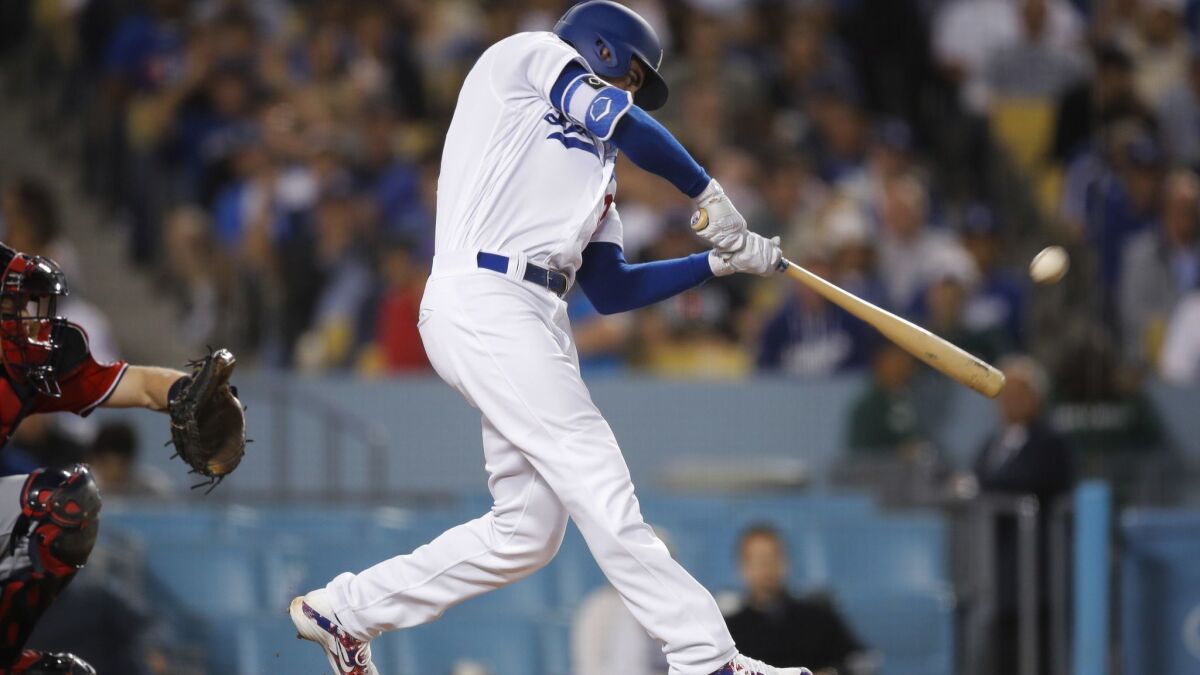 In the third inning, the Nationals had Bryce Harper at bat, a man on first base, and two out. Ryu threw three balls to Harper. Surely Ryu was pitching around Harper, which would have made complete sense since the next batter, Ryan Zimmerman, is (a) batting .174 and (b) not Harper.
But Ryu threw a called strike, and then another, and then Harper fouled off three pitches.
"I try not to give up any free walks to any batter," Ryu said.
Harper drew the walk, but on nine pitches rather than four. Zimmerman walked too, on six pitches.
By the time Moises Sierra grounded out for the third out, Ryu had thrown 22 pitches in the inning, twice as many as he probably needed to, and high-stress ones at that.
After three innings, he had thrown 50 pitches. Who knew he would strike out the side in the next inning? Who knew the Nationals would not put another man on base against him, with Ryu retiring the final 13 batters he faced? Who knew Ryu would need only 10 pitches to get through the sixth inning, five to get through the seventh?
He threw 89 pitches in all, not an unreasonably high number, but good enough for the Dodgers. Manager Dave Roberts said Ryu would not have gone much beyond 90 pitches, and the Dodgers had a rested nine-man bullpen, so there was no need for Ryu to continue.
"What's the point of it?" Roberts said.
Can't argue with the results. The Dodgers won. Ryu won, too.
He has started four games, lost none, with a 1.99 earned-run average. Opponents are batting .141 against him. The Dodgers have won nine games, and he has won three.
Follow Bill Shaikin on Twitter @BillShaikin
Get our Dodgers Dugout newsletter for insights, news and much more.
You may occasionally receive promotional content from the Los Angeles Times.