Dodgers expecting reunion with veteran second baseman Chase Utley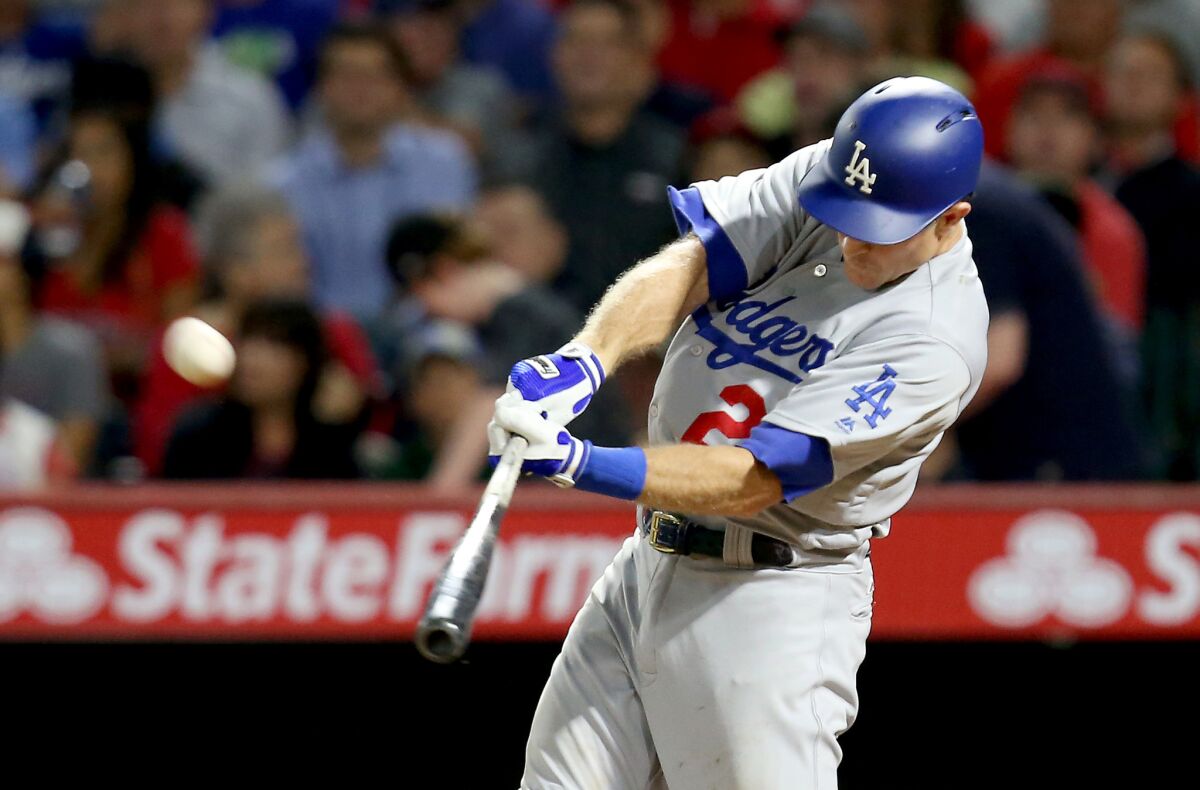 As spring training dawned on Tuesday, the worst-kept secret at Camelback Ranch was the occupant of the locker by the door of the Dodgers clubhouse.
A set of sliding shorts dangled from a hanger. A collection of well-worn gloves lined one shelf. Along another rested a set of cleats, monogrammed with the number 26. To complete the picture, a stack of boxes nearby were addressed to one man: CHASE UTLEY.
"They're not hiding it well," Dodgers ace Clayton Kershaw said.
Utley, the 39-year-old second baseman, was not present for the workout among the assembled Dodgers on Tuesday. But he is not expected to remain absent for long. The team is making progress on another contract with Utley, who has been a vital presence in the clubhouse since joining the Dodgers midway through 2015, according to people familiar with the situation.
Manager Dave Roberts laughed when informed about the scene at Utley's locker.
"So he got his mail forwarded here?" Roberts said. "Obviously, we're hopeful. We're excited to get him here in Glendale. Chase is great. I'll talk more about him in the coming days."
Utley hit .236 with a .728 on-base plus slugging percentage in 127 games in 2017. The Dodgers plan to use Logan Forsythe as the primary second baseman, with both Chris Taylor and Enrique Hernandez also capable of handling the position. Utley still could see some at-bats against right-handed pitching, or on days when Forsythe fills in for Justin Turner at third base.
The organization believes Utley's value extends beyond the field. A six-time All-Star with the Phillies, Utley carries the sort of gravitas and dedication that rubs off on his teammates, Dodgers officials and players say. The coaches show his highlights to their younger players. He acts as a mentor to shortstop Corey Seager. He spends hours in the video room scouring footage for the tendencies and weaknesses of opponents.
"He might not be the player he was 10 years ago, but he's still a very valuable asset to have," Kershaw said. "I don't think there's a guy in here who wouldn't be excited if he was around."
Kershaw set for eighth opening-day start
On March 29, Kershaw can set a franchise record with his eighth consecutive opening day start, an assignment Roberts announced Tuesday. Unlike most teams, this reward acts as a mere formality. "Cat's out of the bag," Roberts said, when he mentioned in passing how Kershaw needed to be ready for the first game of the season.
Kershaw will lead a rotation followed by Rich Hill, Alex Wood, Kenta Maeda and Hyun-Jin Ryu. He no longer will pair with Yu Darvish, his teammate in the second half of 2017 and his catch partner this winter in Dallas. Darvish signed a six-year, $126-million deal with the Cubs over the weekend, opting for Chicago over a less-lucrative offer from the Dodgers, who operated as if handcuffed by luxury-tax implications.
"It's disappointing," Kershaw said. "I enjoy throwing with Yu and obviously think he's a very special talent. I wish he had gone somewhere in the American League. But you know what? We'll just have to beat him, I guess."
Toles slightly behind other outfielders
The Dodgers expect outfielder Andrew Toles to return to full strength early in 2018 after missing most of last season with a torn ACL. But Toles likely will be slightly delayed this spring, as the team wants to give him plenty of at-bats to knock off any rust, Roberts said.
Toles is part of an outfield competition in left field that includes Joc Pederson, Matt Kemp, Hernandez and top prospect Alex Verdugo.
Short hops: The Dodgers still do not have a timetable for left-handed pitcher Julio Urias as he returns from shoulder surgery. He is unlikely to contribute until after the All-Star break, at the earliest, but team officials are reluctant to pressure him with deadlines. "We're counting on him," Roberts said. "And we're excited for him." ... Yasiel Puig has yet to find a new agent after being dumped by the Wasserman agency last week. "He said he's open to new representation," Roberts said.
Twitter: @McCulloughTimes
---
Get our Dodgers Dugout newsletter for insights, news and much more.
You may occasionally receive promotional content from the Los Angeles Times.