Matt Kemp, Yasmani Grandal punish former team in Dodgers' 10-3 win
A collective roar resounded from a corner of the visitors' clubhouse at Petco Park on Monday afternoon. Gathered inside the food room, a group of Dodgers were watching the Washington Nationals play the New York Mets. The players erupted when Nationals outfielder Bryce Harper launched a home run while breaking his bat. Harper finished his swing holding only the handle; the pitch from Mets starter Jacob deGrom had shattered the lumber.
Shaking their heads in disbelief, the Dodgers piled back into the center of their clubhouse. Matt Kemp led the brigade.
"I gotta go work out right quick," Kemp said. The players fixated on where Harper made contact: On the thinnest portion of the bat, an area slathered with pine tar. Kemp vowed to layer up with extra tar before Monday's game. The brownish substance gleamed from his bat that evening as he launched a three-run homer in a 10-3 victory over San Diego. His bat remained intact.
Kemp made a relatively brief but impactful appearance in Monday's game. He played four innings in the field before manager Dave Roberts removed him in a double-switch. Kemp took two at-bats. In his first, he singled and ran into an out on the bases, which still aided a run scored later in the frame. In his second time up, he took San Diego starter Robbie Erlin deep to cap a five-run blitz. A grand slam by Yasmani Grandal in the ninth acted as the evening's exclamation point.
Both Kemp and Grandal are former Padres. The Dodgers traded Kemp to San Diego to acquire Grandal before the 2015 season. The fans at Petco Park did not give Kemp a standing ovation as a greeting.
"I had some fans screaming at me tonight," Kemp said. "So I had to shut them up a little bit, for a while. That definitely helped me out there in the outfield for a while."
Given a sizable advantage, Hyun-Jin Ryu kept it safe. Ryu struck out nine Padres across six innings. He gave up only three hits, one of them a two-run homer that sullied his line. Otherwise he was sterling. After a wretched outing in his 2018 debut, Ryu struck out 17 batters in his next two performances.
The Dodgers traveled to San Diego on Sunday evening buoyed by what passes for momentum in their sluggish start to this season. The team staved off a sweep by Arizona on Sunday afternoon, with Clayton Kershaw striking out 12 Diamondbacks and the offense capitalizing on a scattershot outing from Arizona starter Zach Godley.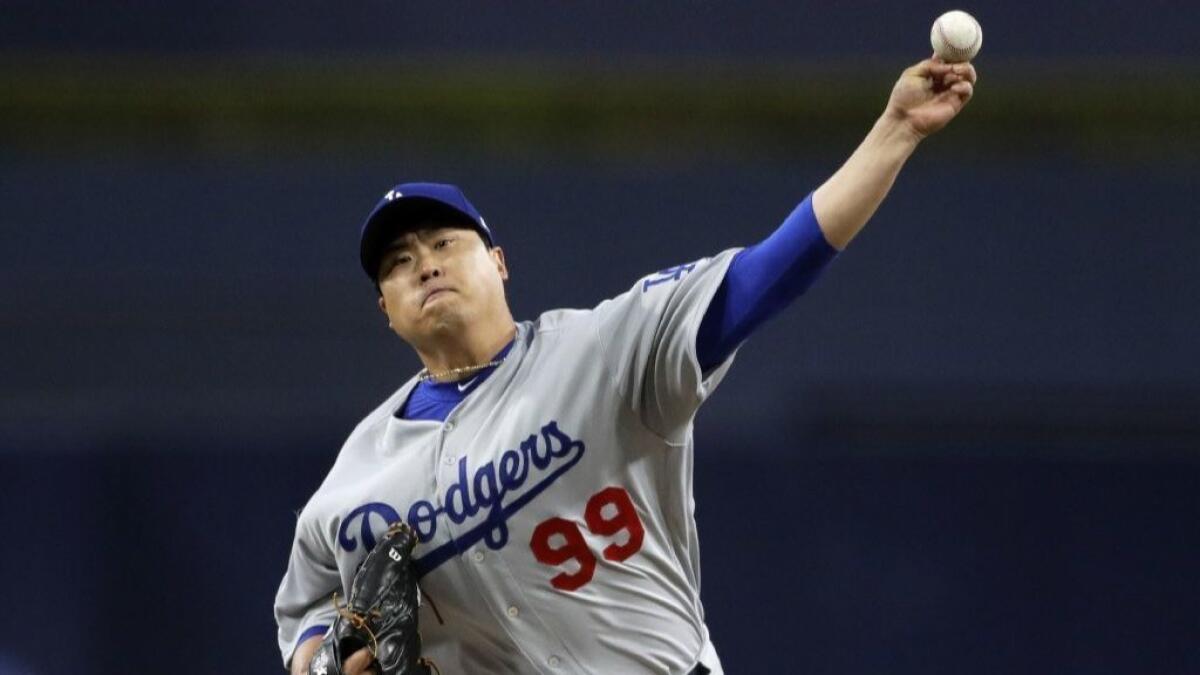 Even after the victory, the Dodgers awoke on Monday in last place in the National League West. The team had never descended below third place last season. They do not intend to reside in the basement for long.
"There's been spurts where we've hit well," Roberts said. "And there's been spurts where we've pitched well, played defense well. But it hasn't really been synced up. I think that the record reflects how consistently we've played — or haven't played."
Kemp aided their efforts at the start. The tar may have helped Kemp's swing in the second. It could not aid his legs. After a leadoff walk by Cody Bellinger, Kemp stroked a fastball from Erlin into right center. Kemp tried to gallop into second, only to get cut down on the throw by outfielder Franchy Cordero.
The hit still brought Bellinger to third base. He trotted home during the next at-bat, when Grandal pounded an 89.7-mph fastball for an RBI double.
Ryu made a mistake in the bottom of the inning. He gave up a leadoff double to outfielder Hunter Renfroe. The next batter was third baseman Christian Villanueva, a 26-year-old who had homered in the previous two games. Villanueva extended his streak to three by clubbing an 87.6-mph cutter beyond the fence in left.
Villanueva contributed to the Dodgers' revival in the third. San Diego opened the door to a flurry with a pair of errors. Villanueva could not backhand a spinning grounder off the bat of Chris Taylor to start the inning. It was a two-base error.
A more egregious mistake followed. Corey Seager sent a liner sizzling into right field, almost directly at Renfroe. Renfroe misjudged its flight and flung up his glove in vain. The three-base error tied the score.
The deadlock did not last long. Enrique Hernandez provided an RBI single. As the Dodgers fans inside the ballpark stirred to life, Kemp came to the plate. Erlin flung an 89.1-mph fastball over the plate. Kemp unloaded on the pitch and admired its flight. The three-run shot was his second homer of the season.
"I was just trying to get something over the plate and drive it," Kemp said. "I got a good pitch to hit and put some good wood on it."
Clumsy in the field, Renfroe and Villanueva still vexed Ryu at the plate. Ryu clipped Renfroe in the foot with a pitch in the fourth. Villanueva singled to add to the stress. Ryu settled down to escape. He froze Cordero with a curveball for the inning's second out. Ryu finished the frame by pumping a 90.4-mph fastball past second baseman Carlos Asuaje to strand the runners.
Ryu rolled through his last two innings. He ended the fifth by striking out outfielder Jose Pirela with a 91.3-mph fastball. His final pitch of the evening was a changeup, fading low and away to Renfroe. The pitch dipped out of the strike zone, but Renfroe could not resist. He swung over the ball as Ryu skipped back to his dugout.
Twitter: @McCulloughTimes
Get our Dodgers Dugout newsletter for insights, news and much more.
You may occasionally receive promotional content from the Los Angeles Times.