Money is still an object for Dodgers, who are trying to cut payroll from $300 million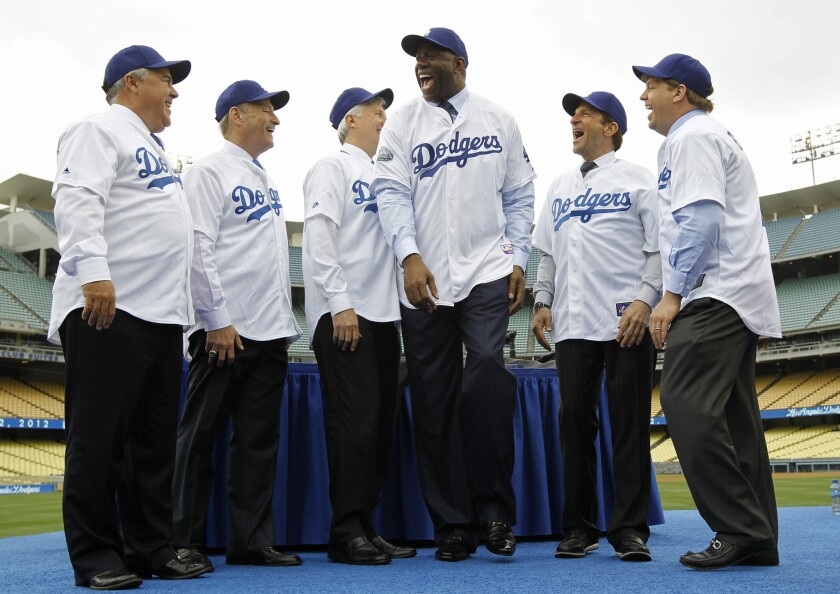 This is the time of year when the baseball world spotlights the available players deemed most expensive and links them to the Dodgers.
David Price! Zack Greinke! How about both? Why stop there?
We keep thinking back to that summer day in 2012, in the Dodgers' first year under Guggenheim Baseball ownership, when the team swallowed a quarter-billion in contracts in one trade and President Stan Kasten giddily fielded a question about whether the club had a spending limit.
"I haven't found it yet," Kasten said then. "I'll let you know when we get there."
We might be just about there.
The Dodgers are doing all kinds of fascinating things, beyond feeding their players organic food and gaming the system to secure extra draft picks. They invested $20,000 into each of 10 fledgling sports technology companies this year, in part to try to gain an edge in such areas as predicting and preventing injuries, and speeding up lines at the parking gates and concession stands.
The companies made their pitches to venture capitalists at a party the other day at Dodger Stadium, where we caught up with Dodgers co-owner Todd Boehly.
There are all sorts of ways for the Dodgers to improve. To spend $300 million on player payroll — a world record for a sports franchise — is not the preferred way.
That happened in 2015, primarily as a strategy to amass organizational depth by subsidizing close to $100 million in salaries of players who played elsewhere. The payroll will drop substantially in 2016, to what Boehly said he believed would be much closer to $200 million than $300 million.
"We're looking toward building something long-term, and sustainable," he said.
Leading the league in payroll every year, he said, is not sustainable.
"I think sustainable is more like the league average," Boehly said, "plus some, or plus a lot."
Let those jarring words hang in the air. League average.
Those could be fighting words to a fan base disappointed by three consecutive postseason flops, angry at the sharp jump in ticket prices, outraged at the two-year television blackout and heartsick at the possibility of the blackout extending into what Vin Scully says probably will be his final season. Oh, and did you hear that Dee Gordon just became the first infielder in major league history to win a batting title, stolen base title and Gold Glove in the same season?
The league average was $140 million this year, according to preliminary end-of-season payroll information obtained by The Times. The Kansas City Royals won the World Series championship with a payroll of $138 million.
The Dodgers will not get anywhere close to the league average next season, maybe not for a few seasons. After pitcher Brett Anderson accepted their qualifying offer Friday, they're close to $189 million for next season, if they tender a contract to each of the nine players eligible for arbitration.
That does not count a few million more for all the minimum-wage youngsters — including pitcher Alex Wood, infielder Corey Seager, outfielder Joc Pederson and utility player Enrique Hernandez — and whatever millions might be necessary to fill the two holes in the starting rotation.
That $189-million number is important, because teams pay a tax on every dollar above that number. The end-of-season payrolls include salaries and benefits for every player on the 40-man roster; the Dodgers came in at $298 million. Add the tax, and the Dodgers' player spending comes to about $342 million.
Angels owner Arte Moreno runs a pretty healthy payroll, but his team has not triggered a tax payment since 2004. The Dodgers' owners, for all the riches of their $8-billion television contract, would like to turn a profit one of these years.
"That would be part of the sustainability," Boehly said.
This is not about cost-cutting for the sake of saving a few million bucks. This is about making way for the consistent infusions of youth intended to prevent too many players from getting too old at the same time. This is the alternative to the oft-destructive cycle of trading prospects for older players, then needing to wade into the perilous waters of free agency because the minor league system has been stripped of top talent.
This is, frankly, what Guggenheim preached from Day One. Spend money to win now rather than write off a few years to rebuilding, and invest money into player development to win later. Guggenheim spent so much money that the Dodgers could win three National League West championships while waiting for the farm to sprout.
"The farm system is looking great, compared to what it was three years ago," Boehly said. "I feel really good about that. I know that has been Stan's mantra since he showed up. We're starting to see that come to develop."
When Guggenheim bought the Dodgers in 2012, Baseball America ranked their farm system 23rd among the 30 clubs. The Dodgers ranked third this year and will again be among the top five when the magazine releases its 2016 rankings, according to Baseball America managing editor J.J. Cooper.
"It's a system really impressive in impact talent at the upper levels, combined with very good depth," Cooper said.
The Dodgers did not buy Max Scherzer or Jon Lester in free agency last winter. They spent a much lesser sum to get Anderson and Brandon McCarthy.
The Dodgers did not trade their top pitching prospect for Price (as the Toronto Blue Jays did last summer), for Cole Hamels (as the Texas Rangers did last summer), for Johnny Cueto (as the Royals did last summer) or, for that matter, for shortstop Andrelton Simmons (as the Angels did Thursday). When they needed starters last summer, they got Wood and Mat Latos, without surrendering any of their pitching prospects.
They believe they will be best positioned to sustain success with Julio Urias and Jose DeLeon in their starting rotation in 2017, with Seager the favorite to win rookie-of-the-year honors in 2016, with a robust farm system bolstered in part by lavish spending on amateur players from Latin America.
The moment of truth approaches for the Guggenheim approach.
There are quite a few major league clubs — 29 of them, to be exact — that will not believe the Dodgers will slow their spending until it actually happens. Boehly did say "league average, plus some, or plus a lot," which leaves many millions worth of wiggle room. The Dodgers ought to fit comfortably into the top 10 teams in payroll, year after year.
And there are quite a few fans who wonder if Guggenheim might be focused on sustainability at the expense of an all-in year, at maximizing the chances for that long-awaited World Series championship. It's all good, so long as we see Urias waving in a parade.
Follow Bill Shaikin on Twitter @BillShaikin
ALSO:
Dodgers narrowing field of managerial candidates
What are the Dodgers going to do at second base?
---
Get our Dodgers Dugout newsletter for insights, news and much more.
You may occasionally receive promotional content from the Los Angeles Times.